Nepal extends COVID-19 testing but no new cases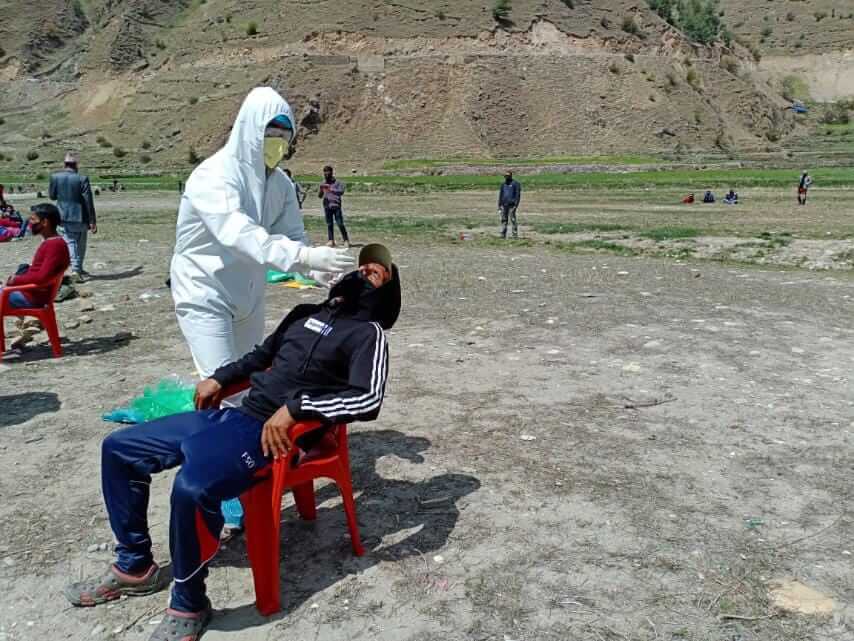 After being in lockdown now for nearly three weeks, Nepal has started testing vulnerable groups in high-risk areas, but so far there have been no new COVID-19 positive cases. The numbers still stand at nine cases, one recovered and no fatalities.
The government is focussing its tests on western Nepal and tarai districts where there have been returning migrant workers from India. Although the border is supposed to be closed it is still possible for people to slip through.
So far 3,524 tests have been conducted all over the country. 630 new tests (samples mostly from Kathmandu Valley) conducted in the last 24 hours did not show any positive case. Of the rapid diagnostic results conducted in Kailali, Kanchanpur, Kavilvastu and Baglung districts this week, 516 have come out negative.
However, over 800 samples collected from western Nepal have yet to be tested at the National Public Health Laboratory in Kathmandu and public health experts are expecting the number of positive cases to climb over the weekend.
At least 120,000 Nepali workers have returned from India without screening before both countries went into lockdown, and people from western region make up the highest number of returnees.
"We have to assume there are more cases out there, especially in hotspots along the Indian border, and even in remote areas where migrants have moved back. Local communities and ward committees there are strictly monitoring residents for symptoms," says Sameer Dixit, researcher at the Centre for Molecular Dynamics in Kathmandu.
Western Nepal potential COVID-19 outbreak
In Jumla, medical officers are on standby for a rise in the number of positive cases, as local officials move house-to-house to check if any new arrival has a fever. Families in quarantine and deemed to be at higher risk have been tested even if they do not show symptoms.
"Many of those tested had recently come back from the most affected parts in India and we already have a case of local transmission in the country, so there may be some positives there," said Dhiraj Gurung of Karnali Academy of Health Sciences (KAHS).
Over 1,300 samples have been collected over the last two days from from Jumla, Achham, Baitadi and Dadeldhura districts in western Nepal. Some 324 oral and nasopharyngeal swab samples from three different locations in Jumla were collected on 7 April: 150 at Chandanath airport, 124 from Hima Village Council and 50 from Kanaka Sundari in Sinja.
Another 232 samples were collected from Achham district, 199 from Dadeldhura and 425 from Baitadi. Recent returnees from India, their immediate family members and those in quarantine were prioritised for the rapid diagnostic tests. Samples were flown in Nepal Army helicopters to Nepalganj, from where collected samples are taken every evening by military plane to Kathmandu for testing.
Returnees maybe taking coronavirus to rural Nepal, Mukesh Pokhrel and Sonia Awale
Initially, hospitals in western Nepal had collected only a handful of samples because there were not enough Viral Transport Medium (an equipment to transport the samples to the lab). Mass testing is now being carried out with 11 laboratories across the Nepal set up for Polymerase Chain Reaction (PCR).
The PCR amplifies tiny bits of genetic material in the sample, enabling the detection of the virus. But there has been significant number of false positive and negative test results since the outbreak.
Rapid diagnostic test kits have been controversial because of their reported unreliability in Europe, but health experts here say they have 86%, and those testing positive will be tested again with PCR. The Chinese kits are being used in Kailali, Kanchanpur, Baglung, Myagdi and Parbat districts for people in quarantine. The government has some 75,000 rapid test kits, and has dispatched 5,000 to each each of the seven provinces.
In Jumla, KAHS has over 47 staff and 100 nurses on call and 10 adult ICU beds have been added in anticipation of new cases. In Achham, the district hospital has been designated as a COVID-19 only hospital. Province 5 is trying to procure 20 ventilators. But despite preparedness, hospital staff say the region's rudimentary healthcare system will be overwhelmed if there is a COVID-19 outbreak. The Health Ministry is therefore mobilising medical students on scholarship programs and retired medics to assist to fight COVID-19.
"We do not know the exact number of people who have returned from India and even less about how many of them have symptoms, and where they are. We have to continue to work in prevention and control as well as increase mass testing," explains Bikash Gauchan of Bayalpata Hospital in Achham which has set up a fever clinic and a separate ward.
Four months into the pandemic, Nepal has been largely spared with only handful cases and only one community transmission. Public health experts are puzzled by this, and say possible theories like BCG vaccine immunity warrant further investigation.
Could an anti-Tb vaccine be protecting Nepalis?, Prabhas Pokharel
The main worry is the continued spread in India where there were 30 new COVID-19 deaths in the past 24 hours, taking the total to 199. The case load in India have been rising at 567 per day.
"There are sure to be more imported cases. But where are they? There is no severity, and only one community transmitted case. So something is going on," says Sameer Dixit.
Dhiraj Gurung who was involved in the Jumla testing said a larger than expected number turned up for the test, which may mean there are hidden cases. "But when we asked people to come for quarantine, very few showed up. This could mean there are individuals with mild symptoms, but there are not coming forward for fear of being ostracised."
The government has extended the nationwide lockdown till 15 April because it does not want families to gather for Nepal's New Year Day on Monday. Experts say partial lockdowns will continue in areas at higher risk, and international flights may have to be suspended for another two weeks after 30 April.
Says Sher Bahadur Pun at the country's infectious disease centre in Kathmandu: "We are already in the second stage of COVID-19 transmission and the next stage will be serious. We cannot be complacent, and our only chance of containing it is to stop hidden cases from infecting others with an even stricter lockdown."