Nepal's local polls a rehearsal for federal elections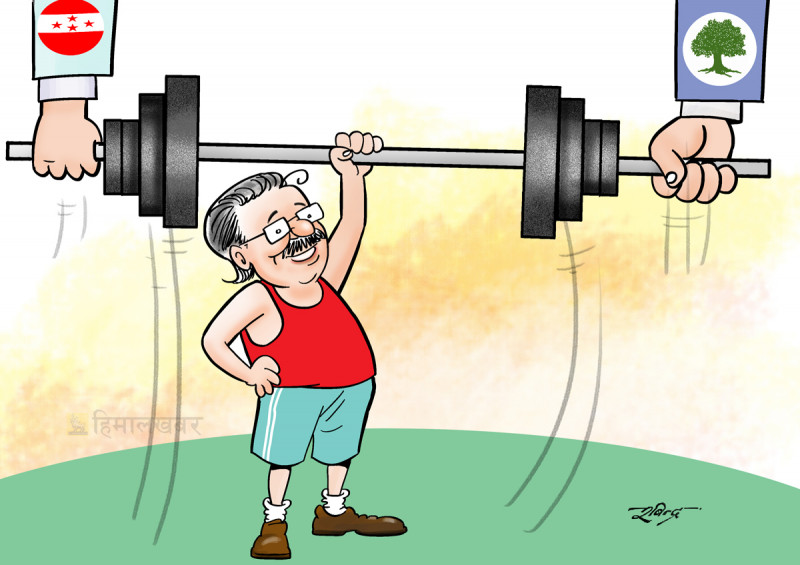 Although Nepal's established parties battled it out among themselves in local elections, independent candidates won the mayor races in critical cities — Kathmandu, Dharan, Janakpur and Dhangadi.
This represented a seismic shift signified disillusionment with cynical coalition politics that fielded common candidates and a rejection of traditional parties who have failed to deliver better living conditions.
Independent candidate Balen Shah, 32, and UML candidate Sunita Dangol, 29, secured enough of a lead to be elected mayor and deputy mayor of Kathmandu Metropolitan City.
Voters in the two cities made it loud and clear by electing youthful leaders that they reject Nepal's archaic establishment parties and their ageing political leadership. Given the choice, other cities municipalities may also have voted for younger candidates and independents.
Indeed, this political shift should not be a surprise to those who followed the results of the 2017 elections where the alternative parties, Sajha and Bibeksheel, would have won if they had been united.
Just like them, the support for rapper and engineer Balen Shah not just in Kathmandu but from all over Nepal was a protest vote. Indeed, independent candidates were also elected in three other sub-metropolitan cities— Harka Raj Rai in Dharan, Manoj Kumar Shah Sudi in Janakpur, and Gopal Hamal in Dhangadi.
"This election has shown that Nepal now has a critical mass of middle-class, especially in the cities, and that this collective is beginning to reject conventional politics," explains political analyst Punranjan Acharya.
There were 145,010 candidates in local elections held nationwide on 13 May, and 64% out of 17,733, 733 registered voters cast their ballots — lower than previous elections.
In the Nepali Congress stronghold of Bharatpur, the party's voters helped Renu Dahal of its coalition partner the Maoists to her second victory. There was much bad blood between district Congress leaders and Prime Minister Sher Bahadur Deuba about giving the city to the Maoists in a platter.
Similarly in Pokhara, Dhanaraj Acharya of the CPN (Unified Socialists), who ran on a coalition ticket against a rebel Nepali Congress and UML candidates, was elected mayor.
Vote counting has been delayed by archaic procedures, but with most votes now counted, the Nepali Congress has won 327 chair and 300 deputy positions in municipalities. Out of 753 units, NC contested independently in 415 units, out of which it won 202 local government seats. The party formed an alliance for the remaining 338 units, out of which it has won 124 top positions.
Acharya notes that while the NC won in numbers, the results proved that the electoral alliance among members of the governing coalition was not really necessary for the party. Instead, it had to sacrifice sure wins for its mayoral and deputy candidates in Bharatpur, Pokhara and other important cities.
However, it did give the Maoists much-needed political space which stand it in good stead for provincial and federal elections in November. It also legitimised Madhav Nepal's newly-minted Unified Socialists with its wins in Pokhara and Hetauda, although it did not fare well elsewhere.
But the coalition has worked to the detriment of the JSP and the newly formed Loktantrik Samajwadi Parti, which lost key cities like Janakpur and Birgunj in Madhes Province.
The opposition UML, which swept the 2017 local elections in an electoral alliance with the Maoists, won 204 chief positions and 237 deputy positions despite having to battle five other parties single-handedly.
"The UML scored a respectable performance, and has largely maintained its popular vote," notes Acharya.
Meanwhile, the Maoists benefited significantly from their alliance with the NC. Out of its 121 candidates who won mayoral and chief positions, 80 contested the election with support from the coalition, many of them in units with a significant NC voter base.
Among other parties in the election coalition, Janata Samajwadi Party won 30 top local level seats, Madhav Nepal's Unified Socialists won 20, and Rastriya Janamorcha Party won in 4 units.
"All coalition parties benefited from the electoral alliance," political analyst Indra Adhikari. "Madhes-based parties have expanded to the hills. Unified Socialists who do not even have a meaningful party structure were able to perform noticeably because of the alliance."
Analysts say Prime Minister Deuba feared that his NC party would lose to the UML, and Maoist leader Pushpa Kamal Dahal capitalised on that to persuade him to form an alliance by using the prime ministership as a bargaining chip.
The poor performance of the Bibeksheel Sajha Party has shown that voters punished it for moving away from its social-liberal platform to a pro-monarchy, anti-federal one—for the wrong reasons.
Party Chair Rabindra Mishra resigned on Wednesday "on moral grounds" and taking "full responsibility" for his party's debacle.
Across Nepal's 6 metropolitan and 11 sub-metropolitan cities, four independent candidates have been elected, including Harka Raj Rai in Dharan, Manoj Kumar Shah Sudi in Janakpur, Balen Shah in Kathmandu, and Gopal Hamal in Dhangadi. 12 independent candidates have emerged victorious in 2022, twice than that of the last election.
But the biggest losers in these local elections have been women. The three biggest parties combined nominated 128 women for mayors and village chairpersons, but only 25 women — 13 mayors and 12 municipalities — have been elected.
More glaring: the number of women elected as deputy chiefs this year has gone down from 700 in 2017. Nepal's Local Level Election Act requires every party to nominate one male and one female to the position of chiefs and deputy chiefs.
But election alliances are not bound by the same rules. This provided a loophole for the NC and the Maoists to nominate fewer female candidates.
"The fact that the electoral alliance gave an excuse for fewer women to be nominated to office is against the Constitution," Acharya points out.
But as the local election cycle comes to an end, there are some things to be optimistic about.
Rukum West's Chaurajhari Municipality elected Pushpa Badi as municipality chief, making him the first mayor from Nepal's Badi community.
In Jumla's Kanaka Sundari Rural Municipality's ward number 8, a panel of leaders from the Dalit community ran as independents — out of which Dhan Bahadur Kami was elected ward chief, while Gol Damai, Kar Jit Sarki, and Chanaki Kulala were elected ward members.
"We have found that the new generation of voters and candidates are not concerned with the system or with ideology, but with governance and delivery," Acharya says. "The victory of young candidates has been a peaceful revolution conducted entirely at the polls."
Despite the wins of independent candidates, Adhikari does not see this as a positive trend. She says: "Independent candidates running on activist platforms will not be able to tackle problems from outside the political system."
The local election results will bolster the need for coalition partners to keep their alliance intact for November's federal and provincial polls.
Acharya warts that we should not read too much into local election results as a win for one party or the other. He says, "Local elections are not meant to be politicised, they are meant to develop social capital."
He also differentiates between two types of independent candidates: those like Balen Shah are from outside and cashed in on frustration with established. Then there are the independents in Janakpur and Dhangadi who are rebels from within established parties who did not get tickets.