Another Kathmandu exodus
In a scene reminiscent of last year, tens of thousands of people thronged Kathmandu's main bus terminals to get out of the capital ahead of Thursday's Covid-19 lockdown.
Most are leaving for their home districts in whatever trasport they can find: riding on top of buses, on the back of pickups or in taxis. The three district administrations in Kathmandu Valley announced a two week-long prohibitory order from 29 April as the country confronts a rising trajectory of Covid-19 cases and deaths. However, domestic flights will not be affected by the restrictions.
A similar announcement of a lockdown on 24 March 2020 saw an exodus of an estimated one-third of Kathmandu Valley's population. Many who could not find transport walked for weeks from Kathmandu to remote districts.
Nepal recorded 4,364 new Covid-19 cases from 14,672 PCR tests on Tuesday, of which 1966 were in Kathmandu Valley--with 1,602 in Kathmandu, 240 in Lalitpur, and 124 in Bhaktapur. There were 18 additional deaths, bringing the official total to 3,194. Meanwhile, the positivity rate has risen more steeply in the second wave to more than 30%, compared to less than 4% in February, while there are more than 25,000 active cases.
These photos taken at the Bus Park in Gongabu on Tuesday afternoon show people not caring about keeping physical distance to crowd around ticket counters, potentially risking a community spread of the virus. In the past month, hundreds of thousands of Nepalis have also returned from India, and tests at the border have shown that up to 10-15% of those tested were positive, or had been infected with Covid-19.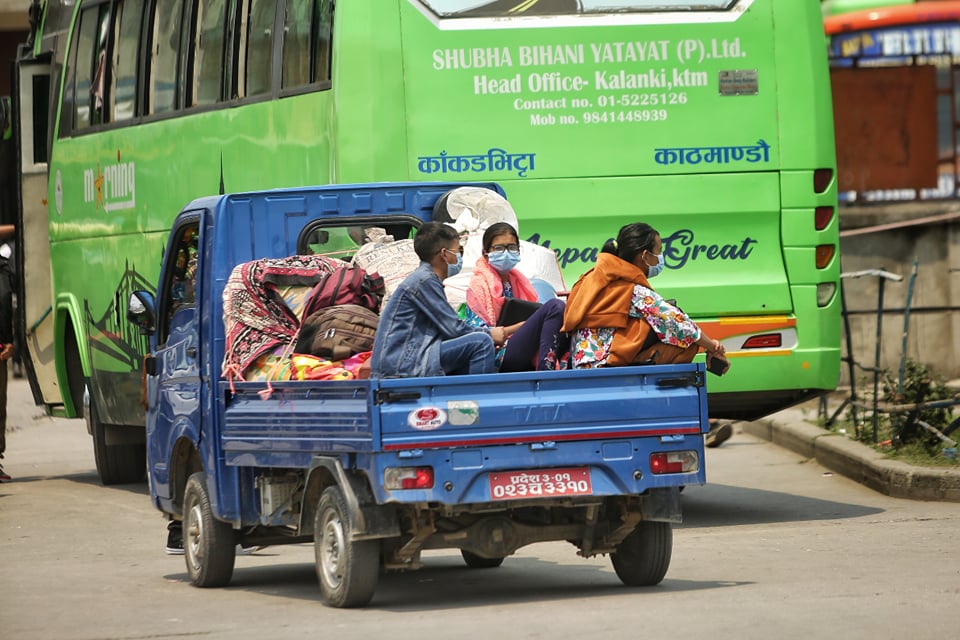 Read also: The Covid tsunami, Editorial