China social media erupts on Everest news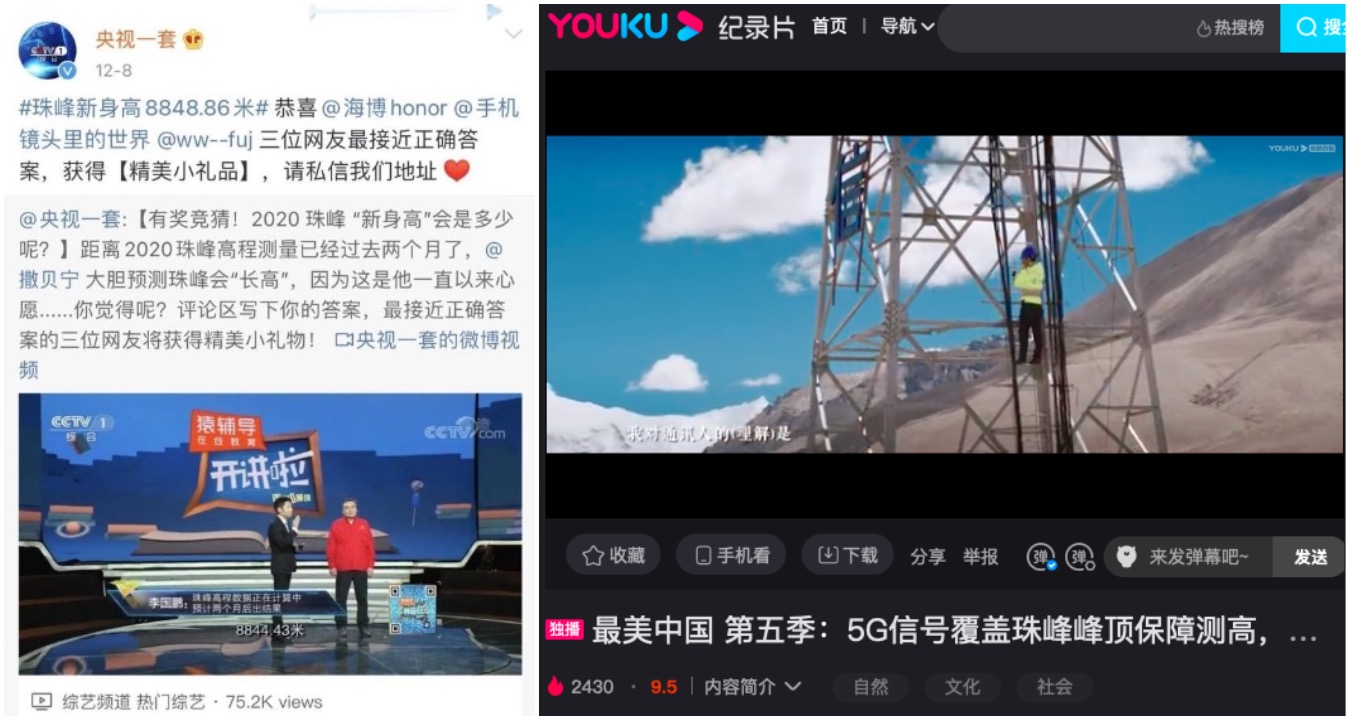 Chinese netizens have greeted positively the joint announcement by the foreign ministers of Nepal and China on 8 December of the new height of Mt Everest, with some light-hearted reflections and token appreciation.
On Tuesday, Chinese Foreign Minister Wang Yi and his Nepali counterpart Pradeep Gyawali pressed a crystal ball simultaneously in Beijing and Kathmandu in a virtual joint announcement that Sagarmatha-Zhumulangma was 0.86 metre higher than the previous calculation.
The official elevation of the world's highest mountain on the Himalayan border between the two countries is now 8848.86m. The Chinese expedition to Mt Everest this year, and the joint measurement project has been covered in the Chinese mainstream media and anticipation was building up here about the final height.
The reaction in Nepal's cybersphere has also been largely positive, there has been some ridicule about Prime Minister Oli's government touting Mt Everest's 'growth' as another of its 'achievements'. In China, the reaction has been largely positive, and pride about the state-of-the-art technology that made the exact height measurement possible.
While Twitter and Facebook are not readily available in China, there was a buzz on the most popular Chinese social media platform Weibo, which has 516 million users.
For some, 8,848.86m evoked nostalgia of school days when the height of Zhumulangma had to be memorised for the annual gaokao exam, China's toughest university entrance exam for 10 million high school students. Some poked fun about having to memorise the new height all over again for the upcoming exam.
The Everest height announcement prompted many to re-watch the once popular 2013 Chinese movie Up in the Wind which was shot on location amidst Nepal's mountains. The film is credited with sending many young Chinese tourists flocking to visit Nepal.
After Chinese President Xi Jinping visited Nepal in October 2019, both countries agreed to jointly announce the new height. Since then, Chinese state-media had already begun building up the excitement about the new height measurement through social media platforms.
Late in July 2020, CCTV1 invited the Chinese team online to share their experience of the installation of a 5G base station on the north side of Mt Everest.
This was followed by a trending challenge on Weibo with prizes for winners who guess the true height of Mt Everest. Three netizens whose answers were the closest to the actual height were announced with a gift from CCTV1.
Even four days after the announcement, there is still excitement reverberating on Chinese social media about Everest. The discussion seems to have shifted from Mt Everest being symbolic of the close bonds between Nepal and China to the technical aspects of how the measurements were made, highlighting China's cutting edge satellite based measuring equipment.
The discussion on Weibo has continued on also thanks to China's latest documentary on Everest, The Most Beautiful China Season 5 (最美中国第五季). In October 2020, the film was aired on Youku, China's version of YouTube and presented China's progress in technology and environmental protection, while profiling inspirational scientists.
What has caught most attention on Weibo is the installation of 5G on the northern slopes of Mt Everest, which was done as part of the height measurement expedition in May. One netizen casually posted that they were more interested in learning about when and how 5G will cover the entire mountain than the height change of Mt. Everest.
News of the new height of Everest has helped give Nepal enormous publicity within China, and could help further attract Chinese tourists to Nepal when pandemic restrictions are lifted.
Chinese social media users have been actively posting and sharing information about Mt Everest and Nepal all this week, even though the news faced stiff competition from China's Chang'e 5 rocket that is bringing back soil samples from the Moon.
Nepal's tourism planners now need to cash in on this goodwill and free promotion to build an appropriate tourism package. There will be interest among the Chinese to also visit the Khumbu on the south side of Mt Everest which, unlike the north, does not have an asphalt highway to base Camp, and is a National Park.
Aneka Rebecca Rajbhandari is an undergraduate student in politics at Peking University. Raunab Singh Khatri is a graduate student in Economics at Yenching Academy of Peking University.