Post-monsoon rain ruins Nepal's crops
Still reeling from a disastrous monsoon season, Nepal has been hit with unseasonal downpours that have dumped more rain on rice crops that were ready for harvest across the country..
More than 100mm of rain fell in 24 hours in most parts of western Nepal, which has been the worst affected so far as a late-monsoon depression from the Bay of Bengal was swept into the Himalaya by a westerly system.
The Indian state of Uttarakhand and Nepal's Far-Western Province on either side of the Mahakali River have been badly affected by floods, landslides and submerged rice fields.
The border Mahakali River reached record-high levels on Tuesday, destroying roads and bridges. More than 24 people are feared dead in a village in Bajhang hit by a landslide. Another andslide killed two children Dharan.
Nepal received 15% more rain than average this monsoon, which officially ended two weeks ago, according to the Department of Hydrology and Meteorology.
The increased precipitation, including in Manang valley in Nepal's rain shadow brought with it flashfloods that caused major damage in seven hydropower plants, and Nepal's most expensive project for supplying water to Kathmandu Melamchi Water Supply.
Except in the landslide-hit areas, farmers across Nepal had been encouraged by a healthy monsoon and were looking forward to a bumper rice harvest. Early reports said standing crops were submerged, and harvested rice stalks were destroyed right across Nepal.
Many roads in the country have been blocked due to floods from the continuous rain, including the Butwal-Bardaghat section of the East-West Highway. Water levels in the Mahakali, Karnali and Seti rivers in western Nepal have risen to dangerous levels, putting riverside settlements at risk, with many villages on the banks inundated.
Two hundred houses in the Bhimdatta and Dodhara Chandani municipalities near the Indian border in Far-Western Province are reported to have been flooded.
According to the Department of Water and Meteorology, 196 out of 225 rainfall measurement centers in the country have recorded heavy rain in the past few days.
Senior meteorologist of the Department, Pratibha Manandhar explains: "The low-pressure systems in central India and the Bay of Bengal moving north and the westerly winds becoming active is the reason we are experiencing such heavy rainfall so late in the season."
Generally, anything more than 100mm of rain within 24 hours is considered to be extreme precipitation. In the Far-western Province, Dadeldhura has already recorded 211mm of rainfall in the past 24 hours, Dipayal received 166mm in a sustained cloudburst, Ghorahi got 133mm, and Bhairawa 112mm. (see map, below)
In Nepal, monsoon rains usually stop by the end of September, as the prevailing winds switch direction to blow in from the west. Climate experts are surprised by just how erratic this year's monsoon has been.
Water expert Madhukar Upadhya writes on his Twitter account: 'As soon as we were saying that monsoon has ended, I find it surprising to see such high levels of rain, even capable of causing loss of life and property.'
However, Manandhar from the Department of Water and Meteorology says that this kind of post-monsoon period is not unprecedented. She says: "There are weather variations from year to year, so it is not surprising to see rains so late into the season. Usually we get post-monsoon rains when the monsoon itself has heavy precipitation."
The Department predicts more rain till Wednesday evening especially in Lumbini, Karnali, the Far Western Province, and in many places in Province 1, and gradually diminishing by the end of the week as the westerlies hold sway. However, a few places are still expected to see thunderstorms, strong winds, and heavy rainfall.
This untimely rain has severely impacted on the country's rice harvest. Madhav Prasad Poudel from the Department of Agriculture, says, "Unseasonal rain like this affects both standing crops and also those that have been cut and are left in the fields to dry. The water makes even the straw rot."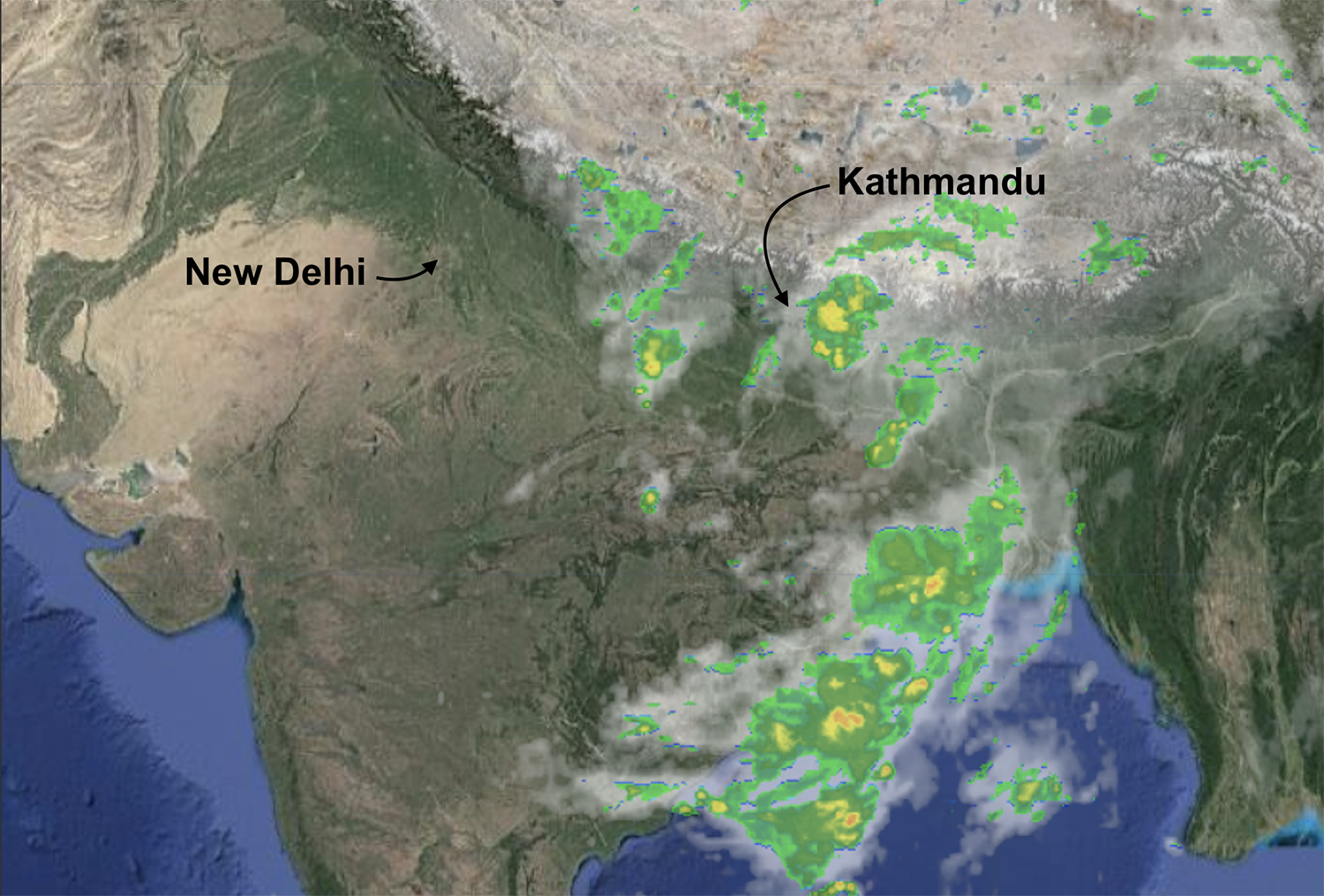 Although the Met Department forecast rain, the information did not reach farmers. Poudel adds that the rain has affected the paddy harvest adversely, but the exact damage has not yet been determined.
Sitaram Chaudhary, a farmer from Dhangadi, said that the floods have severely affected the quality of paddy, rice, and straw and even vegetable farms.
The government had been predicting records harvests of rice this year because of the favorable monsoon, but this week's deluge may affect those hopes. This also puts tens of thousands of farmers at the risk of food insecurity.
However, agriculturist Rajendra Uprety at the Ministry of Agriculture of Province 1 says the damage from rains may have been exaggerated, and Nepali farmers are used to dealing with heavy rains and high winds affecting ready to harvest rice crops.
"Of course, there has been damage, but there are ways to salvage rice stalks even from submerged fields," he says, "wet stalks need to be kept in a dry place, the paddy fields need to be drained, and the still standing crop should be harvested only after the rains stop. And we should all be helping each other instead of spreading alarmist information."
Rice is grown in over 1.4 million hectares in Nepal. Last year, the country produced over 5 million metric tons of paddy, but still imported about Rs51 billion worth of rice to meet growing demand.
With this week's late monsoon floods and unexpected rain, the 2021 harvest is most likely to be below target.