Alarming rise in violence against women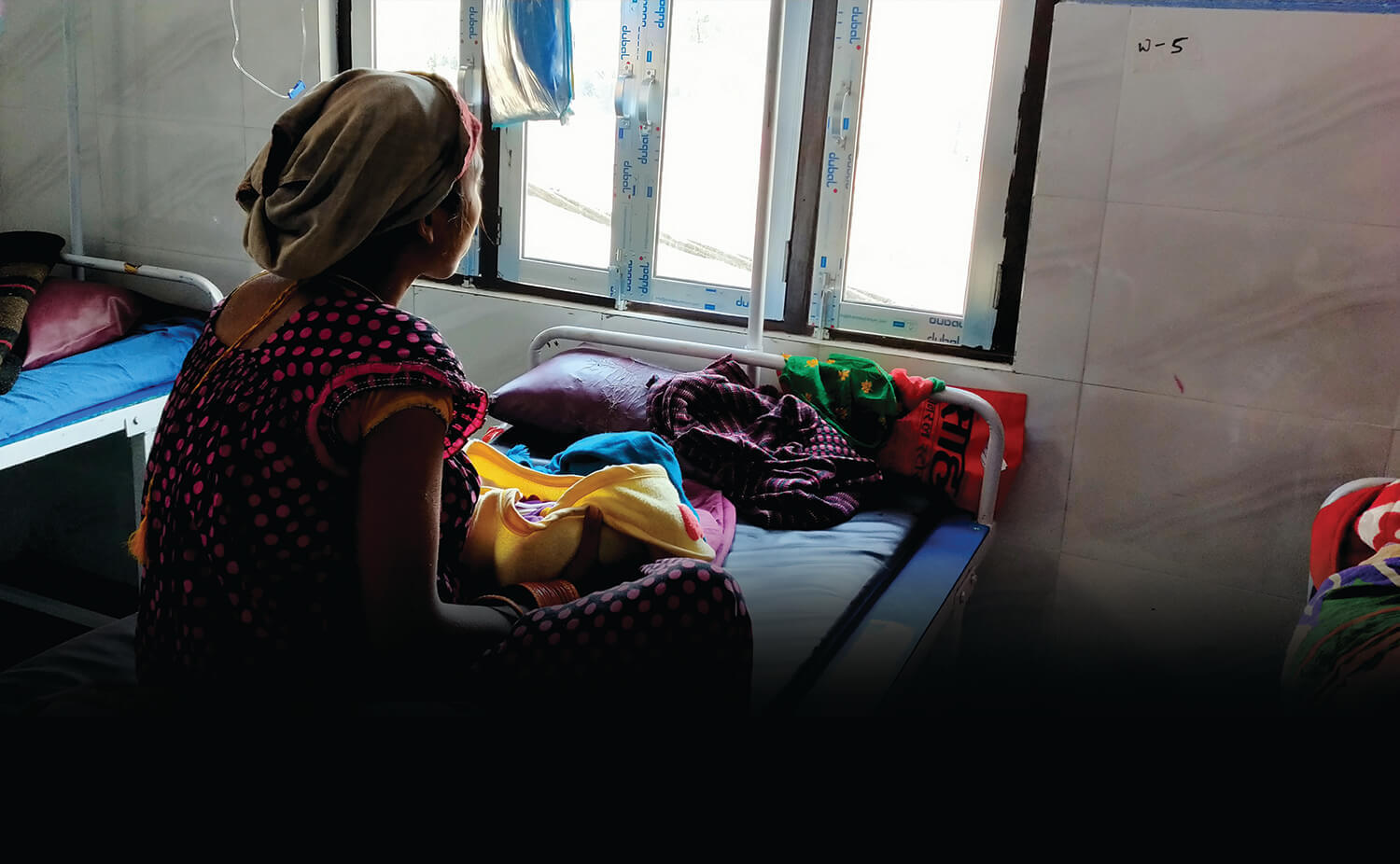 Ajaya Anuragi in Himal Khabarpatrika, 24-30 November
Brutality against women exists in families across Nepal, but nowhere more so than in Province 2, police figures show. What is not so clear is whether gender-based violence is becoming more common in this plains province, or that better educated women are now taking complaints to the police.
The number of complaints of violence against women in the eight districts of Province 2 surged dramatically from 602 three years ago to 10,243 in the past year. Most of the complaints involved dowry-related violence, polygamy, physical domestic violence against women, trafficking, rape and attempted rape. There were 125 murders of women in the past three years, mostly by drunk husbands or in-laws.
Read also: Using numbers to fight gender-based violence, Lisa Honan
Province 2 police statistics show women are more unsafe outside of homes than inside. In the past five months, 50 women who were driven out of their homes due to domestic violence sought refuge in a shelter run by the Women's Rehabilitation Centre (WOREC) in Janakpur.
"Women are unsafe everywhere, but the statistics for Province 2 look alarming," says Gyankumar Mahato of the provincial police office. However, DIG Pradyumna Karki, chief of Province 2 police, thinks the number of crimes has increased because more people are reporting them.
"Previously, people used to try and hush up crimes like rapes. But now more people are aware of the presence of the police, and we get all sorts of complaints," Karki says.
Advocate Rekha Jha agrees: "Women have tried to hide these incidents in the past but are now coming forward with their testimonies. That is the reason the numbers look higher."
Others, however, say that while there may be an increase in complaints, the number of incidents has also shot up because of new factors like the spread of social media, unregulated sale of alcohol, drugs and entrenched patriarchy in the still largely conservative region.
Read also: #Genderviolence, Trishna Rana
"The misuse of social media is contributing to violence against women," says Rekha Dutt of the National Human Rights Council, Janakpur Office. "Weak implementation of laws further encourages criminal tendencies. When perpetrators go free because of political pressure, it raises the confidence of those who prey on women."
Yagya Prasad Acharya of the district court in Dhanusha district has a different take on the problem: "Now, men also have the right to file for divorce. In the past when only women could file for divorce, men hesitated to commit violence. Now that fear is gone."
Court records show that abuse of social media was a cause in increasing numbers of violence against women in the province. With the rise in female literacy, young women are now also more assertive, refusing to get married early, or if they do, brides are not as submissive towards in-laws as in the past.
Another reason for the rise in violence against women is mismatched marriages, activists say. Poor families still try to marry their daughters into rich families by offering dowry, even by incurring large debts.
Dowry-related violence against young women is still a major cause of domestic violence -- police records show that the number of incidents rose from 3,609 last year to 4,671 this year.
Read also: Corrosive Conduct, Editorial
In the past three years the highest number of complaints about gender-based violence was from Bara and Parsa districts, and rape cases were most prevalent in Siraha, Saptari and Sarlahi.
Politicians at all three levels of government underline that ending violence against women and establishing gender equality is their priority. Province 2 Chief Minister Lalbabu Raut had even announced the 'Chief Minister Educate Daughter, Save Daughter' campaign amidst much fanfare.
Padam Prasad Pokharel, information officer in the province's cabinet office, says the campaign is mainly focused on education. "The campaign aims to end child marriage through education -- it is also working on women's safety," he says.
The province's Ministry of Social Development is imparting self-defence training to girl students of public schools, aiming to protect them from abuse, violence, and rape. "The schools wrote to us saying the program was effective, so we are continuing it this year," Pokharel says.
In the past year the ministry spent Rs11 million on self-defence training at schools, but it has taken no other initiative to reduce violence and crimes against women. At the provincial level, the ministry of internal affairs and law is in charge of these matters. "We are drafting a bill about controlling domestic violence and violence against women," says Surendra Mahato of the ministry.
Read also: Four-fold increase in reported rape in 10 years, Sewa Bhattarai
Violence against women in Province 2
Usha Devi Das of Janakpur has been enduring torture and abuse from her in-laws for not delivering enough dowry when she got married. She complained to the police twice, but law enforcement only forced the couple to sign a pledge and sent them home. The abuse did not stop. Das complained again, but her in-laws got a stay order from the district court.
Rita Devi Yadav of Bhangaha of Mahottari district registered a complaint against her husband and his family at the District Police Office, Dhanusha on 4 September, accusing them of physical and mental torture and of throwing her out of the house. Yadav then started living with her parents. She accuses her father-in-law and brothers-in-law of mistreatment. Yadav's husband has gone into hiding after the complaint was filed. The couple has a 21/2 –year-old son.
Shyam Mahara of Shahidnagar of Dhanusha beat his pregnant wife Rinadevi until she fainted, and left her alone at the provincial hospital in Janakpur. Mahara filed a complaint against her husband 5 days later on 8 September. Her father-in-law then took her home a week later. Mahara was again admitted to the hospital this month when her baby was due. The baby was delivered with a caesarean section, but was in poor health. Her in-laws disappeared after they admitted her, leaving her with Rs1,700 in hospital charges per day. She begs for food from other patients.
Read also: Rape rulings in Nepal follow letter, not spirit of the law, Sewa Bhattarai