Lesser known endangered species
Saving the last of Nepal's pangolins
Law enforcement and education, the only way to stop trafficking of endangered animals
Sonia Awale
Seizure of pangolin scales and meat are on the rise across Asia, indicating increasing demand for the body parts of this endangered mammal found in Nepal, other parts of Asia and Africa.
Last year, two Chinese nationals flying transiting Kathmandu on their way from Nigeria to China were seized at the airport with 162kg of scales from at least 15 dead pangolins.
Sudip Giri of the Central Investigation Bureau (CIB) says the seizures are just the tip of the iceberg, with much of the trafficking going undetected.
Read also:
Is wildlife conservation a victim of its own success in Nepal?, Mukesh Pokhreal
Ever gone wildlife trekking in Nepal?, Lisa Choegyal
"Pangolin smuggling is increasing at an alarming rate, but most of the culprits we have arrested are those out to make a quick buck, travelling on bikes trying to find buyers in the city, they are not the criminal masterminds and wholesalers," Giri explains.
Although Nepal is on the traditional route for wildlife trafficking from India to China, bulk seizures have occurred at trans-shipment points like Singapore and Hong Kong. In April, more than 14 tons of pangolin scales bound for Vietnam was seized – the biggest haul of its kind. Some 36,000 pangolins would have had to be killed for the consignment worth $38.7 million.
The seizure came just five days after another container with 12.9 tons of pangolin scales was discovered in a Singapore port. Two separate shipments of five and four tons of pangolins from Nigeria have been seized in Hanoi in the last two months.
Read also:
Protecting pangolins from being eaten to extinction, Sonia Awale
Protecting lesser known species, Shreejana Shrestha
Nepal is home to two species of pangolins: the Chinese and Indian varieties. The Chinese pangolin is on the IUCN's critically endangered list and the Indian one is on the endangered list. Both species are in Nepal's protected list and the killing, poaching, transporting, selling or buying of the scaly anteater is punishable with Rs1 million fine and/or up to 15 years in jail.
However, Nepal, north-east India and the Karakoram Highway in Pakistan are the three land routes known for smuggling South Asian pangolins to feed the Chinese market where the scales can fetch up to $3,000 per kg and live anteaters at $8,000.
Border points into China in Darchula, Humla, Bajhang, Sankhuwasabha, Sindupalchok, Gorkha, Dhading, Rasuwa, Kavre, Bajura, Surkhet and Taplejung are used for smuggling not just pangolin, but tiger parts, rhino horns, rosewood and other contraband items as well.
Read also: Between existence and extinction in Nepal, Sonia Awale
Officials admit that the lack of proper equipment to identify wildlife contraband, corruption and lax monitoring at remote checkpoints means that many consignments slip across the border undetected.
While the smuggling nexus has been more or less controlled with greater conservation efforts and stricter regulations, conservationists fear that the Himalayan route is now being revived for pangolins, the world's most smuggled mammal.
"With increasing connectivity, and our border with a high-demand country for pangolins like China, we have to be vigilant," says Tulshi Laxmi Suwal of Nepal's Small Mammal Conservation and Research Centre, who is pursuing her PhD on pangolins at the National Pingtung University in Taiwan.
The reopening of the Tatopani-Kodari border point after the 2015 earthquake, the increasing use of the Rasuwa-Kerung road and the prospect of a new trans-Himalaya railway link could turn Nepal into even more of a smugglers' den.
Read also:
Which way will the Tibet-Nepal railway go?, Ramesh Bhushal
"Nepal is already a signatory of China's Belt and Road Initiative which could increase market access and trafficking of wildlife," says Kumar Paudel of Greenhood Nepal, who adds that pangolins from Africa, India and Bangladesh are already being intercepted in Nepal on their way to China.
More than 100,000 wild pangolins are poached from Africa, Southeast Asia and South Asia every year. Most are destined for China where scales of the mammals are used in traditional medicine, and its meat considered a delicacy.
Taiwan is a rare success story that offers hope. The island used to have high demand for pangolins just like the mainland, but an awareness campaign to reduce domestic demand and strict control on smuggling, allowed Taiwan's own pangolin population to rebound. If Taiwan could do it, conservationists say, China can too.
"Poaching and illegal trade of pangolins is not a big issue anymore in Taiwan, but we cannot be complacent. We need to continue sharing knowledge and I have found social media to be quite powerful," says Nick Ching-Min Sun of National Pingtung University.
His colleague, Tulshi Laxmi Suwal from Nepal adds: "We can all learn from Taiwan, how governments can be more serious and work with local communities and conservationists to spread awareness to reduce demand and give local people alternative incomes to reduce supply."
Rescuing barn owls from superstition
Kamal Maden
Once widespread in Kathmandu Valley and across Nepal, barn owls are now endangered due to a decline in prey populations and threats from humans.
The first-ever study of barn owls in Kathmandu Valley, carried out by Sabita Gurung for the Small Mammal Conservation and Research Foundation (SMCRF) and Japan's Nagao Natural Environment Foundation, has found that a decrease in the owl's rodent prey is affecting its population.
Gurung laid traps for mice and grey house shrews, the main prey of the owl recognisable by its heart-shaped face, and found that both had declined in numbers due to rapid population growth in Kathmandu and the loss of open spaces. This is worrying because owls are an important part of the ecosystem and control the population of grey shrews, which Gurung found make up 80% of the birds' diet.
Read also:
Feather fiends, Dewan Rai
Kathmandu's silent spring, Sonia Awale
The misconception that the meat of barn owls and Indian eagles can cure paralysis and other diseases has also led to an increase in the poaching of the owls.
Gurung is carrying out further research to identify the barn owl's food habits, prey availability and challenges to its conservation in the Kathmandu suburbs of Pulchok, Chyamasin, Srijananagar, Kirtipur, Bajrabarahi and Balaju.
The barn owl is one of 23 species of owls in Nepal and was first recorded by British resident and naturalist Brian Houghton Hodgson in 1829. Today, it is categorised as a vulnerable species under the national red list of Nepal birds; anyone found hunting, selling or harming a barn owl is liable to be fined up to Rs30,000 or jailed for 3-9 months.
Considered to be the most beautiful of owl species, the barn owl gets its name from its preference to nest in barns instead of outdoors, signifying its habitat proximity to human settlements.
Read also: Protecting the last home of the Spiny Babbler, Carol Inskipp and Rupendra Karmacharya
With an unmarked face and beige lower body, the barn owl is known as the 'white owl' in Nepal. Its wide facial disc is actually an antenna that magnifies sound in the same way human ears do. The bird's acute sense of hearing allows it to be a specialised nocturnal hunter of small mammals.
Barn owls are ultra-light and have soft feathers that muffle its passage through the air, allowing it to fly silently. But because its wings are not waterproof, the bird does not fly when it is raining. Contrary to popular belief, barn owls can see in the daytime but have found a prey niche at night.
Barn owls in Kathmandu Valley were found to feed mainly on shrews, mice, small birds and insects. Since they cannot digest the skull, bones and fur of rodents, the owls spits them out as pellets, which scientists use to study their feeding habits.
Of the 108 pellets Gurung studied recently, 81 belonged to grey house shrews, 13 to mice, 3 to birds and 1 to insects, with some unidentified bones.
The grey house shrew in turn feeds on small insects and worms and has a strong body odour that discourages most predators, except owls and some species of snakes. As shrews live close to human settlements, the owl does too.
However, the use of pesticides and rat poison has reduced the population of rodent and insects, affecting owl colonies in Kathmandu.
Coy cat captured (on film)
Camera trap takes first photos of rare marbled cat in eastern Nepal
Wildlife researchers studying the red panda have accidentally discovered one of the world's most mysterious cats for the first time in eastern Nepal.
The rare marbled cat (Pardofelis marmoratwa) is slightly bigger than a domestic cat and has large, dark-fringed markings and a long bushy tail. It was captured by a forest camera trap at 2,750m in Panchthar district. This is the first photographic evidence of the feline in Nepal, according to a new study published in the journal Nature Conservation.
The camera trap study was carried out by researchers from Lincoln University in New Zealand and the Red Panda Network (RPN) in community forests in the Kangchenjunga region bordering India and Nepal between December 2017 and June 2018. Cameras captured three images of the wild cat, along with 5,176 other photos of 17 medium and large-sized mammal species.
Read also:
Clouded future for the Clouded Leopard, Yadav Ghimirey
Studying cat scat, Sonam Tashi Lama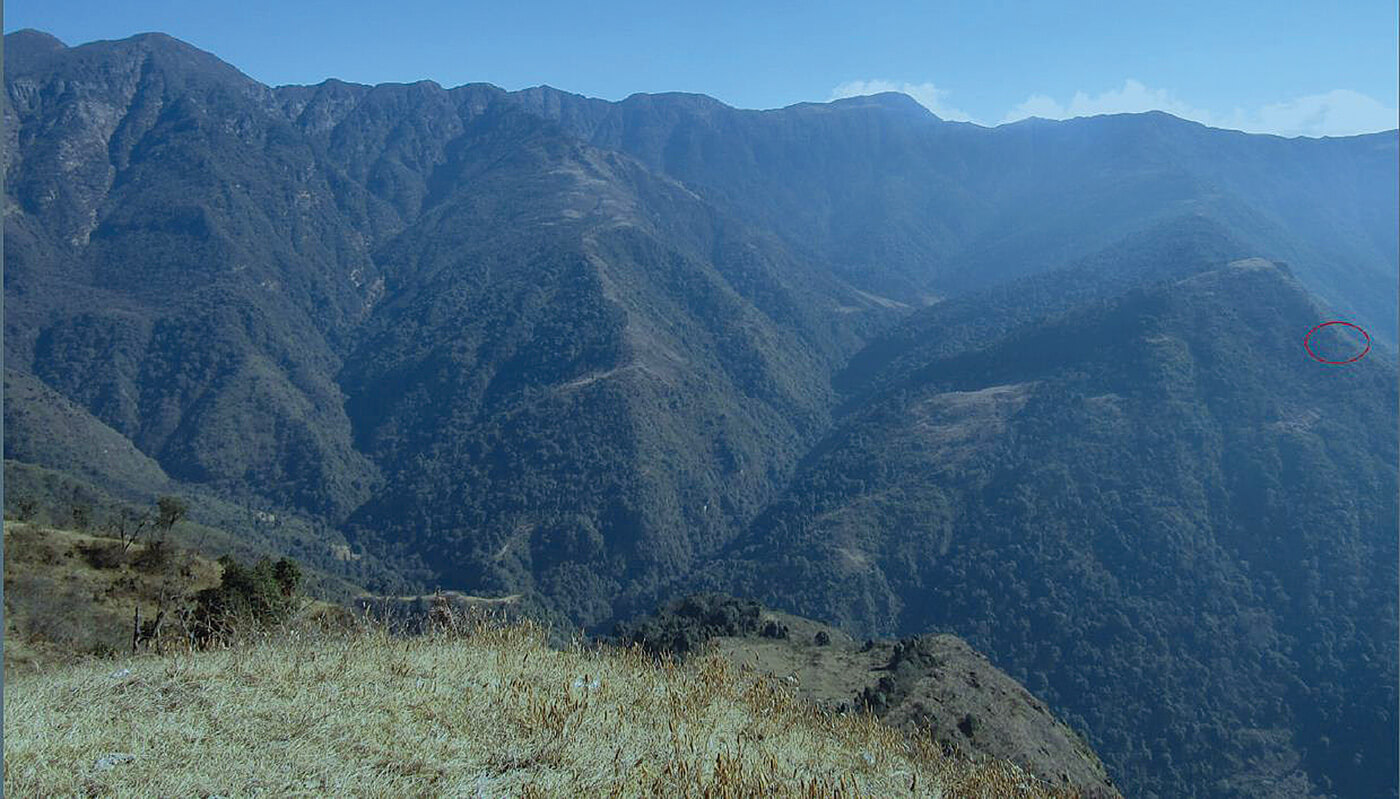 "This is exciting news for wildlife biologists and conservationists in Nepal," said Sonam Tashi Lama, the lead author of the study and the coordinator of RPN's citizen scientists and wildlife researchers monitoring eastern Nepal's community forests for red pandas, but had never seen the marbled cat until they examined the camera trap photos.
Cameras are revolutionising how researchers detect and count cryptic species, said Adrian Paterson, associate professor in Zoology at Lincoln University in Christchurch, a co-author of the research paper. "Detecting the marbled cat in eastern Nepal is a great example of the benefits of using cameras and will the discovery will add significantly to conservation in Nepal," he said.
The marbled cat is categorised as 'Near Threatened' in the IUCN Red List of Threatened Species, listed in CITES Appendix I and considered a 'data deficient' species in Nepal. The cat lives in forests throughout South and Southeast Asia, from the Himalayan foothills of India and Bhutan to China and southwards through Malaysia and Indonesia.
The forest in eastern Nepal where the marbled cat was detected has been naturally restored as a secondary forest after a forest fire destroyed the area nearly 35 years ago. Its presence is seen as a big conservation achievement, and researchers are recommending that year-round camera trap surveys be held in the mid-hills of eastern Nepal. Its exact location is not divulged to protect the wildlife in that region from poachers.
The study also calls for an urgent assessment of immediate threats, preparing sound conservation plans for the marbled cat and engaging local herders in conservation programs.
Is the spotted linsang really rare, or expert at rarely getting caught?
Yadav Ghimirey
The small and sleek spotted linsang was recently photographed for the first time in more than 175 years in Nepal. This was the first authentic evidence of this tree-dwelling mammal occurring in the country.
Although there were some reports of its presence in Chitwan National Park in the 1980s, credible evidence was scarce. The species was documented for the first time by British resident and naturalist Brian Hodgson in 1847, who illustrated the carnivore using a live model.
The animal is an enigma, showing up very rarely even in camera traps. During our survey in Annapurna Conservation Area in 2017, only two pictures of the species were captured in 4,500 trap days. A trap day equals one camera trap kept in the open for 24 hours.
There was no evidence of this species during one-and-half years of searching in Makalu-Barun National Park, and many other wildlife research efforts in the mid-hills prior to our 2017 work also failed to document the spotted linsang.
The animal's rarity is not the only reason for the few sightings. Will Duckworth at the International Union for Conservation of Nature (IUCN) believes that it is primarily an ambush hunter that waits for its prey from a hidden location and rarely travels long distances in search of food, making it less likely to be seen.
Many also believe this little carnivore occupies a very small area and, as an arboreal mammal, spends much of its time in the branches and canopy of trees making it difficult for sighting.
The species is on the IUCN Red List, the global authority on the status of wildlife. On Nepal's National Red List, the spotted linsang is classified as a data deficient species, which means there is very little evidence to classify its status. This is unfortunate because only by knowing a species' status can relevant conservation initiatives be carried out.
As one of the country's most elusive animals, there is no doubt that having more knowledge about the spotted linsang would help develop a bond between the public and the animal, which would in turn help make conservation initiatives easier.
Yadav Ghimirey is a conservation biologist at Friends of Nature. He has been working with wild cat species in Nepal since 2008.