The geopolitics of Nepal's water and electricity
A rapidly warming atmosphere is melting Himalayan glaciers, changing the seasonal flow of water in Nepal's rivers, and increasing the interest of downstream India to regulate water and generate electricity.
For Nepal, this is an opportunity to finally tap the potential of the country's 'white gold' to meet growing demand for electricity domestically, as well as redress its trade deficit with India by selling surplus power.
New Delhi's priority has been not so much electricity but to try to regulate the flow of the Ganges by storing monsoon runoff in its Himalayan tributaries in Nepal, which is why it has lately started showing an interest in building large reservoir projects in Nepal.
"There is no doubt that India's real interest is in Nepal's water resources rather than hydroelectricity," says Sheetal Babu Regmi, formerly head of the Water and Energy Commission. "And water is going to be an even more critical commodity with the climate crisis."
Almost two-thirds of the water in the Ganges that flows through some of the most densely-populated regions in the world comes from the rivers of Nepal. And most of that flows down in the four monsoon months between June-September.
In the rainy season, there are destructive floods in the plains, and for nine months in a year, the rivers have low flow. Storage dams in Nepal would even this out, reducing flood damage during the monsoon, and make adequate water available the rest of the year.
Climate change means that there will be even less water flowing in the Ganges and its tributaries in the dry season in the coming decades.
A recent report by India's NITI Ayog showed that nearly 600 million Indians are facing a shortage of water for irrigation and household use, and singled out 21 cities, including New Delhi, as potentially facing groundwater depletion by 2030.
Another report by ICIMOD (the Kathmandu-based International Centre for Integrated Mountain Development) warned that failure to reduce carbon emissions would lead to the Himalaya losing up to two-thirds of its remaining glaciers during this century.
It is therefore strategically important for India to ensure regulated year-round water on the Ganges, and for this it needs a government in Kathmandu that is amenable to allowing it to build large reservoirs on Nepal's rivers.
However, given the historical asymmetry of past Indian projects on the Kosi and Gandaki, river projects are political hot potatoes in Nepal. Governments in the past have fallen because incumbents signed off on river treaties with India that were deemed to disproportionately benefit India.
Which is what makes the timing of announcements of a slew of new Indian investment in river projects in Nepal after Prime Minister Sher Bahadur Deuba-led coalition came to power last year so significant.
On 14 June, Nepal's cabinet gave permission to India's state-owned NHPC Limited (formerly the National Hydroelectric Power Corporation) to build the 750MW West Seti hydropower project. The China Three Gorges International Corp (CTG) had in 2018 been edged out of the reservoir project with a 194m high dam in western Nepal.
The NHPC had made a proposal to Nepal's Investment Board in May for the construction of the project following promises made by Prime Minister Deuba during his visit to India in March. And while on the campaign trail in Dadeldhura in May, Deuba had revealed that construction of the West Seti would have to be given to India because otherwise New Delhi would not buy electricity off projects with Chinese investment.
But experts have raised serious issues with the way such a large project has been handed over to Indian companies without the requisite competitive bidding process, and using a legal loophole to circumvent Nepal's Public Private Partnership and Investment Act.
An agreement to hand over a 51% stake in the construction of the Arun-4 hydropower project to another Indian state-owned company, Sutlej Hydropower Corporation, was also made in June during Indian Prime Minister Narendra Modi's visit to Lumbini.
Arun-4 follows Sutlej's joint venture on the upstream Arun-3 project in eastern Nepal, and the government was so secretive about the deal that Nepalis came to know about it only after Nepal Electricity Authority (NEA) executive director Kulman Ghising signed the agreement in Lumbini with Sutlej Hydropower chair Nand Lal Sharma.
Sutlej Hydropower earlier acquired the 679MW Lower Arun project construction rights under former prime minister K P Sharma Oli. The cascade of Indian projects on the Arun River will generate 2,000MW of electricity in eastern Nepal.
And with West Seti and Upper Karnali projects, Indian companies will be generating another 2,000MW of electricity from western Nepal for export to India.
Additionally, the government is also planning to award the 450MW Seti River-6 project to NHPC. Sources at the Investment Board Nepal say that the Indian company is taking most of the electricity, and offering only 3% of free electricity to Nepal. The NHPC has also submitted a proposal for the 480MW Phukot Karnali and the 1,902MW Mugu Karnali projects in north-western Nepal.
The fact that all these projects have been announced only after Deuba replaced K P Oli as prime minister last year indicates that his coalition partners have been friendlier to Indian proposals on river projects than previous governments.
Indeed, the 900MW Upper Karnali hydroelectric project which was awarded in 2014 to the Indian private company GMR was given a two-year extension despite its failure to finalise investment.
"Nepal is playing a geopolitical game with hydropower, flouting the Constitution and prevailing laws," says former water resource minister Dipak Gyawali.
Nepal's Constitution stipulates that treaties or agreements related to the distribution of natural resources and their use must be approved by a two-third majority in the Federal Parliament.
Other experts however, say that Nepal cannot just sit on its rivers, it must harness them for economic progress, and for this it has to cooperate with India on an equal footing for mutual benefit.
"Indian investment in the hydropower sector will benefit Nepal, it will mean the electricity we generate will find a ready market in India and reduce our trade deficit," says NEA director Kulman Ghising.
However, it is the fear that India will derive disproportionate benefit from these joint projects that worries Nepali experts, especially since there is historical precedent for that.
India has also put pressure on Nepal by refusing to buy electricity from projects built with investment or contractors from China. India refused to buy surplus power from Nepal this monsoon, wasting 500MW of electricity. Chinese investors are presently involved in building hydropower plants with a total capacity of 1,000MW.
Deuba reached an energy-sharing agreement during his India visit in March, under which the Central Electricity Authority of India approved 364MW of electricity imports from six hydropower projects in Nepal -- but only those not built by the Chinese.
Foreign policy experts have seen a clear departure on the part of Prime Minister Deuba towards India on river basin projects, with Indian companies being favoured over Chinese ones.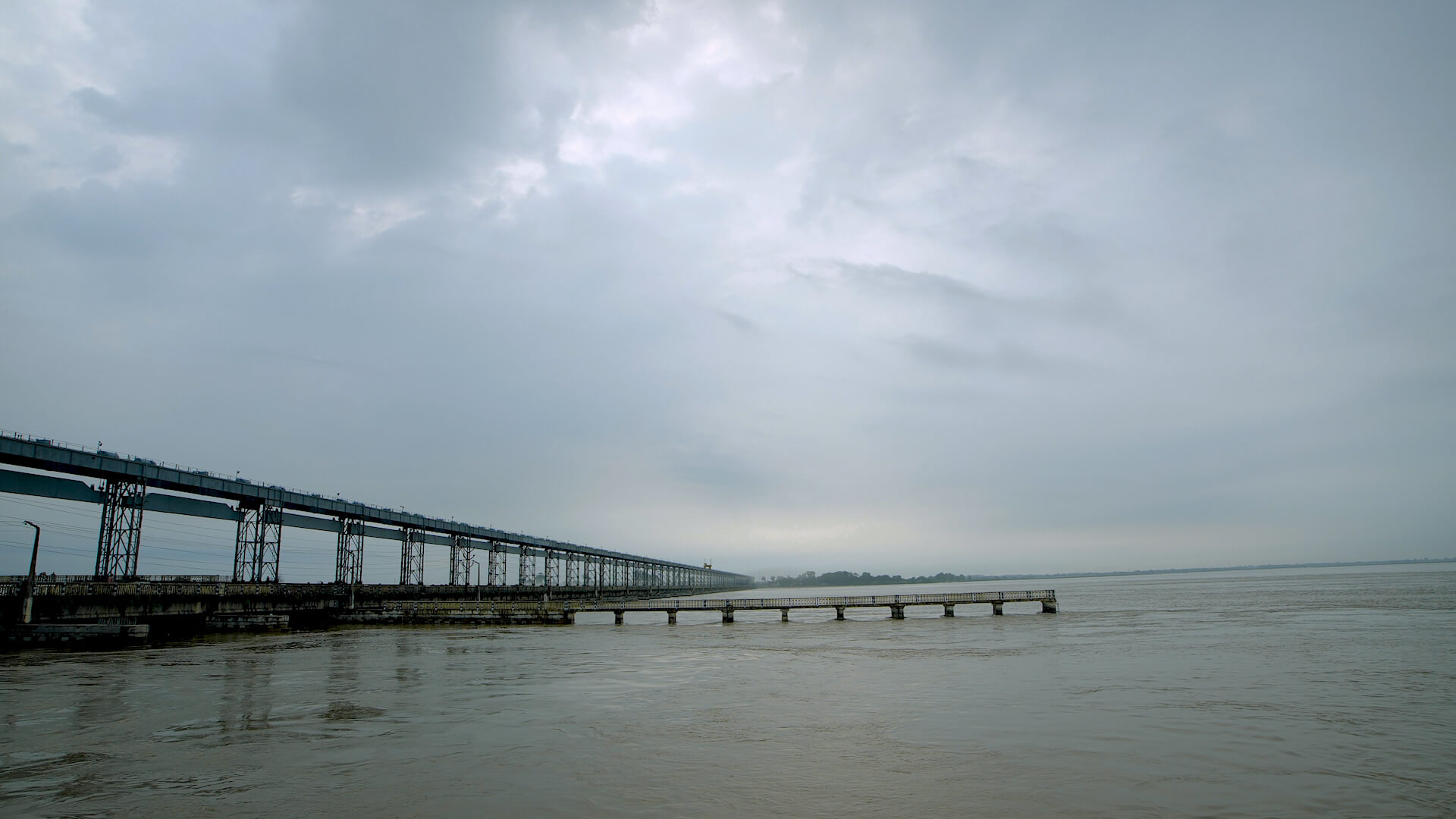 In March, the Deuba-led government decided to revoke the license issued to the China Gezhouba Group Company (CGGC) to develop the mammoth $2.5 billion Budi Gandaki hydropower project west of Kathmandu, and to build its 263m high dam to generate 1,200MW on its own.
The Budi Gandaki has been a victim of geopolitical pingpong for the past five years. In 2017, Maoist Prime Minister Pushpa Kamal Dahal's government awarded the project to CGGC, but the subsequent Deuba government reversed the decision, angering the Chinese. In 2018, K P Oli's administration restored the contract, only to have Deuba cancel it again this year.
Chinese Ambassador Hou Yanqi stated in May that it was "wrong to change policy (on Budi Gandaki) with every change of government … such actions kill the investment climate".
"It is not diplomatically mature to repeatedly undo decisions of preceding governments every time power changes hands," cautions foreign affairs expert Dinesh Bhattarai.
Experts say that India's policy on it energy imports from Nepal will not only just discourage future Chinese investments in Nepal which is its goal, but also other investors. It will also throw Nepal's policy of equidistance between China and India off balance.
All this is not new. Before Three Gorges, Australia's Snowy Mountain Engineering Company (SMEC) also pulled out of the West Seti project in 2010 after India showed no interest in buying its electricity. Then the Norwegian company SN Power abandoned the export-oriented 650MW Tamakosi 3 after not getting the green light from New Delhi to buy its power.
Most of Nepal's hydropower projects so far are run-of-river schemes in which generation capacity falls during the dry season. This means Nepal has a power deficit in winter when it needs to import from India, and has a surplus in the monsoon which it has started exporting to India.
Having reservoir projects would change that, and give Nepal a more year-round generation capacity, while also regulating water on rivers as a bonus. But even with the present hydropower projects, Nepal earned Rs1.72 billion just in June from selling its excess electricity to India.
"India considers water a strategic resource, and is cleverly trying to keep Nepal's energy system under its influence," explains Dipak Gyawali, the former minister.
Clearly, Nepal needs to prioritise domestic consumption of electricity over its export and channel it into electrification of transport, industries and homes. All of this will automatically cut down on petroleum imports, reducing its increasing trade deficit.
Selling raw electricity to India is not as beneficial, experts point out, because Nepal is selling its power at a much cheaper rate to India than to domestic consumers. Switching to electric vehicles to reduce Nepal's petroleum import bill by just 10% would save the country over Rs30 billion a year.
The combined capacity of Nepal's hydropower projects has now exceeded 2,100MW even as average domestic demand stands at just 1,550 MW. Another 2,500MW of electricity will be added to the grid in the next two years, while 3,000MW of new projects are in the pipeline.
In a few short years, Nepal will have surplus year-round electricity, and experts say it will be better for the economy to use the power within Nepal to manufacture value-added products than to rely so heavily on selling power to India.
They say Nepal needs to rework its energy needs so as to increase domestic consumption, and cut its widening trade deficit with India by reducing petroleum imports rather than just exporting power.