Nepal poll results signal upset
As the results of Sunday's federal and provincial elections trickle in, there are signs that Nepal's voters have made their dissatisfaction with the country's serial politicians clear.
While early results show that the rivalry between the Nepali Congress (NC) and CPN-UML that dates back 30 years is still as fierce as ever, Nepal's politics may be seeing the dawn of a new era.
Heavyweights of established parties trail in several important constituencies, the Maoist-Centre and the Unified Socialists have fared poorly everywhere, the royal-right parties have not got the votes they expected, and the five-party governing coalition is in shambles.
The reason for this appears to be mainly that many supporters of the NC and Maoist-Centre voted for independents or rebel candidates, rejecting the alliance of convenience between the right and left-wing parties. Although the UML is also losing a lot of votes to new and independent candidates, the opposition UML appears to have been able to better ride out the storm.
Rabi Lamichanne's newly-minted independent Rastriya Swatantra Party (RSP) and other independent candidates are also faring well in many constituencies. Even in places where they are not leading, they show that many voters have abandoned the established parties they used to be loyal to. In many ways, election results so far show a rejection by voters of Nepal's serial politicians.
Indeed, many Nepalis did not even bother to vote with Sunday's polls recording the lowest turnout in recent years at only 61%. In Rolpa where the Maoist insurgency began in 1996, turnout was a mere 40% and it was similar in Gorkha from where Pushpa Kamal Dahal of the Maoist Centre is contesting.
It may be too early to call this an 'independent wave' in Nepali politics, but the RSP, other independents and younger leaders from the main parties could be the new kingmakers.
"From the figures so far, it is clear that the RSP's strong results show that voters are fed up of the same old faces," says political analyst Punarjan Acharya.
He adds: "It is also clear that the UML has done better than many expected despite internal party strife and having to do battle with the ice-party alliance."
Overnight, Prakash Man Singh of the NC was declared winner in Kathmandu-1, where he narrowly edged our Rabindra Misha by a mere 218 votes. This was a repeat of 2017 when Mishra, who had contested the same constituency from the alternative Bibeksheel Sajha, had lost to Singh by a narrow margin. This is the fourth win for the scion of one of the NC's founding leaders, Ganesh Man Singh.
In Lalitpur-2, UML candidate Prem Bahadur Maharjan received 15,025 votes to beat Sudin Shakya of the new Hamro Nepali Party and Buddha Ratna Maharjan of Rastriya Swatantra Party. Maharjan appears to have benefited from the new smaller parties splitting the votes.
Elsewhere in Bhaktapur-2, Durlav Thapa Chettri of NC and Mahesh Basnet of UML are battling it out, but the former is now leading with nearly 1,000 votes more.
In one of the earliest outcomes, NC had a clean sweep in Mustang with Yogesh Gauchan, 29, was elected as the youngest MP so far. The pair of Namdu Gurung and Bikal Sherchan also won provincial seats in Gandaki.
The NC has also managed a provincial seat from Manang with Munundra Jung Gurung's win. Independent Rajiv Gurung has locked in another seat from the district having won unopposed earlier.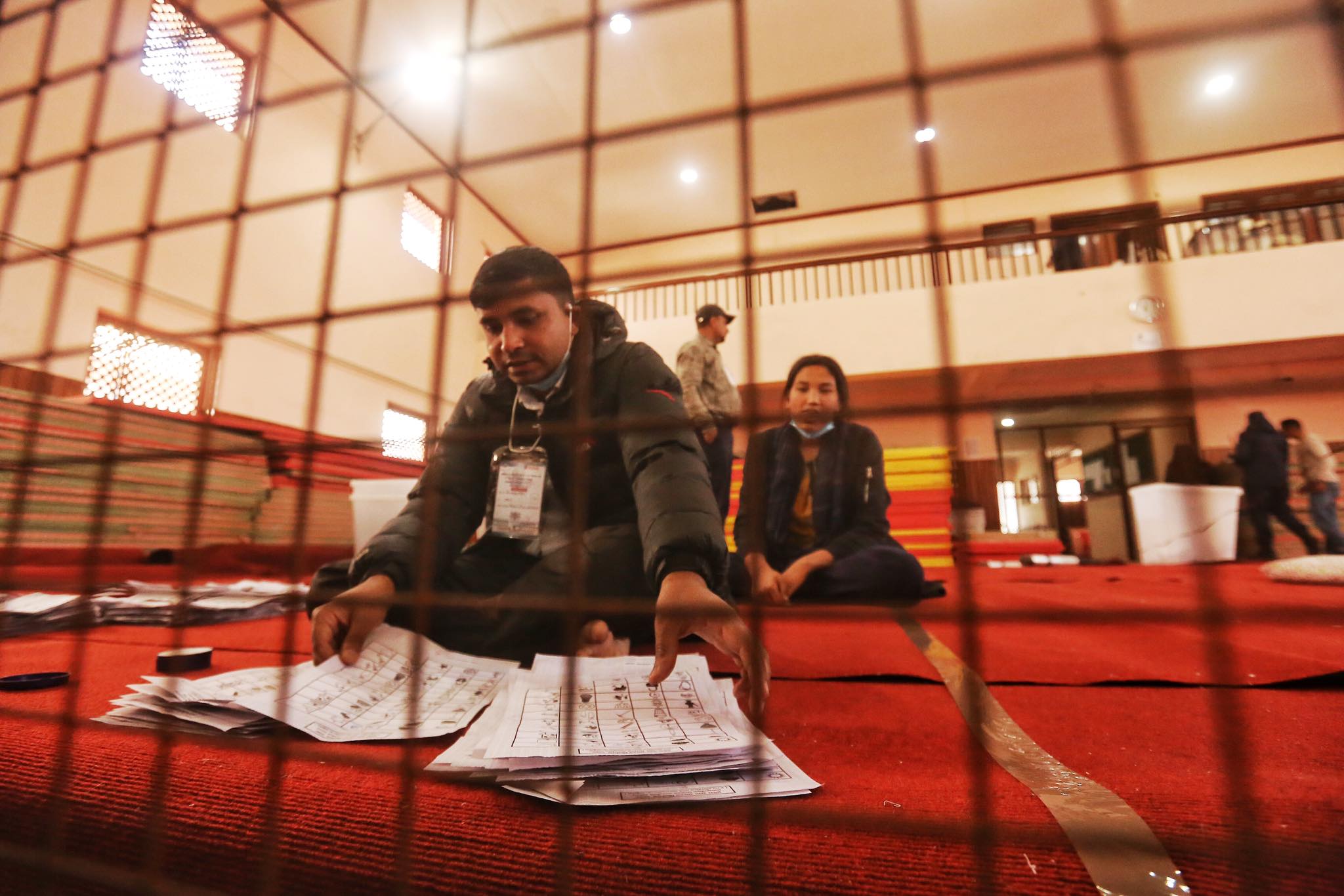 Till press time on Tuesday morning, the NC had won three provincial seats and was leading in 45 constituencies while UML has one win with its candidates maintaining their lead in 35 others.
The Maoist Centre leads in just 11 areas while the Unified Socialists and RSP with leads in 8 constituencies each. The UML is expected to do better than the NC in seats under the Proportional Representation (PR) mechanism.
The RSP is also forecast to add many more PR seats, perhaps even as the fourth-largest party in the new federal Parliament. This is a dramatic rise for a party that was formed only six months ago by charismatic former tv anchor Rabi Lamichhane and who was joined by young and forceful candidates campaigning for good governance, accountability, better service delivery and job-creation.
Rabi Lamichhane himself has fallen behind the NC's Umesh Shrestha in Chitwan-2, but that could be because the votes so far counted are mainly from coalition strongholds.
RSP is, however, leading in Chitwan-2 where Hari Dhakal is ahead of NC's Biswo Paudel and UML's Surendra Pandey, the MP from the constituency in 2017. Former House Speaker Onsari Gharti of the Maoist Centre is also trailing behind Rastriya Swatantra Party's Sobita Gautam in Kathmandu-2.
The RSP's Toshima Karki, a physician, is edging past the UML's Amrit Khadka to lead in Lalitpur-3. Maoist Centre's Pampha Bhusal who is also Energy Minister is trailing behind the two.
The RSP's, Shishir Khanal, and education reformer, is far ahead of former police chief Sarbendra Khanal of the UML in Kathmandu-6, and is likely to win. The RSP is also leading in constituencies in Kaski, Jhapa and Rupandehi districts.
"The coalition votes were split and scattered. The way I see it, losers this time are Maoist Centre, Unified Socialist, and the Mashes-based JSP and LSP," says analyst Acharya.
He adds that this is the direct result of the Maoist Centre and Unified Socialists (US) seeking more constituencies than their ability. "If the NC had a candidate in 25 more constituencies instead of distributing it to the Maoists and US, it would have ensured a bigger victory for the party," explains Acharya. "Except now, they have pretty much gifted many of seats to the UML."
Elsewhere, the NC's General Secretary Gagan Thapa looks set to win Kathmandu-4 with UML's Rajan Bhattarai trailing. Thapa has publicly declared that he would like to be the next prime minister and replace those "who have had many chances in the past to serve the country".
In Kathmandu-7, it looks like Manushi Bhattarai will have a hard time catching up with her rivals — despite support from the coalition. Her father, former Maoist ideologue Baburam Bhattarai had swapped his Gurkha constituency with Pushpa Kamal Dahal to win Maoist support for Manushi.
The royal-right Rastriya Prajatantra Party (RPP) chair Rajendra Prasad Lingden has taken an initial lead in Jhapa-3 where the UML-backed leader is up against the coalition's Krishna Prasad Sitaula of NC.
Uday Shumsher Rana of NC has taken a lead in Lalitpur-1 slightly edging past Nawaraj Silwal of UML. In Kathmandu-5, it's the battle of new faces with Hamro Nepal Party's Suman Sayami just ahead of Biraj Bhakta Shrestha of Rastriya Swatantra Party in the vote counting.
Erstwhile separatist CK Raut has also taken an initial lead in Saptari-2 with Jayprakash Thakur of Lokatantrik Samjbadi and Upendra Yadav of Janata Samajbadi trailing behind. Maoist Centre on the other hand has also taken an initial lead in Jajarkot with Shakti Basnet ahead of Niraj Acharya of UML.