Sightseeing for the blind
As Alex T James stood before a white lion statue in Kathmandu Darbar Square, his sighted partner took his hand and guided it across the curves of the lion's belly and the divots inside its gaping mouth, all the while describing to Alex what he was touching. Other sighted and visually impaired travelers in the group were doing the same.
Having travelled extensively throughout the years, James says, "For me, travelling is a chance to explore new countries and have a sensory experience. There is nothing more exciting than experiencing the sounds, smells and feelings of a new city. Sighted guides who go out of their way to help those who can't see make it easier."
Read also:
Hearing for the deaf, seeing for the blind, Sewa Bhattarai
Listening to the hearing impaired, Nunuta Rai
Visually impaired tourists like James rely heavily on their sense of touch, smell and sound when visiting Nepal. Their guides help them navigate the landscape and describe to them their surroundings. Through partners, sighted guides are also encouraged to experience new places with senses other than sight.
This group was the second to visit Nepal through Traveleyes, a British holiday company for blind, visually impaired and sighted travellers. Last November sighted guides described the mountains in Pokhara to their visually impaired partners, led their hands across prayer wheels in Boudha, described the solemn cremation rituals at Pashupati, helped them navigate uneven pavements and rocky staircases, lent a hand when boarding rafts in Trisuli and led them to dance circles during cultural performances in Chitwan.
Suzy Hesseldon, tour manager for the trip, speaks fondly of the group's adventures in Nepal. She says, "The trip was incredible and the visually impaired guests are absolutely inspiring. They are thrill seekers and live life to the fullest."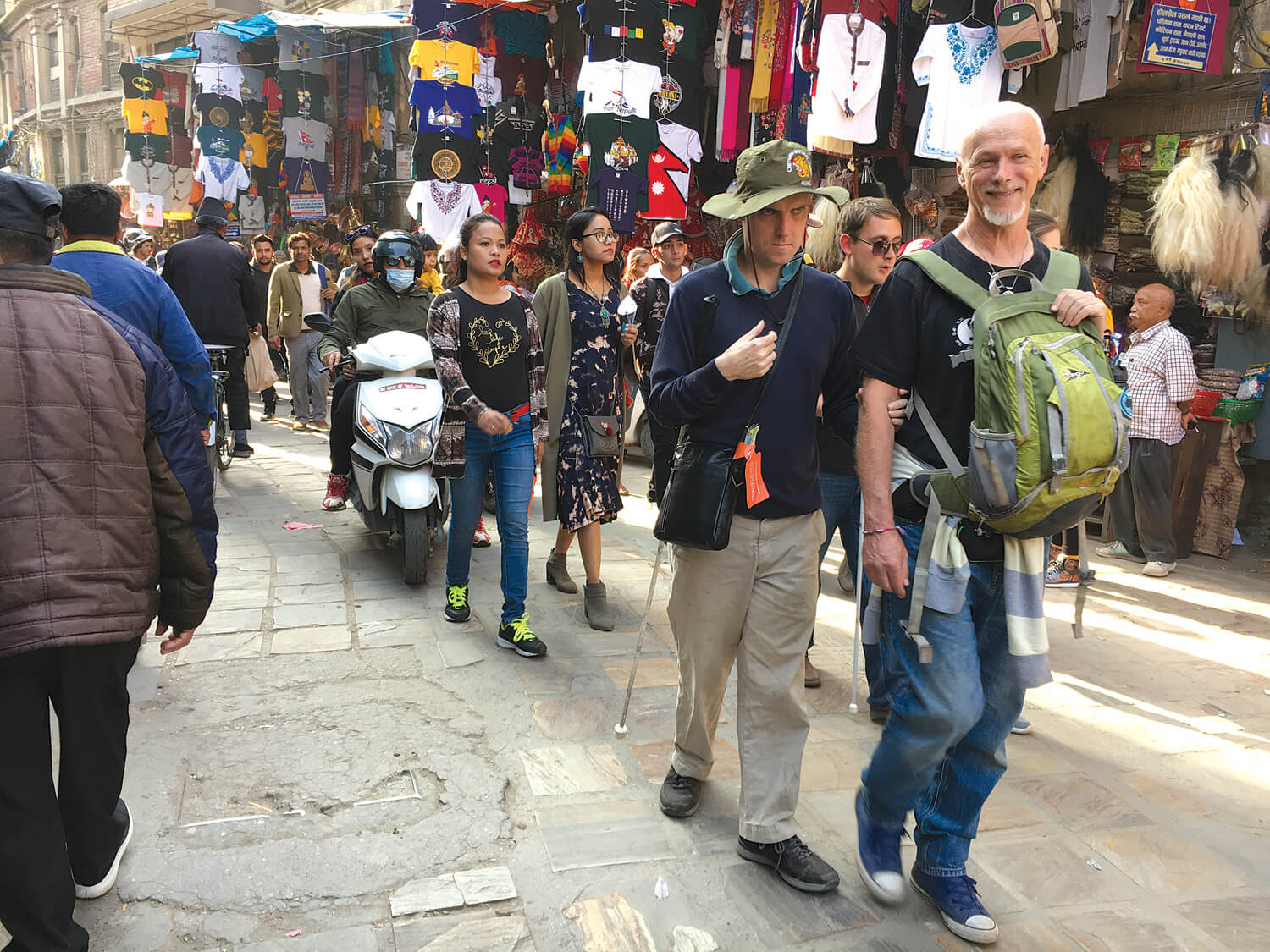 Blind tourists are paired with sighted guides on a rotational basis on the morning of each travel day, allowing everyone to get to know one another during the trip. Tour managers like Hesseldon give a short introduction to the day's plans and a few tips to help the travelers as the weeks go by. But the best guides may be the visually impaired individuals themselves.
"All the sighted guides have to do is ask them how they would like to be assisted, and describe the stairs or landscape. It works well because all the sighted guides have to do is be the visually impaired's eyes," says Hesseldon.
But travelling with visually impaired guests is less about sightseeing and more about a holistic sensory experience. Traveleyes, with the help of Malla Travel and Trek Services, designed an itinerary that incorporated destinations and activities that would involve senses beyond sight.
To Tony Booth, a retiree who describes himself to some degree as an "ageing hippie" and who was a sighted guide during the trip, the experience was profoundly eye-opening. He says, "When you are travelling with visually impaired people, what you can see is sometimes of less interest to them. Your other senses become much more important. You become much more aware of what you can hear, what you can smell, what you can feel. You become aware of a different kind of world."
Read also:
Blind faith, Candice Neo
Three toots for Tootle, Sonia Awale
Booth also recalls the difficulties of having to navigate roads without sidewalks and the risk of getting hit by cavalier drivers -- a common issue faced by most visually impaired individuals in Nepal. But despite the threat of collisions even while walking on pavements, the visually impaired tourists were happy to be guided by their sighted partners.
Ajay Manandhar, who is fondly referred to as 'AJ' by his clients and is the in-house guide at Malla Travel, says, "This was my first time working with visually impaired tourists and I really enjoyed the concept of having sighted travellers paired with visually impaired travellers. In the context of Nepal, disabled or elderly people don't have the chance to travel and trek but with initiatives like Traveleyes, this was made possible. It would be interesting to see something similar be implemented in Nepal."
Read also:
Making Nepal accessible to all
The right of passage, Sahina Shrestha