The co-pilot's flight plan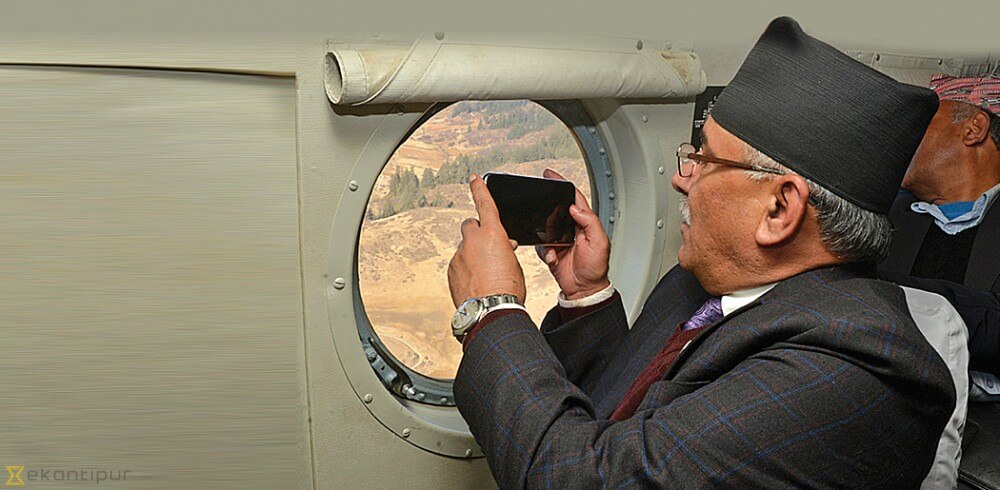 Madhav Basnet in Nepal, 14 September
In the four months since the NCP formed the government, its co-chair Prachanda (Pushpa Kamal Dahal) has only come to the defence of his beleaguered government four times.
He has mostly kept quiet, and allowed PM Oli and others to take the heat. Analysts say his strategy is to allow the people's dissatisfaction to grow to a tipping point without any of it reflecting on himself, as he waits to take over as prime minister.
When the government was formed, Oli had called himself the 'captain' and Dahal the 'co-pilot', but sources say that the cockpit harmony has frayed. Though the two deny it, Oli's aides say the PM is irked by Dahal's passiveness and his open criticism of the government.
In an interview to Nawayug magazine, Dahal actually said the government's performance during the first 100 days was not satisfactory. And despite PM Oli's directive to go all out to defend the budget, Dahal has described it as "pouring cold water upon the people".
Many of the actions of the prime minister-in-waiting also point to Dahal's impatience. He has been overheard criticising the government to his nearest associates, and has said openly that "if anything is done to derail the government or disappoint the people, I will have to step in". His recent visit to India and upcoming visit to China appear to be aimed at shoring his international support base.
Those close to Dahal deny he is making plans to upstage the PM. They point to the stress he has gone through with the demise of his son just before elections last year, and his wife's failing health. Those in the know also stress that Dahal is not about to take any impulsive step against the government, because he would be accused of destabilising a government whose main election plank was 'stability'.
Indeed, the constitution states that a no confidence motion against the PM cannot be registered before he/she completes two years of the term. But Prachanda is reportedly holding regular strategic talks with other leaders of the NCP including Madhav Nepal and Jhalanath Khanal to undermine the government, and prepare for the moment when its unpopularity reaches a peak so he can make his move.