Oli's tit-for-tat show of force
The tit-for-tat show of force between rival factions of the ruling Nepal Communist Party (NCP) continued on Friday with Prime Minister K P Oli choosing the symbolic venue of the former royal palace in Kathmandu to address thousands of his supporters.
Despite overcast skies, a chilly wind and the threat of rain, Oli and his loyalists sat on an elaborate stage erected at the gates of the Narayanhiti Palace, and facing the T-intersection of the tree-lined Darbar Marg.
"We thought we would have stability after winning the 2017 elections, but there was instability within the party," Oli said. "However, we will not let their effort to sabotage Nepal's march to prosperity succeed."
He boasted that this was the biggest rally ever held in Kathmandu, and without naming names, he said it took place despite the rival faction led by Pushpa Kamal Dahal and Madhav Kumar Nepal trying to stop people from attending by enforcing a national shutdown on Thursday.
Oli poured scorn at those who had predicted that he would use the occasion to declare that Nepal's Hindu monarchy be restored. He said: "Why would someone who has fought for so long against the monarchy do that? No one will be allowed to tamper with our federal democratic republic."
Oli's intention appears to have been three-pronged:
- To bring out more people on the streets than his rivals last week so as to impress the Election Commission, which is trying to decide which faction should have the NCP flag and poll symbol.
- Use the speech as an election campaign to highlight his party's development achievements.
- To convince the NCP cadre and the Central Committee that his faction is the mainstream of the party.
The prime minister was more moderate than usual in his tone, not using derogatory phrases against his rivals. He gave a full-fledged campaign speech, highlighting what he said were his government's development achievements, and assuring a cheering crowd that his government would exploit Nepal's mineral, hydropower and natural resources to create jobs and raise living standards of Nepalis.
Prime Minister Oli's supporters appeared to be promoting a cult of personality around him, with a huge cutout of him above the stage, posters bearing the prime minister's visage on every streetlamp post on Darbar Marg, and even a helium balloon with the party flag and Oli's portrait on it. This invited comparisons on social media to King Gyanendra's desperate attempts to hold on to power in 2006.
Alluding to Dahal's warning that his group may need to abandon a 'vegetarian' agitation and go for a 'non-vegetarian' one, Home Minister Ram Bahadur Thapa warned his former Boss: "We will lock up anyone going for a non-vegetarian agitation in the zoo."
Oli loyalist and former Defence Minister Ishwar Pokhrel blamed Dahal and Nepal for wrecking party unity and squandering the gains of the 2017 election.
While Nepal ground to a halt during Thursday's strike by one faction, the rally by another at the centre of the city on Friday affected traffic movement all day with the main thoroughfares closed off.
While Durbar Marg was occupied by the supporters of Oli, a civic group marched towards the presidential residence at Shital Niwas earlier in the day, protesting the government making unconstitutional appointments to constitutional bodies. Writers Khagendra Sangroula, Narayan Wagle, Sanjeev Uprety and others took part in the rally.
Pro-Dahal leaders of NCP, led by Agni Sapkota also showed up at the Supreme Court on Friday to file a writ against the Constitutional Council convening without him to make the appointments. On Tuesday, President Bidya Devi Bhandari swore in the 32 individuals to various constitutional bodies.
The Dahal faction claimed to have brought 100,000 people to its demonstration near Tundikhel on 22 January, while the Oli group boasted of a 200,000 crowd on Friday. It doesn't end there—Dahal is responding with another rally in Kathmandu on 10 February. Then Oli loyalists are planning rallies in Butwal and Biratnagar on 13 and 20 February.
The rallies are demonstrations are being seen as show of strength by the two NCP factions for the snap polls called by PM Oli for 30 April and 10 May. Again, this hinges on the Supreme court verdict on the Prime Minister K P Oli's dissolution of the House.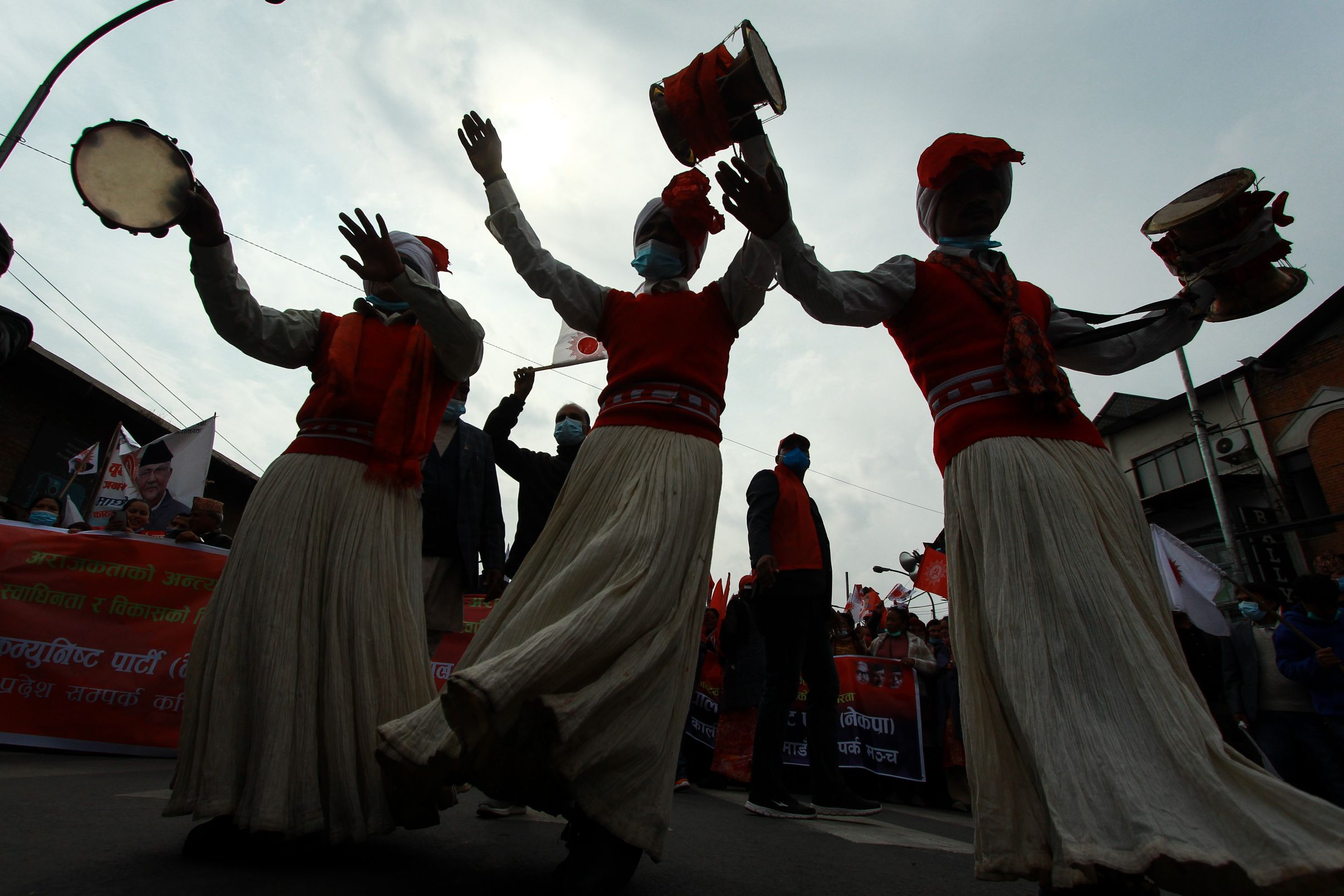 Aside from the show of strength on the streets, leaders from both sides have been engaged in a war of words in speeches and through the media. The language used has been increasingly abusive, and derogatory. The two sides are also contesting for the NCP flag and symbol, with the decision again resting on the Election Commission.
Cornered and isolated by the Dahal-Nepal faction and the support it has within the NCP, Oli is now seen as turning to India for support, as he continues to evoke Hindu ties with India in his interviews and conversations.
There has been widespread criticism in social media against the NCP leaders for punishing the people for not being able to resolve their differences. The plight of the driver of a taxi that was set on fire by Dahal-Nepal supporters on Thursday got wide play in the media and got much sympathy.
Dahal himself apologised to the public for the hardships they had to endure on Thursday, but he said it was all necessary to defend the federal democratic Constitution and rule of law. In his speech Oli also offered his regrets to the public for having cordoned off the city centre for the whole day.
Indeed, the general public appeared to have stayed away from the rallies by both factions, which were populated mainly by party cadre bused in from all over the country.
For most families in Kathmandu, there were more urgent things to do attend to than listen to speeches.
"I take my daughter along when I go to work, and she had to walk with me for an hour because of Thursday's bund," said Sunita Lama, a single mother with a five-year-old.