Stranded visitors want to stay on in Nepal
During the first two months of lockdown when foreign embassies in Kathmandu were rounding up their last remaining nationals to fly home from Nepal, there were some who refused to be repatriated. They are still here, and they want to stay put.
Immigration Department records show there are still 2,000 tourists who have been in Nepal since March. But over 250 of them from 50 countries have appealed through a Facebook group for the Nepal government to extend their visa permits till December.
Some chose not to risk infection by travelling long-distances to go back home where conditions were sometimes much worse. Expensive repatriation flights did not help matters.
"Until now Nepal has been among the safest countries from COVID-19 crisis and it is safer to stay where people are right now," says Australian Brett Adamek, admin of the Pokhara Noticeboard Facebook group. "Long-distance travel is daunting and dangerous especially when many tourists are elderly. If allowed to stay on, everyone is happy to pay for the extension."
Many of the foreigners staying in Nepal are not just enjoying an extended holiday, they are trying to help increase awareness about preventive measures against COVID-19, raise money for feeding programs, assist in charities, or help farmers with new ideas to raise productivity.
In June, the Department of Immigration announced that the stranded tourists would have to pay extra visa fee for overstaying due to the pandemic. After outrage on social media, the Home Ministry revised the decision and said extension and overstay fees as well as fines would only be levied 15 days after the resumption of international flights.
"As of now we are still going by the decision to allow 15 days after resumption of international flights for foreigners to leave the country. But we are expecting a new directive from the government in a few days," says Madhusudan Bhattarai of the Department of Immigration. The Department itself has been sealed because a staff tested positive for COVID-19.
But many of the foreigners who are located across the country from Ilam, Manang, Pokhara, Jomsom, Khumbu and Kathmandu say they want to remain in Nepal till December, and have promised to be in their best behaviour.
Like Adamek, many of the foreigners who found themselves in Nepal when the flights were grounded in March, are nomads travelling around the world for years, and do not really have a 'home country' to get back to. Adamek himself is Australian but has been travelling across Asia for years, spending 15 years in Nepal and India.
Briton Lesley D Junlakan has been in Nepal since 24 January, documenting her experience of the lockdown through photography. While she does spend five months a year in Nepal volunteering at monasteries in Kagbeni and Pokhara, this year she has not been able to go back to Thailand where she has been living since 2000.
"If the government does not to allow foreigners to stay on, I will have to go to a third country because Thailand has not resumed commercial flights and I don't want to go back to Britain where I have no home or family," says Junlakan, who has also been supporting families of trekking guides who have no income because of the collapse of tourism.
There is also uncertainty regarding the resumption of international flights. The Cabinet on Monday concurred with the COVID-19 Crisis Management Committee recommendation that regular domestsic and international flights that were set to resume on 17 August be pushed back till 31 August. Airlines say even that date may be pushed back, and when regular flights do resume, their frequency and destinations will be reduced.
Nepal Tourism Board CEO Dhananjay Regmi has advised the government to allow foreigners to stay on till December 2020, and charge them accordingly for their visa extension. At a time when even the autumn tourism season looks like it is going to be a flop, it would be logical to keep tourists who want to stay.
"Many of them came for Visit Nepal 2020 and they haven't even got to experience it. The government's positive response will also gain Nepal goodwill in the international community," Regmi told Nepali Times, adding that he expects a positive response from the government.
Andrea Anastasiou from Cyprus came to Nepal for the sixth time in late January to experience Visit Nepal 2020. Trekking to Annapurna Base Camp (ABC) was on her to-do list, but the fear of COVID-19 followed by the lockdown pretty much confined her to a room in Patan.
"I would love the opportunity to stay on and explore more of the country given if restrictions are eased and it's safer to travel around again. I might not get to trek ABC, but a day-long hike inside the Valley would also be great," says Anastasiou.
Cesar Morales (pictured right) was invited to train Nepali tennis players preparing for regional championships and for the Olympics that would have been taking place in Tokyo this week if it had not been for the pandemic. He was supposed to travel to Spain and Italy before flying home to Chicago, but has been stuck in Nepal since 13 March.
Morales refused to be repatriated earlier because he did not want to risk infection while travelling long distance, and get back home to two elderly parents at a time when the pandemic was at its peak in Spain. The same reasons are still valid for US nationals stuck in Nepal.
"Nepal's economy is struggling, so allowing tourists already here to stay on would help local businesses," adds Morales who has used his extra time in Nepal to continue training Nepali athletes six days a week in Kapan. "We can contribute not only in terms of economy but with our skills too. Allowing us to stay on will also let us help people here, which is a win-win situation."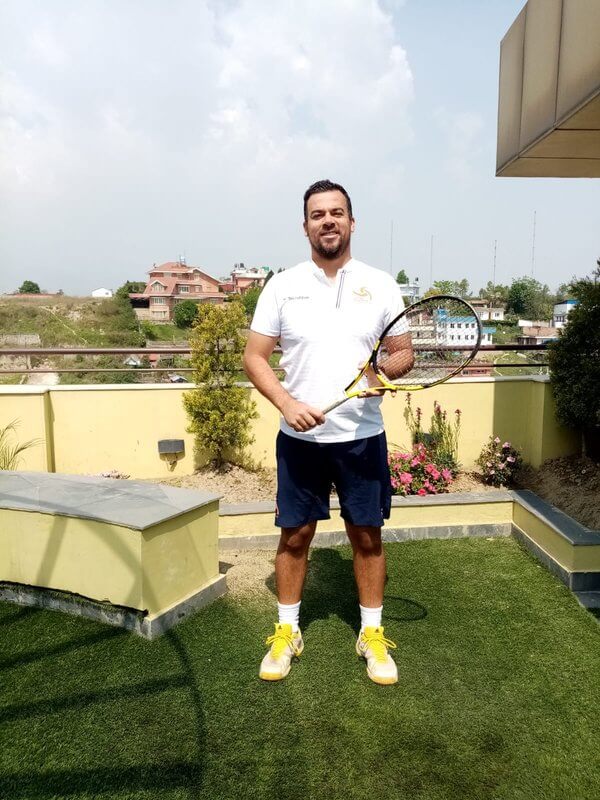 Says Junlaken: "Most of us feel safe in Nepal and we have been doing with social distance and safety measures. Nepal government and Nepali people have been very kind to us so far and we are only asking for it to be extended for a little longer."