Nepal's domestic flights resume
Six months after being grounded due to the Covid-19 lockdown, Nepal's domestic airlines took to the air again on Monday, albeit with limited schedules and lower frequency. Eight of the nine domestic airlines in Nepal restarted services within the country after 180 days.
Domestic and international flights had been stopped with just a few days' notice on 24 March, and although there were international repatriation flights, only helicopters and some cargo flights had been operating within the country since then.
"We have allowed domestic airlines to operate under strict protocols set out by ICAO (the International Civil Aviation Organisation) and the World Health Organization (WHO)," the head of Kathmandu airport Devendra KC said.
Domestic airlines have been allowed to operate only a quarter of the number of flights they used to conduct before the pandemic. The flights resumed after the government gave in to the demand of domestic carriers to allow them to carry the full load of passengers. Earlier, the government had said they could only carry half their capacity.
However, the guidelines for passengers have been tightened. Although they do not need PCR negative reports, they need to fill out a personal health declaration form, have to be at the airport two hours before departure, and need to wear masks and visors at all times.
As soon as the flights are announced, passengers will clear security and board without waiting in the crowded departure concourse at various airports around Nepal. Passengers are also only allowed hand baggage.
On Monday, the domestic terminal looked busy with passengers, many of them wearing masks and gloves, having their temperatures checked by police in full personal protective gear.
On Monday, the Civil Aviation Authority of Nepal allowed Buddha Air to conduct 17 flights a day, Yeti Airlines 11, Nepal Airlines 8, Shree airlines 6, Tara Air 6, Summit Air 4, Sita Air 2, Simrik Air 1. However, some of these flights were cancelled due to bad weather in the afternoon. Besides Kathmandu, some airlines will also be flying to remote airfields from the Nepalganj and Surkhet hubs.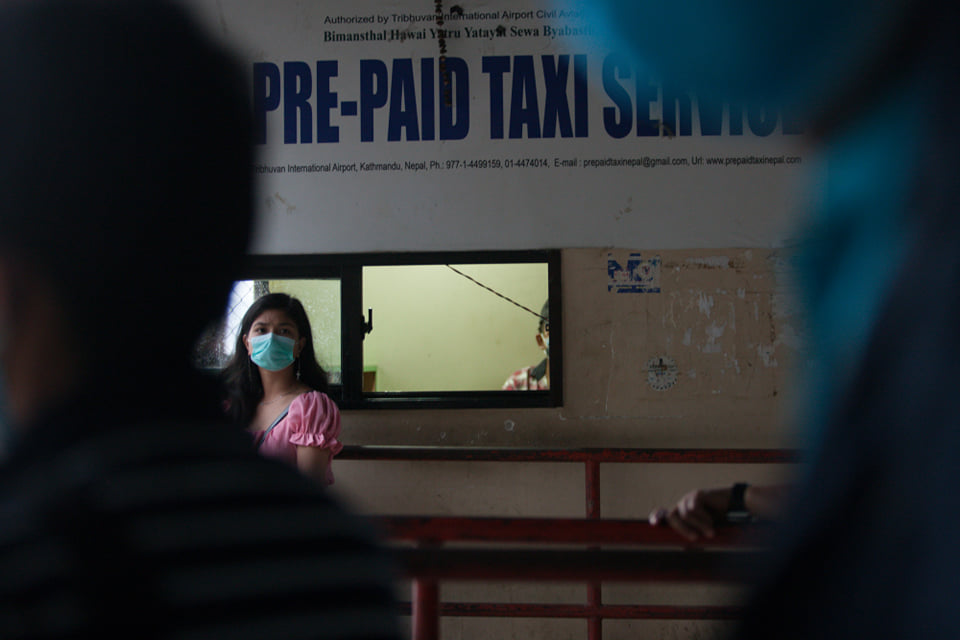 Read also:
Nepal to open regular flights from 1 September, Nepali Times
"Domestic flights need to resume so the economy can take off", Nepali Times