Nepali in Saudi Arabia rescued after 12 years
Twelve years after she left Nepal, and after a dramatic rescue from the home of her abusive Saudi employer, Lilamaya Dhimal (pictured above) returned to a sunny Kathmandu airport on Wednesday morning to say: "I feel safe now, at least I know I will live."
She was saved from a cruel man of the house in a well-planned rescue in the town of Tabuk by her brother, the Nepal embassy and other Nepalis. She is ecstatic to be back and reunited with her family in Jhapa, who had given up hope that she was alive.
The Nepal Consulate in Jeddah, where she had been sheltering, told her to get up at 9AM on Tuesday to catch her flight via Kuwait. But the anticipation was too much for her.
"I was so excited that I could barely sleep. I was up by 3AM and was on the phone with my children," Lilamaya said after landing.
Lilamaya Dhimal (who is also known by her alias Sharmila Kisan Magar) had been out of touch with her family for over a decade since first going to Saudi Arabia in 2009. One day, by sheer chance, she connected with a man from Nepal on IMO, and pleaded for help.
He shared her contact information with his sister in Jhapa, who lived near Lilamaya's house and was kind enough to go to her home to pass on her details to her family.
"It was such a shock when I received a call and heard my brother say दिदी," Lilamaya recalls. "I learnt that my husband, who was in ill health and drank, passed away three years back. My children were young when I left, but I have six grandchildren now. I was out of touch for years, and they had given me up for dead."
Lilamaya's employer was abusive and did not pay her. When she couldn't bear the torture, Lilamaya used to ask him what they would do if she died in Saudi Arabia? His response — a nonchalant "Maafi mushkil" (no problem).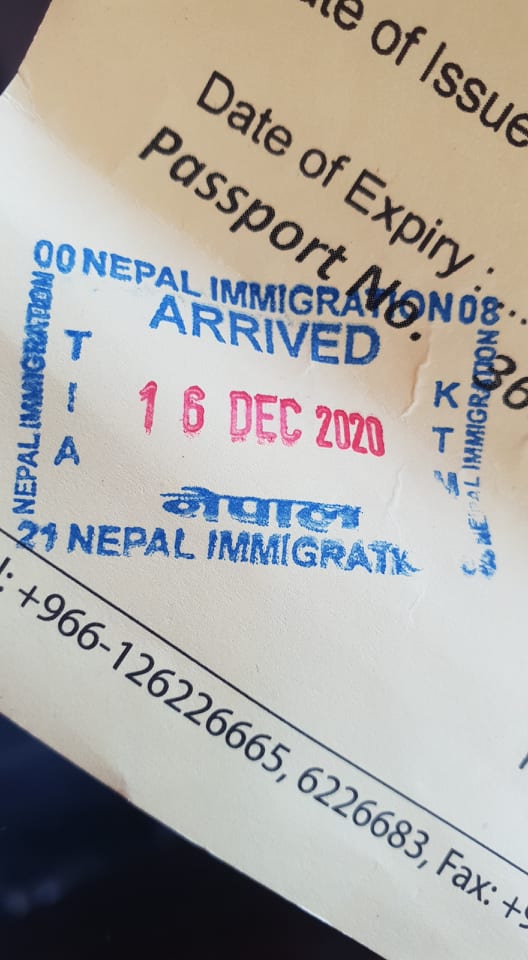 "I landed in the hands of a monster," she says. "All five of the family's children were below 10 years and were quite a handful. They were gullible and emulated their parents in mistreating me. My days would begin before 6 AM and end after 1 AM."
Lilamaya's brother, Hem Raj Magar, was based in the UAE and helped coordinate her rescue via the Riyadh-based Nepal Embassy which referred her case to the Jeddah-based Consulate.
"My sister can barely read and she had no idea where she was in Saudi Arabia," says Hem Raj. "It took me a long time and several failed attempts so she could finally send her WhatsApp location."
Labour Attache Prem Upadhyaya at the Consulate in Jeddah recommended that she also send pictures of nearby landmarks. Lilamaya managed to sneak out of the house one day and took pictures of a neighbourhood shop. That was enough to begin the rescue effort.
"The location was in Tabuk, over 1,200 km from where we are based," says Upadhyaya. "So we mobilised Nepalis in the town to confirm the location as we hit the road. We advised her to come outside the next morning once her employer had left for work. We instantly recognised her and took her away in our vehicle."
Lilamaya recalls her nervousness, "My heart was pounding as I was scared I would be caught. I managed to take two small bags of my clothes even though I had been advised not to bring anything."
Consulate staff coordinated with Saudi authorities to ensure that Lilamaya was fairly compensated. "The employer was a no-show at the Labour Office on the first day but he came in the second day," says Upadhyaya. "After much back and forth, they have finally paid her 30,000 Riyal (Rs 953,000)." Lilamaya said she had been paid for the first few years, although she could not recall the exact details of the time period and amount.
While her exit documentation was being sorted out and she got compensated, Lilamaya lived under the protection of the Nepal Consulate in Jeddah and Non-Resident Nepali Association in Tabuk, and then in the Consulate for over one month.
She recalls, "One day, there were many Nepalis who had come to the Consulate to talk to me and show their support. I was overwhelmed as I had not seen so many Nepalis since so long. Even though I didn't know any of them personally, just being around Nepalis who were referring to me as their sister felt very safe. I wept uncontrollably in front of them and could not say much."
"I never met my six grandchildren, even as I took care of five of my employer's children of similar ages. My brother and daughters try to remind me of the names of my grandchildren, but it is impossible for me to keep up. I will have to re-introduce myself to my own children whom I had left behind a long time ago. They are unrecognisable after all these years," she says.
Lilamaya knows life in Jhapa once she is back will not be without challenges. Her son is facing mental health issues. She breaks down as she says: "A धामी shaman is treating him and he is confined to a room. It pains me to think about my son, and I cannot wait to hold him. I have my own health problems, especially with one of my eyes. I am also mentally stressed. But I am glad they found me."
Lilamaya 's case is not isolated, and most Nepalis know about the risks. Yet this does not deter Nepali women from undertaking similar journeys. Lilamaya has an explanation: "When everyone else is going abroad to work from the village, you also think it is OK. There were people in my village who were younger and more informed than me who were leaving via India and sending money home. I was unlucky to land a monstrous employer."
The possibility of a better life is real, especially because of rising demand abroad in the care economy. The partial and blanket bans on women travelling abroad can be by-passed through the open border with India. Also, there are few domestic employment options for Nepali women. A recent World Bank Jobs Diagnostic shows that three-quarters of new jobs taken up by women between 2008 and 2018 were in non-wage, self- employment or unpaid family work like farming.
In any age group, less than half of the female population participates in the labour market and it is limited by traditional gender roles, family responsibilities, and mobility and security concerns.
The willingness to bypass the ban to improve their lives is also fuelled by the pressing demand for domestic workers abroad which was growing in the Gulf at 9% annually pre-pandemic. Now, with family members are home at all times, domestic workers are under added pressure to work more without adequate compensation. While many sectors face the brunt of pandemic-induced economic fallout, the care economy is expected to grow in the Gulf region and beyond. For Nepali women, whose share in overseas employment has been limited at around 10% annually, overseas options in non-care sectors has remained poor.
But defying the ban means women are not recorded as migrants by the government. It also results in lack of pre-departure training, inability to hold agents accountable, and makes them ineligible for welfare programs — all part of the legalised recruitment process.
After years of the ban being decried for its ineffectiveness and unintended consequences, in October the Parliamentary Committee on Industry, Commerce, Labour and Consumer Interest instructed that the ban be removed under certain conditions.
Says Bimal Prasad Shrivastav, Chair of the Committee, who led a review trip to the Gulf before the pandemic to assess the situation of domestic workers: "Rather than a blanket ban, we have recommended that country- specific policies be taken to address the situation of domestic workers." For example, the committee has recommended that the ban be lifted for the UAE, which has taken proactive steps in domestic worker reform, and with which Nepal has signed a labour MOU. A similar agreement is also being signed with Oman.
"With countries like Saudi Arabia and Kuwait, there are currently no MOUs and they need to be prioritised urgently," says Shrivastav, "while an MOU is an essential condition, it is not sufficient and we have made a series of other recommendations after considerable deliberations."
In addition to a comprehensive bilateral labour agreement, these preconditions include a separate domestic worker law, a strong joint mechanism to resolve issues faced by domestic workers, pre-departure training — including of the local language — and post-arrival training, equality of treatment between Nepalis and locals, penalties for sponsors who abuse domestic workers, and easy access of domestic workers to communicate with consular officials and families back home.
In early November, Saudi Arabia made some reforms to foreign worker regulations, including giving workers the freedom to change jobs legally to travel outside the country without their employer's permission. However the changes, which will be effective from March 2021 and are considered a bold effort to dismantle the infamous Kafala system, do not apply to domestic workers. Similar reforms made in Qatar in August this year do,however, apply to domestic workers.
But as with all lofty policies, it all boils down to implementation. Bilateral agreements and other policies are only useful if they prevent other migrant workers like Lilamaya Dhimal from abuse by inhumane employers.
Om Thapa and Lekhnath Khatiwada helped in reporting this piece.