Non-climate cause of Nanda Devi flood
More than a month after the catastrophic flashflood in Chamoli district of the Indian Himalaya, scientists say that the cause was failure of a rock face, and not just the result of a glacial lake burst caused by climate change.
Early reports had suggested that the flood of water and debris that raced down the Rishiganga on 7 February, damaging four hydroelectric plants and killing more than 200 people, may have been caused by a glacial lake outburst flood (GLOF).
However, analysis of satellite images before and after the disaster show that there were no lakes on the Ronti Glacier in the Nanda Devi (7,816m) massif, and the disaster happened in winter when the supra-glacial ponds were frozen.
Scientists have concluded that a 500m wide section of the face of Ronti Peak broke off at 10:30am on 7 February at an elevation of 5,500m and fell with tremendous force on the glacier below. The kinetic energy of an estimated 22 million cubic metres of falling rock also melted ice deposits from a previous avalanche in 2016.
Scientists say that the disaster was not directly caused by global warming, but climate change could have contributed. Uttarakhand state recorded its warmest January in six decades this year, and there had been winter storms the previous week that had deposited a lot of snow on the slopes. Ice also cements rock fissures at higher elevations, and when it melts the rocks can come loose.
'The Chamoli flood was not caused by a GLOF as there were no significant glacial lakes in the area,' write a group of researchers led by Arun B Shrestha in a recent paper for the Kathmandu-based International Centre for Integrated Mountain Development (ICIMOD), '… (but) the increased thaw-freeze cycle of permafrost could have partially contributed to the event.'
Even so, researchers at the Divecha Centre for Climate Change at Indian Institute of Science in Bengaluru used glacier thickness mapper data to detect a sub-surface lake containing 4.5 million cubic metres of water stored in a bedrock depression near the Nanda Devi Glacier terminus that could have caused the flood.
Scientists note that not all Himalayan hazards can be attributed to the climate crisis. An identical rock slip on Annapurna IV in Nepal on 5 May 2012 caused a flashflood on the Seti River that killed at least 72 people. The deadly avalanche on Langtang on 25 April 2015 killed nearly 200 people, and was triggered by an earthquake. Another flood that blocked the Arun River in eastern Nepal in July 2017 was traced to a rock-fall that caused a glacial lake to top over.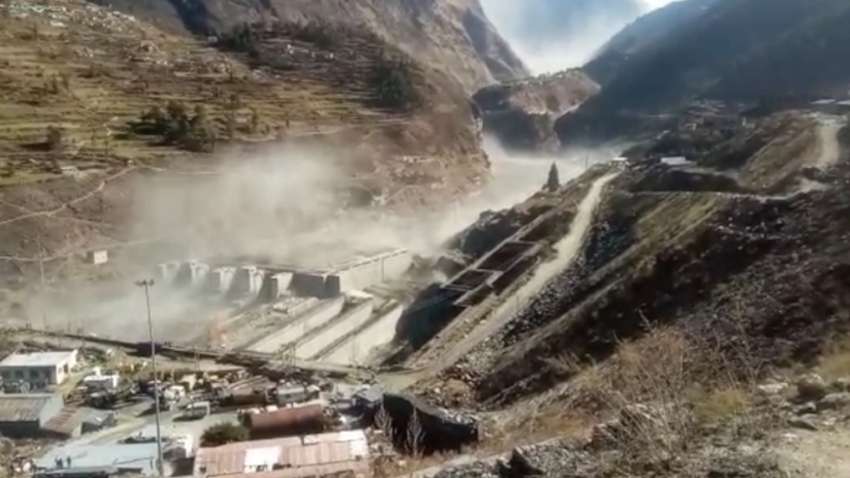 GLOFs happen when ice and snow melted by the climate thaw accumulates in enlarging lakes, which can burst due to increased water pressure, or when avalanches fall into them. And while there are frequent GLOFs, especially in the eastern Himalaya, scientists agree that it was not the main trigger of the Nanda Devi disaster last month.
The other disasters on Himalayan rivers are caused by bishyari, a local word that refers to a floods due to a landslide blocking a river to impound a lake that suddenly bursts, as what happened in Jure of Sindhupalchok on 2 August 2014.
Another catastrophic example is the co-seismic mountain slide that blocked the Seti River about 500 years ago, creating a huge lake that then burst depositing the 200m thick sediment layers on which the city of Pokhara is now located.
Nepal's former water resource minister and hydropower expert Dipak Gyawali says that bishyari are known to happen in 10-15 year cycles in Nepal. The etymology of the word itself shows that human dwellers of the Himalaya have known of the phenomenon for thousands of years, he says.
"Even if these floods are not directly caused by climate change, it can exacerbate the disaster because of extreme weather events," Gyawali said in an interview.
Himalayan floods therefore pre-date climate change, and are caused by the vulnerability of these young, fragile mountains to natural and human-induced processes like the indiscriminate use of heavy earth-moving vehicles on poorly-engineered roads.
Such 'bulldozer terrorism', has exacerbated the frequency of landslides in central Nepal after the 2015 earthquake, according to a recently published paper in the journal, Progress in Disaster Science.
After analysing remote sensing data, the researchers conclude that although the number of landslides had started falling after 2015, there has been an uptick since 2017 possibly due to the proliferation of rural road construction around the time of the elections. (See graph, above.)
Gyawali suggests that a solution could be better-planned infrastructure and settlements that take into account known hazards. As the Chamoli flood showed, expensive hydroelectric projects located closer to the high mountains are more at risk.
He suggests investing in smaller hydropower plants in side tributaries rather than the main stem of major Himalayan rivers to mitigate the danger, and to spread the risk. However, most of Nepal's planned large hydropower projects are on rivers like the Tamor, Arun, Dudh Kosi, Bhote Kosi and Budi Gandaki.
The Himalaya is a young and unstable mountain range that is battered by a heavy monsoon three months a year. Into this high-risk zone, there is now the added threat of climate-induced disasters.
Says Gyawali: "We cannot completely remove these disasters from happening, but we can try to understand them and plan to minimise the risk."