Himalayan floods a sign of worse to come
Nepal's trans-Himalayan district of Manang is located in the rain-shadow, and is a high altitude desert. Its average annual rainfall is barely 300mm, but it got nearly double that rain in just one week in June.
The region had seen a seven-month winter drought, and was ravaged by wildfires this spring that burnt for three months. Then came the monsoon: dumping 300% more rain than the average for June-July.
The steep slopes scorched by wildfire could not absorb the heavy rain, and a wall of water, mud, boulders and logs washed down the Marsyangdi River, washing away highway, bridges, settlements and other infrastructure.
Three and half months later, the scars of that devastation are still seen everywhere in the towns of Chame and Taal. Residents are still waiting for help from the government, while charities and activists have provided relief material.
Scientists are reluctant to blame a single weather event on the climate crisis, but there is a growing consensus that a hotter Himalaya is leading to more erratic monsoons, droughts, floods and wildfires. The 2021 monsoon was proof of that.
Minrasi Gurung and his family in Naso village of Manang used to have his hands full all year round growing vegetables in a large patch by the river. Income from selling potatoes, chilli and tomatoes to trekking lodges supported the entire household.
But the flood on the Marsyangdi River on 15 June swept away the family's farm, and the river is now flowing through a boulder-strewn debris field where the farm used to be.
"We have been tilling this land since the time of my great grandfather, never before has there been such a disaster," he says.
Minrasi has now moved with his wife Masini to Myagdi River on the border of Lamjung and Manang districts to open a tea shop. "The floods and landslides displaced us," they say.
The scenic town of Taal used to be a popular stopover for trekkers on the Annapurna Circuit, and there were many lodges on a ledge overlooking the Marsyangdi. The water rose so high on 15 June that it washed away the lodges, and seven of the 57 houses in the village are still liveable. None of the hotels survived however, one would be hard-pressed to even locate their ruins.
Keshav Gurung of Taal spent much of his life in the tourism business, and he ploughed his earnings to upgrade his hotel, never thinking of investing elsewhere because trekking brought good income.
But the flood swept away his Rs40 million hotel, and he is now living in a tent in a plot owned by his neighbours. He used to make Rs1.6 million a year in profit from the 21-room hotel.
Golamaya Gurung in Sirantal had a 10-room hotel, a house and half a hectare of land. All of this is now gone, she barely managed to save her own life as the floodwaters rose.
A helicopter rescued Golmaya and her neighbours two days after the disaster from a cave they had fled to. Since then, she has not been able to return to what used to be her home.
"There is no way I can get there at the moment. From a distance, I can see the river flowing where my house once stood, I can identify the general location of my house because of a tree that is still standing," says Golmaya.
The floods on the Marsyangdi River and its tributary, Thada Khola, caused the most damage in Taal and Dharapani municipalities. The district headquarter at Chame is still cut off because the road was washed away by the flood and numerous landslides.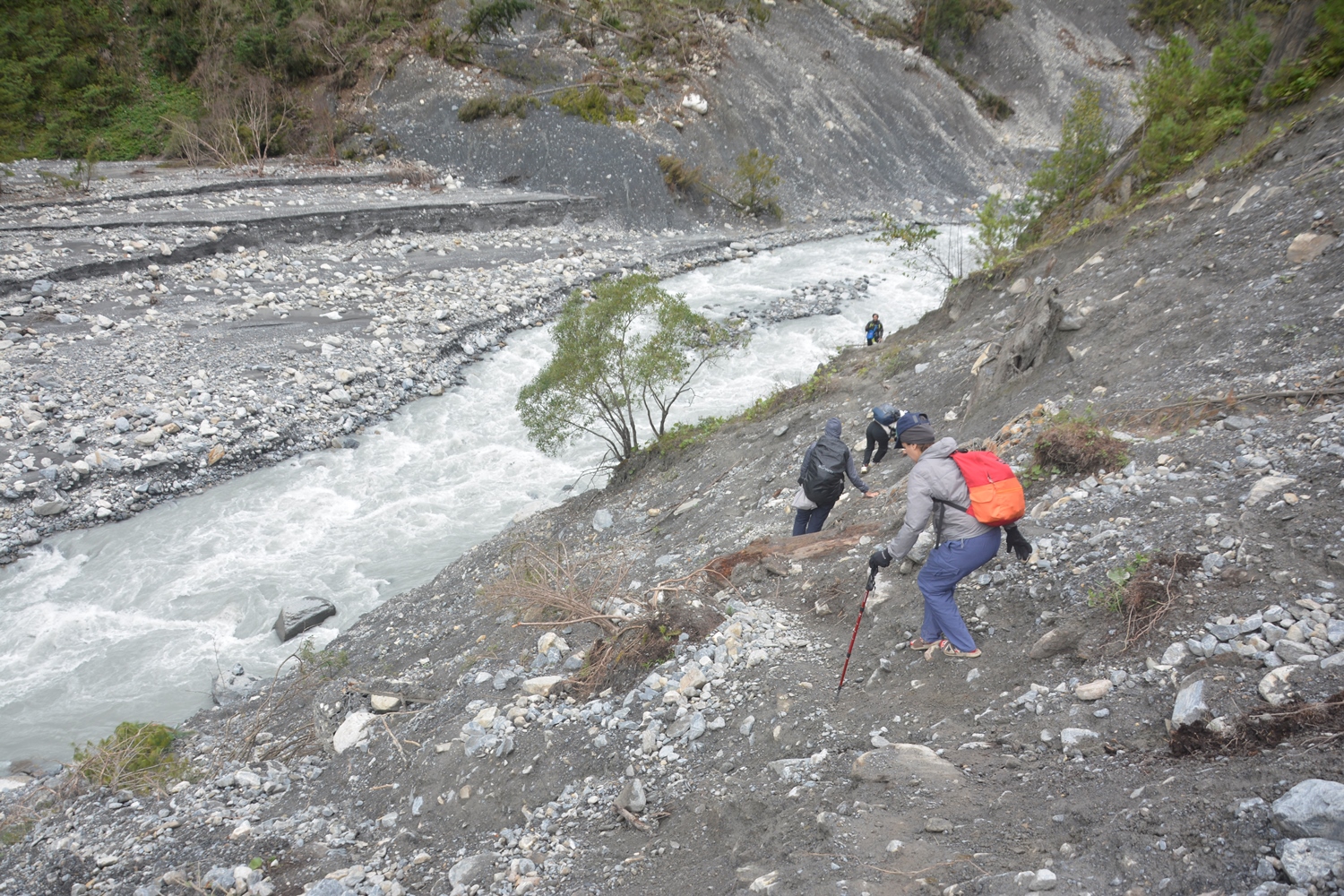 Kamarkali Gurung owned Hotel Heaven in Dharapani, popular with trekkers. There is no sign of it now. She put in all her savings and spent Rs20.5 million on the hotel, and had been running it for eight years.
"I invested everything in that hotel, what happened is so unexpected, so shocking, I still cannot believe that I have lost it all," she says.
Bhuturam Gurung of Chame had also been running a hotel for 15 years, but both his house and hotel were washed away by the Marsyangdi that fateful day. "I had never seen an angry river like that in my life," he recalled. Bhuturam's families and three others are now living in Manang's district prison, which has been converted into a shelter.
There is no exact estimate of the damage wrought by the 15 June flood yet. But according to Chief District Officer Bishnu Prasad Lamichhane, the disaster cost at least Rs1.1 billion. A municipality investigation showed a much higher number.
"The government observation doesn't match the ground situation, we estimate over Rs4 billion in damage," says Palden Chopang Gurung, MP from Manang district. "Chame and Naso alone suffered over Rs3 billion in damaged private buildings, schools, electricity lines and roads. But that is just two municipalities, more bridges and roads have been affected."
A recently completed track from Manang to Bhartang is badly damaged with a 2km-long stretch washed away by the floods. While a new route is under construction, the terrain poses a challenge and the progress has been slow. The landslide-damaged road between Dharapani and Chame also poses risks for travellers.
"It's impossible to resume smooth transport like anytime soon, we have settled for a temporary road for now," says Chairman of Chame Village Municipality Lokendra Ghale.
Following the floods, the chief minister of Gandaki Province Krishna Chandra Pokhrel has visited the disaster site three times in a helicopter, he also announced Rs200,000 in relief for each family. But three and a half months later, locals are yet to receive any help.
Earlier this year, Prime Minister Sher Bahadur Deuba's government declared Manang as a high-risk district, following which Home Minister Bal Krisha Khand and Energy Minister Pampha Bhusal also choppered in to make more promises that have not been kept.
"We haven't received any help from the central government, the only relief has been from Manang people living in Kathmandu or abroad," adds Ghale. "All these experts in Kathmandu who have linked the disaster to climate change are also all talk and no action."
Located in the Himalayan rainshadow, Manang gets only about 300mm of rain a year. But on 15 June, it got 212mm of rain in just 24 hours. The average rainfall for March-June in Manang is about 40 mm, but this year it got 135 mm in that period.
"The soil in high mountains can be easily washed away by the rain as they are not as firm," says geography professor Subodh Dhakal at Tribhuvan University. To make matters worse, Manang saw fires burn continuously for three months last winter. Monsoon cloudbursts then hit slopes where the soil's absorptive capacity had been reduced by previous wildfires. The runoff disgorged itself into the Marsyangdi River.
"Due to the rise in average global temperature, there is more moisture in the monsoon system, and these have managed to find their way to the other side of the mountains, this is a clear link to global warming," says climate scientist Ngamindra Dahal.
The average increase in temperature in Manang is also higher than other districts at lower elevations, and is 0.09 Celsius higher than elsewhere, according to the Department of Hydrology and Meteorology.
This is in line with the finding that the Himalaya is getting 0.3-0.7 Celsius warmer than the global average, and is a warning for a much hotter Subcontinent and more frequent disasters in the coming days.