Nepal's virus vortex
A woman with her mask down walks by Sneha Shrestha mural in Pimbahal, Patan this week. Photo: BIKRAM RAI
Five months after the first COVID-19 case was detected in Kathmandu, and after many experts were puzzled about why the virus was not spreading as fast as elsewhere, parts of Nepal and Kathmandu city are now in the vortex of the pandemic.
Hospitals in Tarai cities are fast filling up with symptomatic cases, and doctors say patients requiring ICU treatment and ventilator support are on the rise.
On Thursday, Kathmandu Valley recorded its highest daily rise of 87 positive cases. All beds are occupied in hospitals with designated wards for coronavirus patients. Overwhelmed, doctors are sending asymptomatic patients to home isolation. Some were diverted to Kathmandu Medical College's facility in Duwakot and Ayurveda Hospital in Kirtipur.
Experts caution against extending lockdown, Sonia Awale
Lockdown may be over, but pandemic is not, Editorial
The government has approached private hospitals to start opening COVID-19 wards, and had set the maximum treatment charge per patient. However, private hospitals are balking, they say the fees are too low for the care needed.
"Self-isolation at home has worked elsewhere but in Nepal where people don't strictly follow safety measures, patients are ostracised, and there is a lack proper rescue mechanism, it might not be the best strategy," cautions BaburamMarasini, former head of the Epidemiology and Disease Control Division. "It would be better to move asymptomatic cases to available government training centres, non-profit institutions, and if needed even hotels and hostels."
As of Thursday, Nepal has a total of 21,750 cases with 6,296 active. So far, 65 people have lost their lives, five of them on 6 August alone. Cases in Kathmandu Valley have reached 876, mostly in the capital city (see graphs). Eight people have been infected with coronavirus at the Ministry of Internal Affairs and Law and so has minister Gyanendra Kumar Yadav in Province 2.
Says public health expert Sameer Dixit: "Local governments and security personnel should be facilitating self-isolation at homes. Admitting asymptomatic cases in hospitals depletes resources, as it exposes mildly infected patients to severe cases."
There are now 66 ICU cases across Nepal with 29 just in Bagmati Province (see map) where three patients are on ventilator support. Given the steep rise in symptomatic and severe COVID-19 cases, all 1,702 ICU beds nationwide and stock of 900 ventilators could be used up.
"The rate of infection in Kathmandu is increasing, and this could lead to a shortage of hospital beds, equipment and heath workers," warned Jageshwor Gautam of the Health Ministry, appealing to the public to remain at home and follow safety measures. Several hundred traffic police in Kathmandu are in quarantine after the infections spread, and the Nepal Police headquarters was sealed this week after seven staff tested positive.
Special attention should also be given to the fact the virus SARS-CoV-2 is airborne, which is why wearing mask should be mandatory, spitting prohibited and ensuring cross ventilation in workstations at all times.
Finance Minister and government spokesperson Yubaraj Khatiwada says the government does not want to re-impose a nationwide lockdown, but says some restrictions may have to be put into place.
District administrations of Kathmandu, Lalitpur and Bhaktapur districts met on Thursday to draw up a joint strategy for the Valley. Among the measures being discussed are: strict protocols for government offices, banks, markets, and public transport. They are worried most people are not following guidelines for masks and physical separation, and warn that they may have to resort to punitive measures and fines to enforce the rules.
Health experts fault Khatiwada's announcement on 21 July in which he categorically stated that the "lockdown has been lifted" even though it had only been relaxed. They said this had given people a false sense of security, and especially allowed Indian factory workers, vendors, barbers and drivers to stream back to Nepal across the open border. This is the reason the Tarai cities were the first to be hit, and the virus is spreading to Kathmandu from there.
The COVID-19 Crisis Management Centre (CCMC) is said to be discussing modalities for a 'smart lockdown', including isolating areas where there are outbreaks and stricter enforcement of mask and separation rules. It is also going to decide this weekend whether or not to re-open long distance buses, as well as regular domestic and international flights which were supposed to resume on 17 August.
Says Buddha Basnyat, a physician at Patan Academy of Health Sciences: "We are seeing a worrying surge in typical COVID-19 symptoms with advanced pneumonia, unlike before when most cases were asymptomatic and had co-morbidity."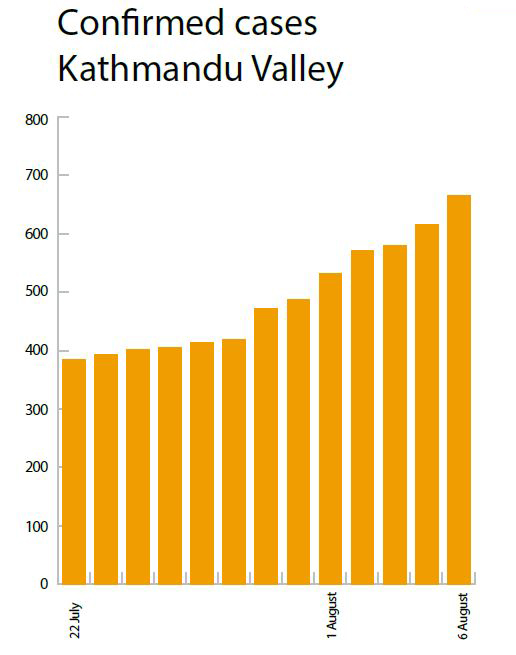 Experts say the rise of symptomatic cases is also due to co-infection such as seasonal flu, typhoid and dengue, all infectious disease common during the monsoon. Some have pointed to high co-morbidity and delayed mass testing as contributing factors to possible community transmission in the Tarai districts and Kathmandu.
But despite the surge in symptomatic cases, health professionals have advised against re-imposing a blanket curfew, favouring a 'smart lockdown' where localities with cluster outbreaks are sealed off, and tested – while strictly enforcing masks in public places and preventing crowds.
So far, shutdowns have been re-imposed in five Tarai districts, and semi-lockdowns in parts of nine others where there has been a surge in cases.
"We are already experiencing semi-lockdown of sorts because of floods and landslides. A lockdown now will cause more harm than good. The only way to fight this pandemic is behavioural reform, surveillance and isolation," says Marasini.
Indeed, most experts agree that a focus on the coronavirus should not shift attention away from more devastating conditions that can affect people's well-being because of economic collapse.