Making Nepal accessible to all
The country is making a start in inclusive adventure tourism with disabled-friendly trekking and other facilities
As Nepal rebuilds many heritage sites and trekking trails that were damaged in the 2015 earthquake, activists say this is an opportunity to make them barrier free. Such improvements would render the facilities accessible not just for different kinds of tourists, but also for local people with disabilities, along with the elderly.
Accessible tourism simply means adapting facilities so they are easier to travel in, whether the visitors are people with disabilities or not. This gives tourists opportunities to visit areas they have been dreaming to see, but could not visit because of access difficulties. Inclusive tourism accepts everyone, no matter their physical state.
"There is still a lot of work to be done to make Nepal an accessible destination, and we need a partnership between the state, tourism service providers and advocacy groups," says Pankaj Pradhananga of Four Seasons Travel (4ST), a key player in creating accessible tourism experiences in Nepal.
A milestone in promoting accessible tourism in this country was the visit five years ago by the late American inclusive tourism advocate, Scott Rains, who worked with Nepali tourism entrepreneurs to develop an accessible tourism strategy.
Read also: Three toots for tootle, Sonia Awale
Then, two months after the 2015 earthquake, 4ST organised a day trip to Godavari Botanical Garden for 50 people in wheelchairs who were living in a temporary shelter in Jawalakhel. Since then, the visually impaired and double amputees have climbed Mt Everest, completed difficult treks, and have been participating in relatively easier experiences, like taking mountain sightseeing flights out of Kathmandu.
In 2016, 4ST helped organise the 'Wounded Heroes Trek to Nepal', in which a group of amputee veterans trekked with prosthetics in the Annapurna Region (above). Last year, the organisation worked with Nepal Tourism Board (NTB) and the National Federation of Disabled Nepal to host the inaugural International Conference on Accessible Adventure (ICAA 2018) in Pokhara, during which Nepal's first ever accessible trail, near Sarangkot, was inaugurated by late Tourism Minister Rabindra Adhikari. (See box, below)
Freedom of movement and the right to mobility and travel are considered basic human rights in an international covenant signed by most of the world's countries. However, accessible tourism is still not a reality in many places, including in developed destinations. In Nepal, the concept is new and since most travel products involve adventure, inclusive tourism is still a long way off.
However, a start has been made with recent initiatives that use tourism to raise awareness among local people about the need to offer wheelchair access and make infrastructure safe and easy to navigate for people with disabilities.
More than 4,000 Nepalis were left with physical disabilities as a result of the 2015 earthquake. They join an estimated 600,000 people in this country with physical handicaps.
"It is actually more important to build accessible infrastructure for the benefit of the locals than for foreign tourists," says Pradhananga.
Suman Timsina of the Washington-based International Development Institute, which organised the Annapurna trek for veterans on prosthetics adds: "There are many advantages to promoting accessible tourism: it will open up Nepal as a new destination for people with disabilities, and senior citizens, and it will spread awareness among locals to care for people with special needs. Accessible tourism is not an easy thing to do but the right thing to do."
Monika Deupala
Jeeza's journeys
In 2010, international river and mountain guide Jeeza Williams (pictured) fell off a waterfall while canyoning in Switzerland, his spinal injuries paralysing him chest down and confining him to a wheelchair for life. But the 43-year-old New Zealander was always into sports and the tetraplegic has not let his injury stop him from seeking adventures around the world, while helping to adapt travel for those with disabilities.
Williams has been in Nepal for the past two weeks, having a whooping good time paragliding in Pokhara, rafting down the Trisuli River and going on a safari in Chitwan. "Waiting for a glimpse of Annapurna at sunrise from Sarangkot was heavenly," Williams told Nepali Times. "I am grateful to people who have been helping me from day one. This has been the most exciting and most adventurous trip so far."
Williams is a licensed paragliding pilot, and flies in his special three-wheel, self-designed buggy harnessed below the wing. It was while recovering from his injury in a Swiss rehab centre that he made up his mind to continue his adventure tourism career, but Williams was soon shocked at how little infrastructure exists to make tourism friendly to people with disabilities.
So he set up the non-profit Makingtrax to promote inclusive tourism, so that all kinds of people could enjoy adventure sports. Williams started attending talk programs and visited travel companies and adventure planners to spread his message.
Last year in Brussels, he met Pankaj Pradhananga from Nepal's Four Seasons Travels (see main story, above) at the Inclusive Tourism Summit and the two found they had lots in common.
"We had a synergy as we started talking about superb destinations in New Zealand and Nepal and how Nepalis and Kiwis have adventure in our blood," says Williams, who adds it is difficult to make a historic city like Kathmandu completely accessible, but it can be made inclusive.
"We can make it friendly for all disabled people. Start with little things like widening doors to hotels or washrooms and provide trained adventure guides who can help with equipment that those with disabilities need," he told a gathering on Wednesday at Hotel Manaslu.
Monika Deupala
Pokhara's first accessible trek trail
Yuvaraj Shrestha in Pokhara
Nepal's tourism city may not have wheelchair-friendly streets or sidewalk guiding blocks for the visually impaired, but it now has an accessible trail nearby designed for hikers with disabilities.
A 3km stretch of the trekking trail between Kaskikot and Naudanda has been made wheelchair friendly for day hikers. There are no steps and guardrails have been built along cliff sections as the trail winds its way through thick forests and ridge meadows with full frontal views of the Annapurnas. There are wheelchair-friendly toilets along the way, and parts of the trail are also stone-paved.
Tourists in wheelchairs can now ride in a vehicle from Pokhara to Sarangkot for the sunrise view, drive on to Kaskikot, and then hit the trail in wheelchairs up to Naudanda, a distance that can be covered by lunchtime. Lodges and eateries along the way have built ramps and disabled-friendly bathrooms.
"We built this trail as a model, so more and more trekking paths in Nepal should be made like this," says Bishnu Hari Sharma, who heads a local committee that built the trail. "After all, those with disabilities also want to be in the outdoors to admire the scenery. Please spread the word."
Heman Gurung of the advocacy group Swabhalamban in Pokhara says: "It is short, but exciting. It is a great experience for those who are wheelchair bound, not only for us in Nepal, but for those like us from all over the world."
The trail offers a stunning panorama of the Annapurna Range, Dhaulagiri and Machhapuchhre to the north, and Phewa Lake and Pokhara city to the south and east. Most hikers can return to Pokhara from Naudanda along the Baglung Highway. The easy gradient means that the trail can also be used by the elderly and those who have problems with steep climbs.
The trail was built as a model with a Rs1.9 million grant from the Nepal Tourism Board (NTB), which is adding more guardrails and pavement. It was inaugurated by the late Tourism Minister Rabindra Adhikari in 2018 as a pilot project.
"This trail is also designed to spread awareness among the general public about the special needs of people with disabilities, and also to show the world that Nepal is accessible to all," says NTB CEO Deepak Raj Joshi.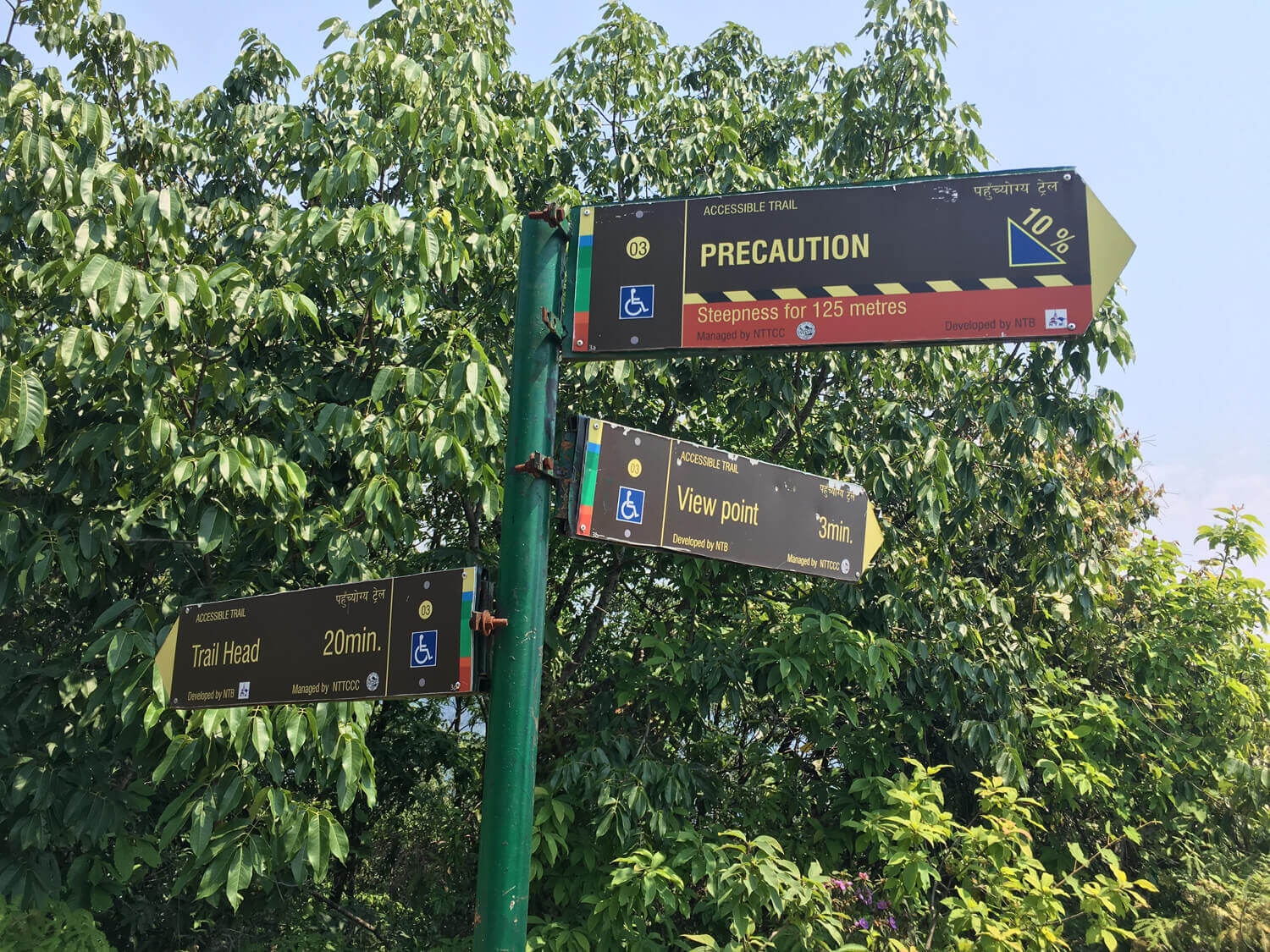 Nepal opens doors to a different world
If people with disabilities are seen as potential customers, all hotels would be wheelchair-friendly
Prabhas Pokharel
Yami Jhakri Magar (pictured behind desk) rides fearlessly and comfortably in her wheelchair inside Hardik Hotel, where she has worked for nearly four years. Most infrastructure in Kathmandu is inaccessible for wheelchair users like Magar, but in her workplace she feels completely independent as she requires no help from peers to use the bathroom or move about the workplace.
Hardik Hotel is one of those rare establishments in Kathmandu that have tried to address the mobility of people with disabilities, many of whom cannot find work because workplaces are not wheelchair friendly. And even if employers want to hire people with disabilities, most cannot provide the needed environment.
"If more hotels, even five-star hotels, start building such infrastructure their hiring policy could be very inclusive for persons with disabilities like me," says Magar.
Read also:
Our job to reach out, Samira Shakya
Disability-friendly Jorpati, From the Nepali Press
Opened seven years ago, Hardik Hotel in Bagbazar is still one of few, non-5-star hotels in Kathmandu with accessible rooms, bathrooms, hallways and wheelchair ramps. For manager Ramesh Pandey it was not an easy journey. At first the incline on the ramps was too steep and wheelchair users had to be pushed up. (Video online.)
"When people hear accessibility they think it is costly, but if you include those elements during the initial design and not as an afterthought, the cost of ramps is the same as for stairwells. It does not cost a fortune."
Pandey was inspired to make a disabled-friendly hotel after watching a wheelchair user having to skip lunch because the only way to the food was via stairs. "It affected me deeply at a personal level, and I decided that my hotel had to have accessible infrastructure," he recalls.
The move has been a plus for business. Many conferences and programs, not just ones for the differently-abled, now use Hardik as a venue. Ramps link the parking area to meeting halls and guest rooms with accessible bathrooms.
Says Sagar Prasai of the advocacy group Diverse Patterns: "As a person using a wheelchair, my major concern whenever I am invited to events is whether the bathroom is accessible to us."
Pandey says it is a mindset problem: most hotel owners do not regard people with disabilities as potential customers or employees. "Making a facility wheelchair friendly is only the first step," he explains. "What is the point in just making a hotel wheelchair friendly? Look at the state of our roads and sidewalks — how will people get to the hotel in the first place?" he asks.
Also, while wheelchair ramps are the most visible symbols of accessibility, they are of no help to other differently-abled persons, such as those having visual or hearing impairments. Pandey now plans to create a mobile app so the visually impaired can navigate the premises.