Going under the scalpel in Nepal
Nepal's first female facial plastic surgeon demystifies the beauty procedure and recommends caution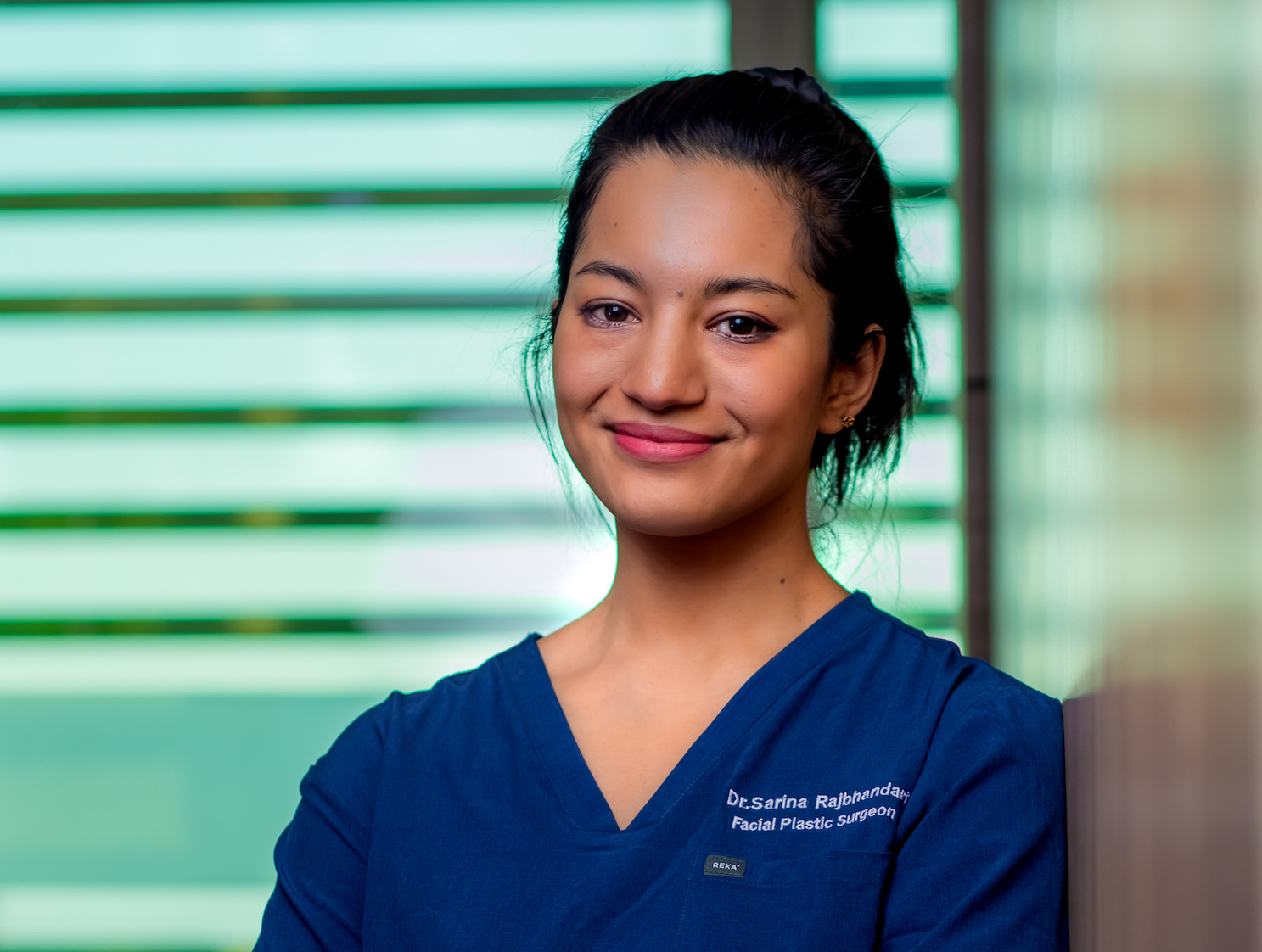 'Beauty lies in the eyes of the beholder.' In spite of this or because of it, the global beauty industry at $511 billion is one of the fastest-growing businesses and is expected to reach over $716 billion by 2025.
Changing standards about what is supposed to 'look good', and often unrealistic beauty goals dictated by influencers and celebrities on social media like Instagram and TikTok have only accelerated the trend. It is no surprise Nepal is also fast catching up.
Which is why, despite the pandemic, beauty clinics and skin treatment centres in Kathmandu have seen an increased demand for nose reconstruction/rhinoplasty, double eyelid surgery/blepharoplasty, dimple creation, hair removal, breast reduction, brow lift, lip fillers, and scar removal.
Read also: Nepal's far-sighted eye care, Sonia Awale
"The most common cosmetic surgery is blepharoplasty, where double eyelid folds are created for monolids or for dermatochalasis where upper eyelid skin sag due to aging," says surgeon Sarina Rajbhandari, who was surprised to find a lot of people coming for rhinoplasty in Nepal when she first started the practice.
After learning about the prevalence of rhinoplasty, Rajbhandari decided to pursue further facial plastic surgery while continuing to practice ENT. She completed her Master's in Otolaryngology and worked at Kirtipur Cleft & Burn Center.
Facial reconstruction was a relatively new field filled with challenges in Nepal's medical scene, but the young doctor saw potential, eventually leading her on the path to becoming Nepal's first female facial plastic surgeon.
Rajbhandari did her fellowship from Tri-Service General Hospital in Taiwan in 2019 under Chuan Hsiang Kao, who trained at the University of California in San Diego.
She also worked under Kwon Taek Keun at AONE Clinic in South Korea, which is the new capital for facial plastic surgery in the world. She also underwent a month-long facial plastic training at Chulalongkorn University in Bangkok.
Even as people opt to go under the knife to change or improve their look, the procedure is riddled with common myths, the biggest being the cost factor.
"The general public tends to think that only the rich can afford plastic surgery. That is not true," says Rajbhandari, adding that it is the question of want vs. need. "There is no set price for a type of surgery because everyone is different, but it is much more affordable to get the quality procedures done in Nepal than abroad."
It is also important to distinguish between reconstructive and cosmetic surgeries. Facial plastic surgery has two categories. First is reconstruction, which includes trauma cases, burns, scar revision, and surgeries for congenital birth defects. The second is cosmetic, where you can change your appearance because you want to reinvent yourself.
Another common misconception about facial plastic surgery is that it lasts forever, gives unrealistic results, and the recovery process is swift.
A scar can be minimised but cannot be eliminated. The skin is constantly aging, so if you choose to have a facelift now, it may last just 10-15 years. It is not a one-and-done procedure. It is essential you have realistic expectations, explains Rajbhandari.
It is recommended to meet with medical professionals a few times to discuss options and possibilities rather than rushing for any cosmetic treatment. It is essential that patients and clients make an informed decision before moving forward because they are essentially altering their appearance.
Rajbhandari has performed an astonishing number of 'revision' surgeries after their procedures were botched. She also suggests meeting with different surgeons to see who you feel most comfortable with.
"People value marketing on social media over qualifications of the doctor, so it is important to check their credentials before trusting your face with one," she says. Rajbhandari herself does not perform immediate surgery, preferring to first discuss what the procedure entails, the risks, and how to take care of things afterward.
She adds: "We are dealing with people's appearance that affects their self-esteem and mental health. We make sure they understand what they are doing before they go under the knife."
Given the importance society places on women's beauty and the cosmetic products that primarily target them, one may think only women come for plastic surgery. A significant portion of Rajbhandari's patients is male.
Despite her experience and qualifications, Rajbhandari still faces the challenges of being a young female doctor in Nepal. A lot of people still prefer to go to a male doctor for surgery. "I have had consultations with patients and clients who meet with me to talk but choose to go to a male doctor for the actual surgery," she reveals.
Rajbhandari has also been judged on her own appearance. She has been called vain for putting on makeup but also called out for not making an effort despite being a facial plastic surgeon. She does not let the opinion of others affect her work, however.
Read also: Nepal's real heroines, Naresh Newar
"But having a supportive work environment, coworkers, and a good team makes a difference in both your professional and personal life," adds the surgeon who divides her time between Grande Hospital and Healthy Choice Clinic in Kathmandu.
The Omicron surge is already subsiding in Nepal and the region, but Rajbhandari's work schedule was not much different even during the peak of the pandemic. She typically works 7-8 hours a day, but there have also been days where she worked from 6AM to 9PM and performed surgeries even on Saturdays. A supportive family is her backbone.
Having said that, doctors themselves need to be healthy. She prioritises her physical and mental being. Her diet is healthy, and she eats on time. She walks regularly and religiously follows her skincare routine before bed.
Sarina Rajbhandari's best recommendation as a doctor: "Invest time in yourself."
Read more:
Childless by choice, Anjana Rajbhandary
50 outstanding women of Nepal, Pratibha Tuladhar