Miss Nepal viral video and stage fright
Why should contestants be required to wear makeup, contacts, or show their teeth to show respect?
The girl stood frozen on the stage, pale and rigid with fright as the audience's impatient rustling turned to jeers and catcalls. 'Just say something, anything,' I mouthed, gesticulating encouragement to her from my vantage point on the panel of the judges table. The moments lengthened, the heckling increased and the beautiful girl immobilised on stage stayed silent, paralysed. I was frantic, the poor thing.
We were at the final glitzy night of judging of Miss Nepal 2004 in Kathmandu, rife with razzamatazz and televised live into every eager household in the still-Kingdom. Beside me, SK Singh and Captain Vijay Lama sat super cool in their crisp suits and snowy white shirts, and even I was dressed up for Kathmandu's most glamorous evening, poured into a borrowed low-cut sequined jacket, rather too snug around the shoulders. It was question time during the pageant, a tricky moment when the finalists are called upon to respond to the judge's questions.
My Rotarian friend Gopal Sundar Lal Kakshapati had honoured me with an invitation to join the panel of judges, rubbing shoulders with Seema Golcha, Nalina Chitrakar Mishra, Melina Manandhar and other social acolytes. I had enjoyed the camaraderie of the convoluted selection process that precedes the plush and glittering final event. From thousands of applicants auditioned in eight regional centres, a select 25 contestants progress to six weeks of coaching and team building. For us judges, a full day sifting through the entrants with one-on-one interviews to come up with the final few who parade at the highly publicised pageant. Personality, poise, ambition and intention were more important than looks, according to the criteria by which we were charged, and I saluted the women's theme that under-ran the event.
In those guileless days, I specially liked the Bhaktapur lady who proudly proclaimed her jyapu heritage and how much time she spent in the fields, the Patan beauty who helped in her parents' tea-shop, and the Tibetan girl who, when asked how she would spend the prize money, eschewed all political correctness by boldly (and honestly) proclaiming that she would use it to emigrate to Canada. Even I realised that she would never make the shortlist.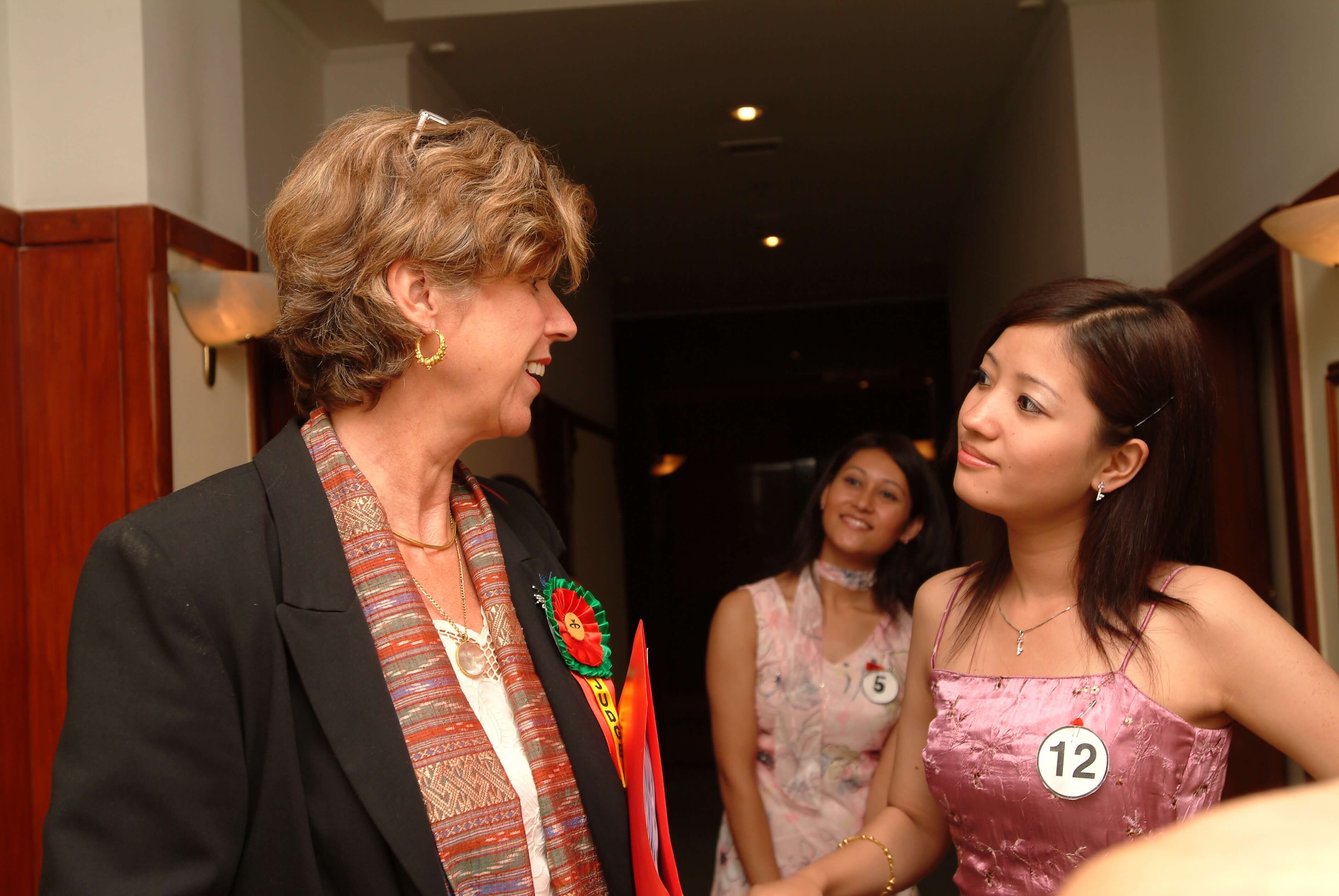 Since 1994 this unlikely event has doggedly weathered the storms of Nepal's conflict, leadership changes, political conundrums and social upheavals, every year crowning a Miss Nepal in ever more elaborate and hotly contended contests. Venues have expanded from the Nepal Academy to the NICC (where we were in 2004) to various Kathmandu hotels and this year an outdoor arena to accommodate thousands.
Only Miss Nepal 2001, 2006 and 2008 are missing from the galaxy of glittering tiaras and radiant smiles that make ones face ache in sympathy. Over 500 girls from all corners of the country have been groomed to gorgeousness over the decades to make Nepal proud, some of them going on to greater heights in the rarefied international atmosphere of Miss Universe, Miss World, Miss Earth and Miss Asia Pacific pageants.
Chairman Gopal smiles shyly behind his neat grey beard: "We are more professional these days, but Miss Nepal is the longest running premier event in Nepal, second to none."
A fine tradition of Miss Nepals have evolved into vocal role models, spokespersons on any number of issues, and successful career women, nurtured by the Hidden Treasures organisers. We used to welcome them to Chitwan for celebrity events and they never failed to add glamour and charm to any occasion, not to mention consternation amongst the preening naturalists jostling for attention, despite the defensive patrol of a watchful chaperone. On one occasion his vigilant protection backfired when Miss Nepal was inadvertently locked inside a suitor's tent – it ended harmlessly when I found them escaping in giggles under the back flap.
Why can't today's participants wear less makeup without being accused of disrespect, glasses instead of contacts, and how does being asked to show your teeth reveal anyone's character and personality? There were abuses seen in the recent viral video. Let us not allow Miss Nepal to default to the relentless focus of fashion and physical attributes in a stereotypical body contest. 'Beauty both inside and out', and 'purposed for empowerment', are in danger of being trumped by good looks alone in the popular stampede onto the stage.
Back in 2004, my poor contestant remained motionless in her embroidered gown and stilettos, alone in the midst of the huge theatre. Vijay Lama helpfully asked the question again in Nepali, though I knew she spoke excellent English. I had especially liked her, which made it even worse, and my question: 'Is tourism good for Nepal?' seemed bland enough not to cause trouble. I was told later the camera switched between our faces, hers a fixed mask, and me desperately encouraging her to say something, anything.
Vijay told me it was a classic case of stage fright, and he should know – I last saw him in his role as the heroic helicopter pilot in Hollywood's Everest, melding his professions as pilot and actor. His perfectly glossed hair smelled delicious as he leaned into my ear: "You could have asked her to say her name, and she would not have been able to answer." That made me feel better, but not her.
The poor girl eventually succumbed. As the audience became more vociferous, the lights brighter and the cameras less forgiving, she threw up her hands and teetered off into the wings in floods of tears.
And I was never again invited back as a judge for Miss Nepal.