The season of summits
In Nepal we live more easily with our holy mountains, balancing our reverence for them with the need for tourism income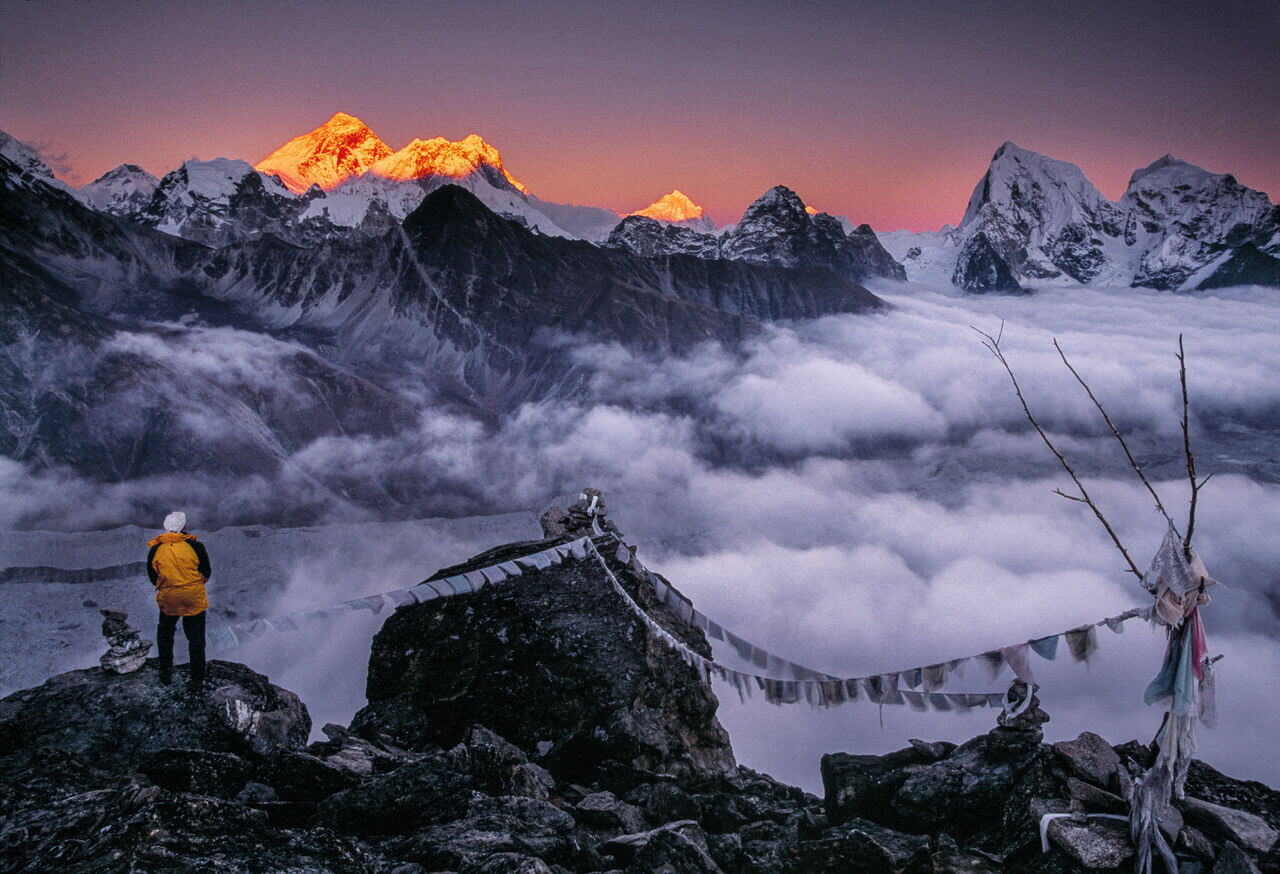 'Tis the season of summits. We await news from the mountains with a mix of jubilation and dread. Facebook is full of down-drenched bulky bravado hero shots, but Twitter tells of more tragic tales where climbs have not gone according to plan.
Alongside the triumphant successes and athletic mountaineering achievements ever pushing the limits, which never cease to amaze, the annual disappointments and disasters remind us of our human fragility in the face of natural forces. Storms have stymied many ego-fuelled assaults, and our 'abode of the gods' have regularly wreaked revenge on the unprepared or the untimely with apparently arbitrary disdain.
Read also:
The last of the first, Sharad Ojha
Why we climb mountains, Damien Froncois
Sacred summits are a familiar theme in the Himalaya, not only a spiritual aspiration shared by indigenous mountain dwellers the world over, but also a means of coping with the vicissitudes of daily life at high altitude. As the Hindus sanctified cows because they were indispensible to existence, the fate of billions of souls depend on the resources, water and weather at the mercy of the raw power of the youngest mountain range on earth.
No expedition, whether coddled commercial or at the forefront of exploration, dares depart without tsampa and rice offerings, prayers and blessings sought from the relevant deities. Multi-coloured flags flutter invocations to the wind and the clunk of prayer wheels resonates throughout the camps.
"Tourism, it's been good for the Sherpas… but it's bad for the gods," Kancha, veteran of the 1953 Everest expedition, said recently, gesturing at the lines of trekkers and towering mountains that lie beyond his Khumbu window. "When I was a boy, there were many feet of snow in winter. Now, the summits are black. That's not good."
Far away in the hot heart of Australia, it has been a long battle for the aboriginal people to achieve a similar spiritual respect for Uluru (Ayers Rock), worshipped by the Anangu tribes as a creation of ancestral beings during Dreamtime. But it is happening. From 26 October 2019, the climb will close permanently.
Read also: Climbing to divine, Stéphane Huët
To climb or not to climb? That was the dilemma we pondered leaving Alice Springs in 1997 with the dust billowing beneath out speeding wheels through the endless featureless desert of the Red Centre. Road trips in outback Australia have a mesmerising effect, lulled by the subtle colours of the harsh landscape, a brash blue sky, waves of weathered rust red rocks and gullies of grey green clinging to what little water is to be found. Dusty roadhouses plagued by flies had shelves of beer and freezers packed with ice cream and kangaroo tails.
Working with the aboriginal people and park authorities on a tourism strategy for Uluru-Kata Tjuta National Park, our New Zealand firm had been asked to tackle some complex cultural issues at Australia's best-known geological landmark, newly handed back to its traditional owners.
Our team drew on Maori and Nepal experience to rise to the challenge.
"That's a really important sacred thing that you are climbing … you shouldn't climb. It's not the real thing about this place. This is the proper way: no climbing," Kunmanara, an Anangu traditional owner explained. But his people's plea to protect their ancestral heritage had fallen on deaf ears.
The Aussies were not easily deterred from their perceived privilege to tread the top of any rock they fancy. Stolid bus drivers in stubby shorts explained to their passengers that the locals venerate the mighty monolith and request us not to climb, but in the next breath announced that the hike to the top leaves early next morning.
Careless Qantas pilots flew over Uluru and the nearby outcrop of Kata Tjuta (the Olgas), desecrating the worshiped walls considered too sacred to be seen by ordinary mortals. A glass of sparkling wine at sunset was the mass market delivery of the Uluru experience as tourists piled out of their air-conditioned coaches to witness the spectacle of the streaked and fissured rock changing colour, much enhanced by a plastic tumbler of Aussie bubbles. "The colours get better by the glass," observed my friend Les.
Anangu elders realised their people needed a role in park tourism. Ageless aboriginal skills could navigate this ancient land by songlines, rub sticks to create fire and survive on wichetty grubs and bush tucker, and visitors were keen to learn how – local guides and indigenous tours followed, based in a sympathetic mud brick cultural centre brimming with art and handicrafts.
Requesting all tourists 'please don't climb' was our pragmatic but enforceable solution to the debate, as clearly some would not desist, despite spiritual sentiments. But it has taken until 2019 for cultural respect to be restored and for the sacrilege to end.
In the Himalaya we live more easily with our gods, honoured by locals and visitors alike, and acknowledge the significant value of mountain tourism in bolstering the economy. Mountaineers' long stays, high employment and unrelenting focus make them one of Nepal's most resilient and valuable visitor segments.
Sacred spaces protect nature throughout the Himalaya, from lowland temple forests to monastery precincts, with ridge top ramparts of prayer flags, mani walls and chortens framing the soaring crystal peaks. Kangchenjunga is treasured by Sikkim, Tibetan Buddhists and Lepcha people, and Limbus believe the third highest peak to be home to omnipotent goddess Yuma Sammang. There are many other mountains that remain revered and unclimbed: Khumbila, Kang Guru and Om Parvat, amongst others.
Expediency can play a role. The story goes that Machapuchre's untrammelled top was closed to mountaineers out of hubris, not religion. Harka Gurung wrote early in 2001: 'That Machhapuchhre is sacred to the Gurungs is nothing more than a myth, and it is easy to speculate that it had something to do with Colonel JOM Roberts, a British Gurkha officer who led both the reconnaissance in 1956 and the 1957 expedition to the mountain. The climbing team had to retreat just 45m short of the summit due to heavy snowfall… It would seem natural that Jimmy Roberts should wish that no one else should succeed on a mountain … which he had failed to conquer.'
Having trekked at altitude throughout much of the country, I never underestimate the sheer hard work it takes to reach a Himalayan peak, whatever the individual motivation, however much Sherpa support has been rallied to get there, or however many comforts and espresso machines have been helicoptered to EBC.
Whilst sometimes quietly wondering why they bother, I salute every summit, each one a triumph in its own way. Knowing that the gods will always prevail.