The silent skies
Remembering Ang Tshiring Sherpa 1964-2019
One side effect of the silent skies over past months, other than tipping tourism and aviation into freefall, is that Nepal's air safety record is greatly improved.
Last week marked the sombre anniversary of the Thai International crash in heavy monsoon rains 28 years ago which took the lives of so many Nepali families, friends and residents.
Almost exactly two months later, a PIA Airbus piled into the opposite end of the Valley at Lele, the nation's worst air disaster. This time, 167 souls were lost, mostly tourists arriving at the beginning of the season -- so close that the specialist international forensic team were still in-country analysing the confetti-sized Thai aircraft wreckage.
Exasperated with devastation and grief at yet another catastrophe, I volunteered with the British Embassy to help look after distraught relatives of the PIA victims.
Nepal's dramatic Himalayan terrain and fierce weather patterns make a deadly combination. The deplorable data confirms that the dozens of air accidents since the1992 double carnage occur mostly during the turbulent monsoon months, and involve helicopters as well as fixed-wing aircraft, both international and domestic flights. Usually the pilots have something to do with it and almost all are weather-related, regardless of the season.
Early last year we lost an inspirational tourism minister when the chopper he was travelling in tried to take off from a socked-in hilltop temple intending to dive into clear weather, got caught in a freak updraft, and was slammed sideways against a cliff. There were no survivors and the industry is still reeling from the tragedy.
Along with the minister was Nepal's most imaginative and daring tourism entrepreneur, Ang Tshiring Sherpa, managing director of Yeti and Tara Airlines amongst his many other ventures. It should never have happened, of course. Known to be fanatic about safety, on that fateful day, 27 February 2019, Tshiring allowed his usual strict flying rules to be compromised.
It is still hard to accept the chill reality that Tshiring is not coming back. He was only 54. Never again would he drop by our house sitting under the garden cherry tree or casually greet me as he crossed Dwarika's courtyard to lunch. Never again would I be summoned into his expansive office, glowing with carpets, polished wood and glass, and asked my advice in his serious calm manner.
Never again would I see his wry sideways smile as he gently rubbed his stubbled head in that curious distinctive way, attentive, nodding, self-deprecating. Never again would we dine together off the candle-lit polished tables at Le Sherpa restaurant with clients and relatives he wanted me to meet.
Tshiring never wasted words, and I learned to listen carefully. Not once did I see him riled or angry, or indeed anything but thoughtful and measured. Even when I could tell he did not agree with my recommendations -- to refocus the family brand, consolidate companies, or add value by improving service standards -- he was unfailingly polite and patient. "Thank you, madam," he would smile. He always liked to call me madam, with irony, no doubt.
Tshiring was Nepal's most innovative and wildly courageous tourism operator, striding fearlessly into deals with a sure instinct and confidence, trusting his powers of persuasion. His office team of competent henchmen and array of associated family members managed his Kathmandu-based empire of airlines, travel agencies, hotels, restaurants, remote lodges, wildlife camps, trekking and mountaineering companies.
It was part of his quiet charm that he did not always get things right, had trouble navigating family politics, learned from mistakes, courted controversy and often moved in mysterious ways.
I admired his business panache, but was most captivated by Tshiring's persuasive rags to riches story, his ascent from humble origins in the Himalayan hamlet of Pangom to creator of Nepal's major tourism conglomerate.
"Let's make a film about you," I suggested. The narrative sweeps from a Solu Khumbu kitchen boy, the lowest rung of a trek team, running away to Kathmandu with Rs300 in his pocket (the exact amount is debated), to building the Yeti Group. He out-manoeuvred opponents with canny golf course diplomacy at Gokarna and invented champagne helicopter breakfasts with a view of Everest.
In between, as a Sherpa sirdar he led treks throughout Nepal and during the summer worked in French alpine chalets. With typical modesty Tshiring was reticent about a movie, but liked the idea of a book for his extensive and extended Sherpa family.
Mindful of those less fortunate than himself, philanthropy motivated many of Tshiring's travel ideas interwoven with commercial interests. Every air ticket sold planted a sapling and each boarding pass donated five rupees to one of his charitable CSR causes. He embraced community development, and painted the Great Himalaya Trail logo onto his mountain aircraft.
He proposed a STOL airstrip at Lake Phuksundo to benefit the locals, homestays to restore the crumbling village of Braga, and a string of high altitude ecolodges to bring tourism to new areas of the Himalaya. Pilgrimage hotel projects ranged from the Lumbini Hokke at Buddha's birthplace to Mokshain Jomsom, rising after the earthquake for Hindus visiting Muktinath. He never forgot his origins nor his spiritual roots.
In 2016 at Chuksang we sat on plastic chairs in deep shadow under the apple trees, breakfasting on sweet tea and Tibetan bread. Tshiring had joined our recce to introduce high-end tourism to Mustang, quietly sharing his vision at a simple local lodge. His gentle demeanour fitted in anywhere, belying his relentless energy and appetite for business.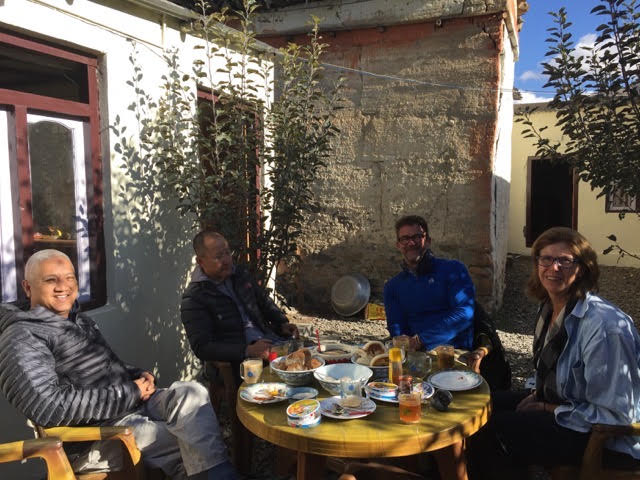 Early one blustery morning in 2010, bad weather defeated us from reaching Tsum, whose remote pristine landscape he had wanted to show me, but instead the helicopter dropped us into Langtang where he was working with the community to construct a trekkers' lodge.
It was on that trip that I realised how cautious Tshiring was about flying, obsessed with Nepal's air-safety, committed to carbon neutralising his airlines, and campaigning for UN and EU certification. A near-miss in Lukla involving his brother Sonam shook him greatly.
The seventh day ceremony was in full swing when I arrived at his home, with a vast gathering of mourners and monks, the family weary with sadness amidst the incense and chanting.
"He looked after me so well in life, I must look after him in death," his wife Chanda smiled bravely. Nyima, his sister married to Tenzing Norgay's grandson, took my hand and led me upstairs to the prayer room, wringing her hands in sorrow and denial.
Destiny had consigned Nepal's most self-effacing tourism magnate to become yet another statistic in our wretched record of flying in the mountains.