Experts caution against extending Nepal lockdown
Prime Minister K P Oli held a meeting with 20 public health experts on Tuesday to discuss steps to deal with COVID-19, especially in cities bordering India – a sign that his government is taking a recent surge in cases seriously.
The meeting came as Nepal reported 259 new cases on Tuesday, taking the total number so far to 21,009 and the number of fatalities up by one to 58. Kathmandu Valley detected 62 new cases and now has 727 confirmed cases (481 active) with 5 deaths.
The government this week put six districts with over 200 cases (Kathmandu, Rautahat, Kailali, Mahottari, Parsa and Doti) in the Red Zone. (see map) In Kathmandu, 72 staff at Nepal Police Headquarters have tested positive and the premises are sealed off.
Lockdown maybe over, but pandemic is not, Editorial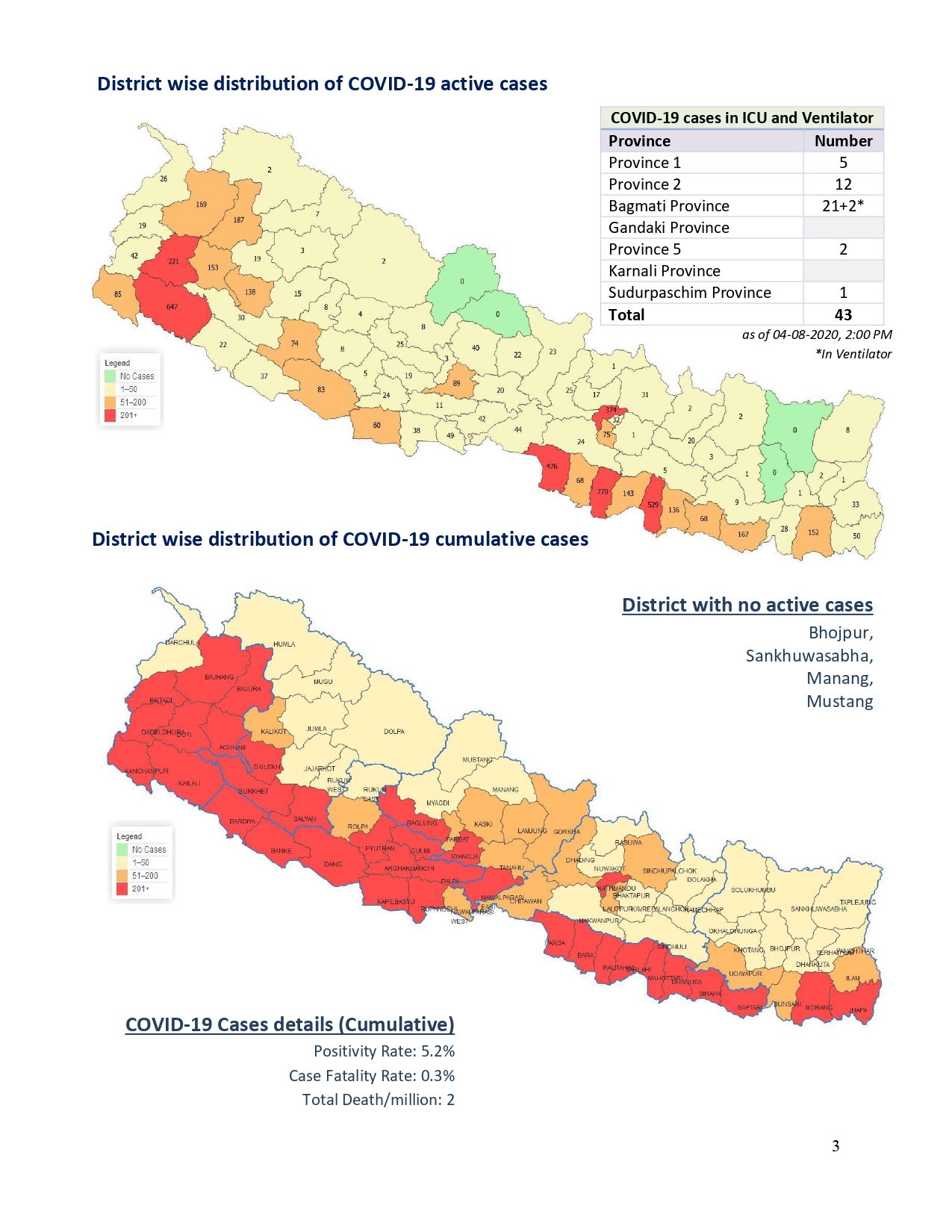 Speaking at the interaction, Prime Minister Oli said: "We must lower the infection rate to zero, and treat those who are sick. But as long as we keep the border open, there will be more cases ... so we have to test them before allowing them to travel to home districts."
Experts present noted that although the numbers are rising, the World Health Organisation (WHO) still puts Nepal in the 'cluster spread' stage, where the virus is not showing community transmission. They advise the government against re-imposing a lockdown, saying it was not a long-term solution.
Most public health experts favour a 'smart lockdown' where localities with cluster outbreaks are sealed off, and tested – while strictly enforcing masks in public places and preventing crowds.
Since the lockdown was lifted on 21 July, the rate of infection has increased to 3.37%, indicating rapid spread in districts bordering India where all major cities like Birganj, Bitartnagar, Dhandagi, Nepalganj, Janakpur and Rajbiraj are under curfew.
Officials in Kathmandu Valley are also said to be considering lockdown, but experts say it is more advisable to seal off neighbourhoods rather than a strict blanket closure.
Medical experts fear that another shutdown is likely to kill more people than the disease it seeks to control, as people with non-coronavirus ailments cannot get to hospital for treatment, and the economy suffers even more, lowering nutrition levels of people.
Government figures show that there were 30% more child deaths in April-May this year compared to last year. Maternal mortality has also gone up because many more mothers gave birth at home instead of going to hospital. There has been a spike in measles and other infections because of delays in vaccination campaigns.
"A lockdown is not the solution to the coronavirus crisis. We must first analyse why we did not do the previous four months to take measures to control the spread," says Sher Bahadur Pun of the Ministry of Health, "another lockdown will not make a difference."
Pun adds that uncontrolled movement of people across districts during the lockdown with thousands crossing the Indian border to reach their homes, led to the flare-up in the infection.
"It is only going to get worse from here, especially as winter approaches," predicts Buddha Basnyat of Patan Academy of Health Sciences. "We have to accept this and prepare for it, but another lockdown is only the last resort."
Basnyat says the government has to get on a war-footing to increase testing in the Tarai districts enforce mask-wearing and physical distancing, and as the number of severe cases rise, develop a treatment taskforce.
Hospitals should be better equipped to handle the increase in symptomatic and severe coronavirus cases being seen now, with clear treatment guidelines identifying the most effective drugs and therapies for Nepalis, so there is no expensive over-prescription.
As the ICUs get filled up, there is an urgent need for ventilators and oxygen concentrators, Basnyat adds. There are now 36 patients with COVID-19 across the country, with 23 in Bagmati Province, which includes Kathmandu Valley. Birganj is said to have reached saturation in ICU capacity, and hospitals in other Tarai cities are also filling up.
Health experts say that while Nepal may not be able to build hospitals in a week like Wuhan did, the government can start mass testing in the high-risk zones, set up tents and ICU beds and stockpile life-saving drugs and medical equipment.
Experts are also advocating for regular mass testing in cities with more movement of people. And if there is indeed another lockdown, they say testing in densely populated urban centres is a must.
A recent surveillance based on swab samples of 10,000 of the people who entered Kathmandu Valley last week found that 0.7% of them tested positive for SARS-CoV-2. Despite this seemingly low positivity rate, health officials say that the finding is significant because those individuals would have been carriers in their families and communities.
More worryingly, there is now a rise in cases with serious symptoms across Tarai districts, unlike in the past when most were asymptomatic or had co-morbidity. Hospitals in the Tarai are seeing a surge of typical COVID-19 symptoms with advanced pneumonia.
"Most hospitals and doctors in Nepal are now starting to feel the devastation this virus can cause, as it did in Lombardy, New York and parts of India," says Buddha Basnyat. "Which is why despite low fatality rate in this part of the world and the concept of herd immunity, there is no time to be complacent."
A rise in influenza in the rainy season could also be a reason for misdiagnosis because flu and COVID-19 have similar symptoms. Experts suggest flu to be tested with COVID-19, especially as winter approaches.
But even with all the planning in the world, strategies, drugs and medical infrastructure, the most effective tools against the virus are the three simple safety measures: physical distance, masks and hand hygiene.
Says Sher Bahadur Pun: "Testing, tracing and treating are important. Government action is crucial. But how strictly Nepalis follow safety guidelines and adapt it into their everyday lives will make the most difference."