Dangerous driving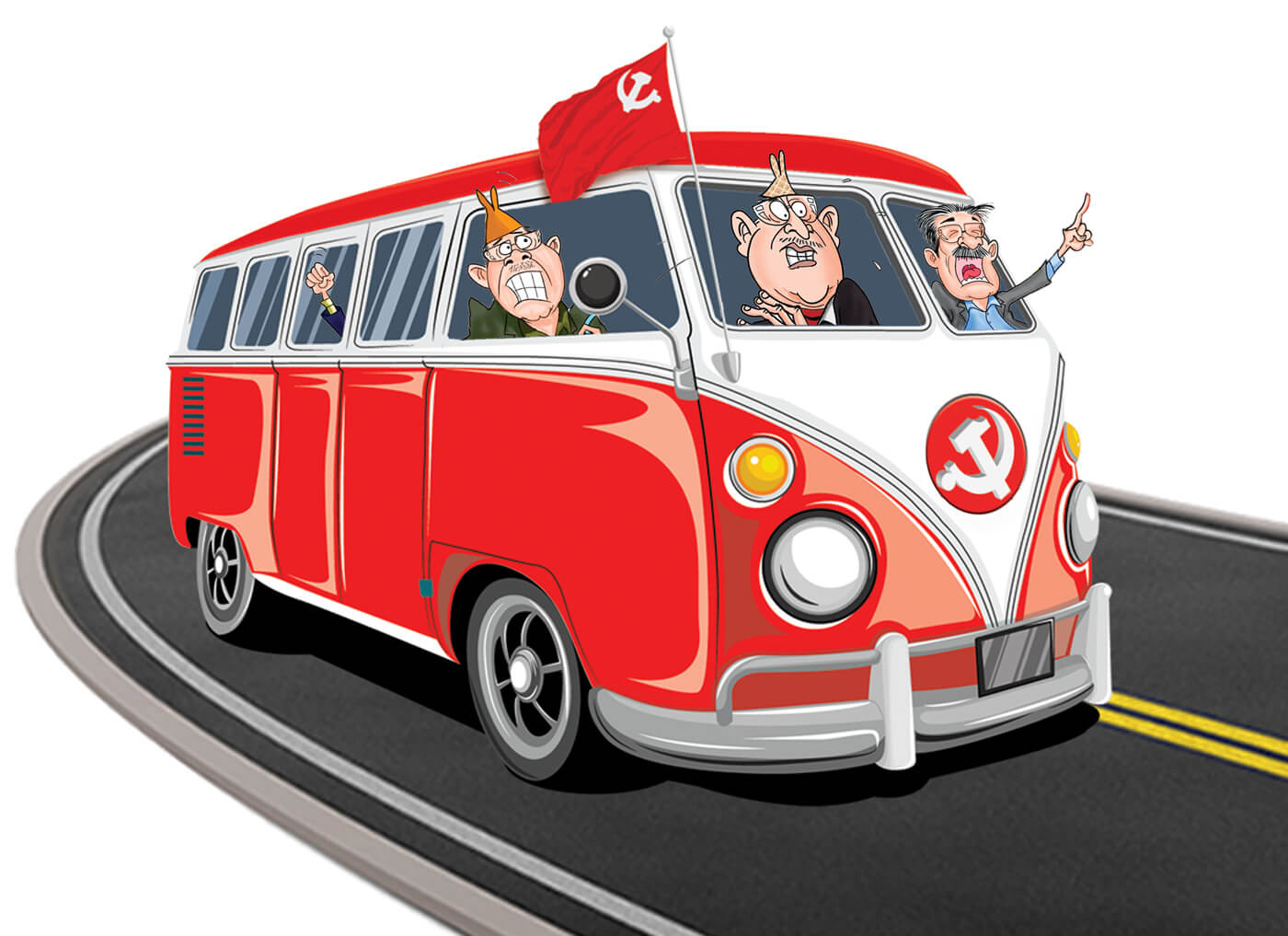 All three senior leaders of the Nepal Communist Party have the travel bug. Prime Minister KP Oli is off for a health check-up in Singapore after his transplanted kidneys reportedly started over-performing. Although his spokesman announced that Oli was paying his own hospital bills, the presence in Singapore this week of well-known medical industrialists raised questions about favours being exchanged.
Oli's party co-chair, Pushpa Kamal Dahal, just returned from the UAE after another of his mysterious visits. And Madhav Kumar Nepal has also been clocking frequent flier miles.
Nepal's cybersphere bristled with irreverent criticism of leaders gallivanting around while citizens back home suffer from the ravages of the monsoon, and contractors with political protection go unpunished for uncompleted infrastructure.
Nepalis had expected the NCP, with its two-thirds majority, to deliver stability and better governance, but disillusionment is growing about the paralysing factionalism within the ruling party, as well as over provincial and local spheres of government being unable to deliver. An investigative report this week showed provinces spent Rs25 billion buying SUVs to travel on roads and bridges that are falling apart because of corruption.
Normally a government that faces such widespread criticism for non-performance would do a cabinet reshuffle to divert attention, but PM Oli is said to want to let the Dasain fever set in.
Meanwhile, the three leaders are playing Chinese checkers, wooing each other's loyalists — blurring the lines between former UML and former Maoists in the party. Home Minister Ram Bahadur Thapa and Narayan Kaji Shrestha have been neutral, saying party unity is more important than joining any one faction. Even Bam Dev Gautam, who was firmly in the Dahal camp, appears to be wavering, and there is speculation Oli offered rewards.
Oli could be waiting for the Dasain hiatus to get down to brass tacks on his reshuffle. The word is that heads will roll after the holidays, and the names Oli wants struck off include Water Minister Bina Magar, Infrastructure Minister Raghubir Mahaseth, Industries Minister Matrika Yadav and Labour Minister Gokarna Bista. Dahal has his own list of ministers to be sacked, or inducted.
By bringing in Madhav Nepal loyalist Yogesh Bhattarai as Minister of Tourism and Civil Aviation last week, Oli killed three birds with one stone: added a politician with a reputation of being honest and a do-er, placated Nepal and thumbed his nose at Dahal.
Meanwhile, in an effort to address its bipolar character the party finally passed a political document clarifying its ideology. However, the statement does not completely remove the NCP's conceptual confusion. There is no mention of the UML's long-held principle of 'pluralistic open society'. 'Socialism' is mentioned, but without the adjective 'democratic'.
In the UML's sacrosanct principle of 'multi-party people's democracy', the document has tellingly dropped the word 'multi-party'. And even though the Constitution says Nepal will be 'socialist oriented', the document uses the 'C' word: communism.
Read also:
The Troika, Kiran Nepal
Rift in Nepal's ruling party, Kunda Dixit