Municipalities want to manage Annapurna
Ever since it was launched in 1984 the Annapurna Conservation Area Project (ACAP) has been a successful model for using eco-tourism income to lift living standards, not just in Nepal but in other parts of the world. Now, as Nepal decentralises under a federal system, local governments in the very place where ACAP was born are calling for it to be scrapped.
On 22 December, locals of Ghandruk removed the ACA signboard and padlocked its checkpost to protest the decision by Nepal Trust for Nature Conservation (NTNC) which manages the project to charge fees also for Nepali tourists. But the dispute has now escalated to a demand for ACA to be handed over for local municipalities to manage.
A banner in Ghandruk demanding Annapurna Conservation Area Project be scrapped.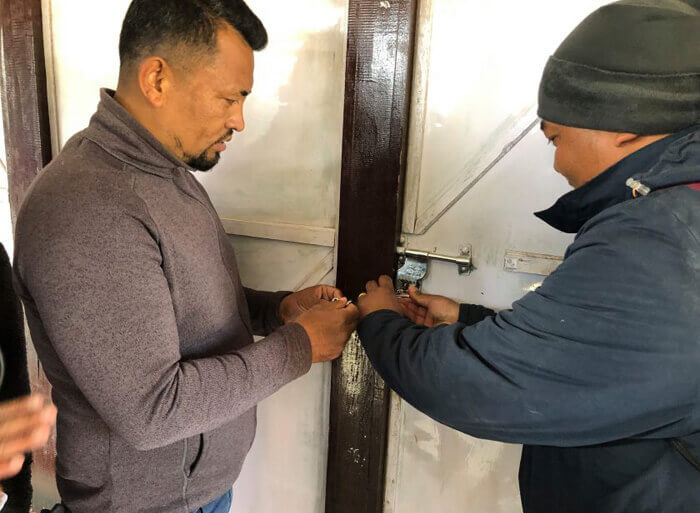 Locals padlocking an ACA checkopint in Birethanti on Saturday.
Despite its success in balancing a local economy based on agro-forestry with the need to protect nature, there has been growing resentment against ACA's restrictions on harvesting fodder and grass, grazing and exploiting natural resources. There are also complaints that ACA does not share revenue from tourism fees with local governments.
"They charge trekkers fees, but we never know where they spend it, and they give us the runaround to get permission for even small things," said Bishnu Gurung, after padlocking the project checkpost at Birethanti on Saturday.
The agitation has now spread beyond Ghandruk to other parts of ACA like Manang, Mustang, and Lamjung. The original agreement in 1985 stipulated that the project would hand over management of the conservation area to local councils, but 30 years later it is still being managed by the NTNC. Project officials say the handover was delayed by the war, during which ACAP's offices were attacked and set on fire.
Head of ACA in Ghandruk Bidur Kuikel underplayed the seriousness of the agitation, blaming it on local hotheads. "All this can be resolved with just one meeting of local elected representatives and ACAP's local committees," he said.
However, locals from Lwang Ghalel have gone to Pokhara with their grievances which includes lifting ACAP's restrictions on local development and infrastructure projects, to allocating tourism revenue in proportion to where income is highest, and to remove the bureaucratic hurdles in harnessing forest and water resources.
ACA map
"We are giving them one last chance to address our demands, otherwise we will also take action," said Ram Gurung of Lwang Ghalel. Representatives of this scenic village below Machapuchre sent a petition to the federal government in Kathmandu last week demanding that the management of ACA be handed over to local governments.
The Annapurna massif stretches nearly 7,700sq km from Marsyangdi in the east to the Kali Gandaki, and is Nepal's biggest nature reserve spanning 16 rural municipalities. It has some of the greatest altitudinal variation on the land surface of the earth. From below1,000m above sea level, the terrain rises to more than 8,500m, giving the region its rich biodiversity.
Nepal's conservation pioneers like Hemanta Mishra, Chandra Gurung and Mingma Sherpa together with experts like Kathryn Fuller of WWF-US put together the concept of a 'conservation area' – as distinct from a national park so that locals could use tourism revenue for nature conservation. ACA was proof that Nepal did not have to deploy the Army, like it did in national parks, to successfully conserve nature – the job could be done by local communities.
Now, it looks like the Annapurna Conservation Area is the victim of its own success. Nepal's central, provincial and federal governments are competing to take control over it. There are already signs that this will be a three-way tug-o-war.
Yubaraj Kunwar, head of Annapurna Rural Municipality said the constitution grants jurisdiction over natural resource and environment management to local governments. "This means it is now our responsibility to collect fees from tourists and invest it in local conservation and development," he said.
However, in Pokhara, Gandaki Province Chief Minister Prithvi Subba Gurung said that since the conservation area spans the boundaries of many rural municipalities, ACA management should go to the provincial government. "The responsibility for management and conservation of the Annapurna Conservation Area should be the purview of the provincial government," Gurung told us.
Head of ACA Rajkumar Gurung says it is not important who controls the project as long as its model of community-managed conservation is preserved.