Nepal has decided to live with Covid-19
[caption id="attachment_55670" align="alignnone" width="1500"]
Nepal has decided to live with coronavirus adhering to safety measures until the vaccine is developed. Photo: BIKRAM RAI
Nepal confirmed its first Covid-19 case in a student who had returned from Wuhan in January. For two months nothing happened, but after the second case was detected in a student returning from Paris, the government decided to shut the country down on 24 March.
Six months down the line, some experts say the lockdown was started too early and without a strategy for testing, tracing and quarantine. Indeed, the fact that after lying dormant for the first three months, the number of confirmed cases and fatalities have zoomed up.
Most of the increase happened after 21 July, when the government made the mistake of declaring "lockdown lifted" just as bordering states in India were seeing peaks. Since then, the virus spread like wildfire through the Tarai town, and engulfed Kathmandu Valley.
On Wednesday, there were 1072 cases, of which 637 were in Kathmandu Valley. There were 7 more fatalities on 23 September, 2 of them in Kathmandu, bringing the nationwide total to 436. Unlike the first four months of the lockdown, the number of symptomatic cases and those needing ICU have also gone up, meaning younger people are spreading it to family members and in the community.
Since the first Nepali Covid-19 case declared in January, followed by the government's decision to repatriate 175 students from Hubei, China on 16 February, it looked like the Nepal government had things under control.
Despite the horror stories in February from China and Italy, Nepal was going ahead with its Visit Nepal 2020 campaign. Tourism Minister Yogesh Bhattarai even went to Australia in the middle of bushfire season there to drum up business, declaring Nepal "coronavirus free" country.
3rd month of lockdown, Sonia Awale
However, as cases spiraled in China and later India, Nepal closed all mountaineering expeditions and trekking on March 13. Tourists hurried back to Kathmandu to try to get the last flights back.
On 22 March, Prime Minister K P Oli declared a semi-lockdown, sealed Nepal's international borders, and grounded domestic flights. The following day, as the second Nepali tested positive, a complete lockdown was announced initially for a week. It kept being extended multiple times for the next months.
[caption id="attachment_55673" align="alignnone" width="1030"]
Empty Kathmandu roads during the lockdown. Photo: BIKRAM RAI
As neighbouring India also declared a lockdown, leaving hundreds of thousands of migrant workers in the lurch, Nepal was ill-prepared for the flood of returnees. At first it did not allow the workers in and tens of thousands were stranded for weeks at the border. Desperate, some even swam across the Mahakali River to get home.
Trumpism in Nepal's Covid-19 response, Sushil Koirala and Ben Ayers
There was a surge of cases among returnees, and among men at a mosque in Udayapur, Morang and Banke who had returned from a congregation in Delhi.
But the government reacted swiftly with sealing off districts and contact tracing.
Nepalis at the border were finally allowed to enter Nepal, but they were kept in poorly equipped quarantine centres, which themselves became incubators for the virus. Later, many infected people took the virus to their mountain districts.
The government also bungled by first getting unreliable RDT test kits, which though quick gave a lot of false negative results. After kickbacks and corruption was exposed in the media, the Covid-19 Crisis Management Committee finally switched to RT PCR, but there were not enough reagents and kits for the kind of mass testing that was required.
[caption id="attachment_55676" align="alignnone" width="1368"]
Unreliable RDT test. Photo: BIKRAM RAI
The CCMC is chaired by Defense Minister Ishwar Pokhrel and he was directly implicated in awarding the RDT kit import contract to Omni Group at inflated prices. Pokhrel then handed over the business to Nepal Army, but there were reports that Omni simply put up a front company to import from the same Chinese company that Omni dealt with.
Who's in charge in Nepal?, Alisha Sijapati
As government revenue from taxes plummeted, Finance Minister Yubaraj Khatiwada announced a relaxation of the first lockdown on 7 May, partly opening businesses. On 28 May, he unveiled the Covid-19 budget of Rs14.74 trillion, setting aside Rs6 billion to manage the pandemic.
While, Prime Minister Oli continued to argue for extending the lockdown, Khatiwada announced on 21 July that the lockdown was "lifted", although there were still restrictions. This resulted in tens of thousands of Nepalis and Indians to stream back just as India was seeing a peak.
However, by 18 August as the daily case load started to exceed 1,000, local governments prohibitory orders on 18 August in Kathmandu and 44 districts as cases spiked. But given that impact on the economy, rise in joblessness and the risk of an economic meltdown, the government accepted defeat and decided to open up – telling the people they had to take precautions and learn to live with the virus.
24 March-24 August, Alisha Sijapati
Limited regular international flights were allowed from 1 September, and domestic flights resumed from 21 September. Businesses, restaurants and public transport were also allowed with some restrictions. All this while the daily number of new cases and deaths in Kathmandu continue to break records every day.
[caption id="attachment_55510" align="alignnone" width="960"]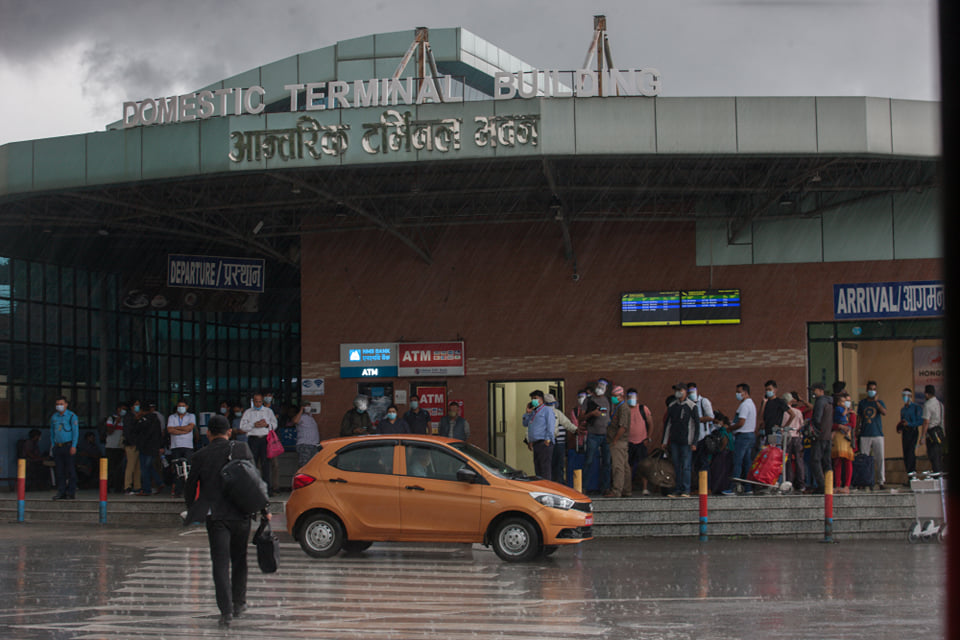 Domestic terminal reopens for operation after being grounded for six months. Photo: BIKRAM RAI
Public health experts say that the government's strategy from Day One was that it did not have a strategy. Policies were reactive and ad hoc, locking down and opening up were wrongly timed. In the end, the government realised that saving the economy was more important because jobless and hungry people would die in greater number than from the disease.
As the northern hemisphere prepares for a second surge with the winter flu season, Nepal is once more ill-prepared. Hospitals in Kathmandu are already full, and there are not enough ICU beds and ventilators. The only silver lining is that even as the numbers in Kathmandu Valley continue to surge, the Tarai towns appear to have peaked.
Read also:
Youth-led feeding campaign spreads across Nepal, Nunuta Rai
Nepali workers stuck in no man's land, Nepali Times